You have not accepted cookies yet
This content is blocked. Please accept marketing cookies. You can do this here.
Today, April 21st, is World Creativity and Innovation Day, a day dedicated to celebrating the power of innovation and creativity in driving positive change in the world. Innovation plays an integral role in the built environment, from the buildings, how they are powered, how people move and enjoy the spaces and environment around us. Innovation is not simply creating a tool or a product, it is driven through value, collaboration and partnerships.
To solve some of the world's most pressing challenges, we can't continue to operate in the same way. We must continuously innovate to discover the edge to combat climate change, urbanization, and the need for more resilient and sustainable infrastructure. Harnessing the power of technology, we can maximize our impact on the places we live, work and play.
This is a vital component to any organization and that's why at Arcadis, we are committed to fostering a culture of innovation within our organization and partnering with clients and players in the wider ecosystem to drive innovative solutions that create value for our clients and communities.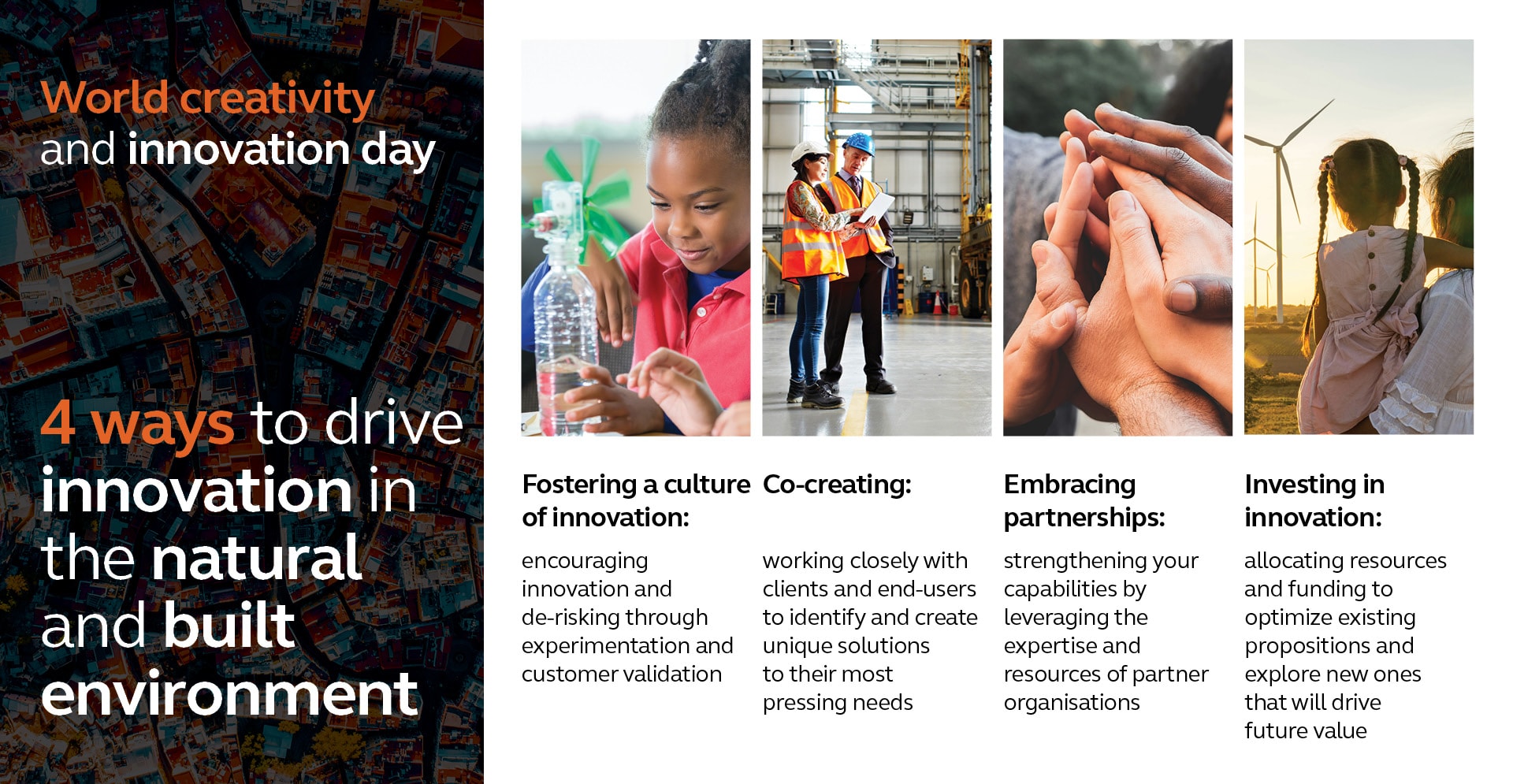 We are putting these four principles at work at Arcadis. Working with clients across the globe, we're paving the way for the transportation sector to optimize their investment strategies powered by our Transport Strategy Optimizer digital solution. We connect our clients' physical assets to their Digital Twins, helping water utilities reduce water leakage. We also improve energy efficiency in buildings, leveraging Building Intelligence to monitor usage, performance and utilization of different assets and unlocking valuable data.
Through partnering with technology providers like Niricson, we are scaling digital asset management technologies worldwide, making the maintenance of bridge infrastructure safer, faster and more cost effective. The acquisition of a majority stake in HydroNET allows us to support our clients in making more impactful water management decisions to combat climate change. We help cities understand how adapt their curbs to the disruption from emerging mobility trends through CurbIQ, and support our clients in maximizing their return on investment across projects and portfolios analyzing outcomes within a common reporting framework through Enterprise Decision Analytics – Portfolio.
Through fostering the main four key drivers of innovation, we can collectively work towards improving quality of life for all. Happy World Creativity & Innovation Day.