You have not accepted cookies yet
This content is blocked. Please accept marketing cookies. You can do this here.
Enterprise Decision Analytics (EDA) solution is a decision support platform that empower asset-rich organizations to better understand their asset portfolios and enable agile, data-driven decisions for optimal investment strategies aimed at maximizing returns for their businesses.
Key Features
EDA enables companies to streamline their planning process, improve efficiency, save time on reporting and regulatory submissions, and quickly reach objective, data-driven, operational, tactical and strategic decisions. Organizations of all sizes can utilize EDA's features to get a detailed view of their asset's lifecycle so that they can better plan their investments.

Data-driven decisions
With access to advanced analytics, you can gain better insights into your asset portfolio so you can plan with confidence.

Visualized insights
Asset managers and heads of capital projects are easily able to visualize optimized scenarios and get the actionable insights they need to create robust, data-driven investment plans.

Strategic planning
As well as having access to leading analytics capabilities, EDA also offers the ability to review scenarios and outcomes based on your set of constraints. With this feature you will have more control of your future and take quicker decisions.

All-in one system
Centralize your asset data in a single location and easily assess their condition, risk, and contingencies. Share updates and collaborate on projects with colleagues, as well as create comprehensive reports you can present to stakeholders.
Download brochure
Explore our EDA brochure and find out how to maximize the value of your asset portfolio.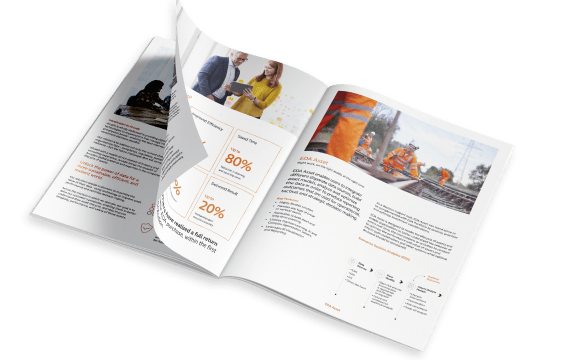 1
Predict asset behaviour and receive actionable insights
Using the latest technology and leveraging optimization, machine learning, artificial intelligence, and our digital expertise, EDA was purposely built to predict future asset performance and deliver key insights.
2
Improve your planning process and save time and resources
Transform your strategic planning with an end-to-end analytics platform for smarter, more efficient planning and clear, objective project prioritization. Create a clear line of sight across your organization and easily align your strategic priorities to your every day, operational activities.
3
Efficiently balance costs, risks, and other complex factors
Make more efficient business decisions that not only balance cost and risk, but other complex factors such as customer service levels, safety, environmental impact, sustainability targets or even a carbon footprint plans, and deliver optimized asset investment plans.
4
Deliver the best value from your investments
EDA is capable of analysing millions of investment permutations and compare complex factors that go into every and each business decision before producing an optimized investment plan that delivers maximized value.
Connect with our Experts
Get in touch today to speak to a member of our team and explore how EDA could help you take your asset management operation to the next level. Contact us.