You have not accepted cookies yet
This content is blocked. Please accept marketing cookies. You can do this here.
Jackie Saling is engineer en vice-president bij Arcadis in de Verenigde Staten. Tijdens het project Quality of Life Pro Bono in Noord-Amerika heeft ze zich ingezet om een oud schoolgebouw in het centrum van Detroit nieuw leven in te blazen. Ze heeft samen met een team van Arcadis de Durfee Innovation Society opgezet.
Toen ze twaalf jaar geleden bij Arcadis begon, had ze al bij verschillende kleinere bedrijven gewerkt, maar ze had het gevoel dat ze niet verder kon leren. Jackie heeft haar sollicitatiegesprek gehad met Fred Payne. Aan het einde van het eerste gesprek, heeft Fred Jackie een exemplaar van zijn boek gegeven: 'Remediation Hydraulics'. Op dat moment realiseerde Jackie zich dat ze haar carrière wilde voortzetten bij Arcadis.
Toen ik wegging na de sollicitatie, dacht ik: 'Wauw. Sommige mensen die voor dit bedrijf werken hebben zelfs boeken geschreven over wat ik graag doe. Hier kan ik blijven leren.' En dat is ook gebleken tijdens mijn carrière hier bij Arcadis. Wat ik hier ook heb gedaan, ik heb continu bijgeleerd van mijn collega's.
Verlaten gemeenschappen
Jackie woont in Plymouth, Michigan, met haar man Josh en twee dochters: Sydney van 10 en AJ van 7. Oorspronkelijk komt ze uit de buitenwijken van Detroit, Michigan, dus voelt ze een sterke verbondenheid met de stad. In de tweede helft van de twintigste eeuw had Detroit het zwaar. In de jaren 50 telde de stad 1,8 miljoen inwoners en waren er voldoende beschikbare, goed betaalde banen in de productie. In 2017 was de populatie van Detroit al gedaald naar zo'n 673.000 inwoners. In de loop van de jaren is een groot deel van de banen verdwenen, waarna veel mensen uit Detroit zijn vertrokken en er voornamelijk Afrikaans-Amerikaanse inwoners zijn achtergebleven. In de jaren 70 en 80 werd de stad het strijdtoneel van drugsdealers, die geweld en criminaliteit veroorzaakten. In de jaren 90 kwam deze situatie tot een hoogtepunt en kreeg Detroit de titel criminaliteitshoofdstad (moord en brandstichting) van de Verenigde Staten. Sindsdien is Detroit bezig geweest met een comeback. Bedrijven en mensen verhuizen langzaam maar zeker terug naar de stad. Maar de toename aan economische activiteit is geen garantie dat onderbedeelde gemeenschappen in de stad ook zullen delen in de welvaart. In 2017 ontving Jackie een e-mail van de inmiddels overleden, toenmalige CEO van Arcadis North America, Joachim Ebert, die haar aan het denken zette.
Ik was op zoek naar een nieuwe uitdaging en een manier om in contact te komen met mensen in nood. Toen kreeg ik een e-mail van Joachim over Quality of Life Pro Bono. Hij vroeg ons om ideeën in te sturen voor projecten, waarmee we de resources en kennis van Arcadis konden inzetten om gemeenschappen te helpen. De enige vereiste was dat het project mogelijkheden liet zien om de kwaliteit van leven te verbeteren en dat het werk moest aansluiten op wat er in Arcadis' macht lag. Ik wilde Detroit graag helpen. Daardoor ben ik Life Remodeled en het project Durfee Pro Bono tegengekomen.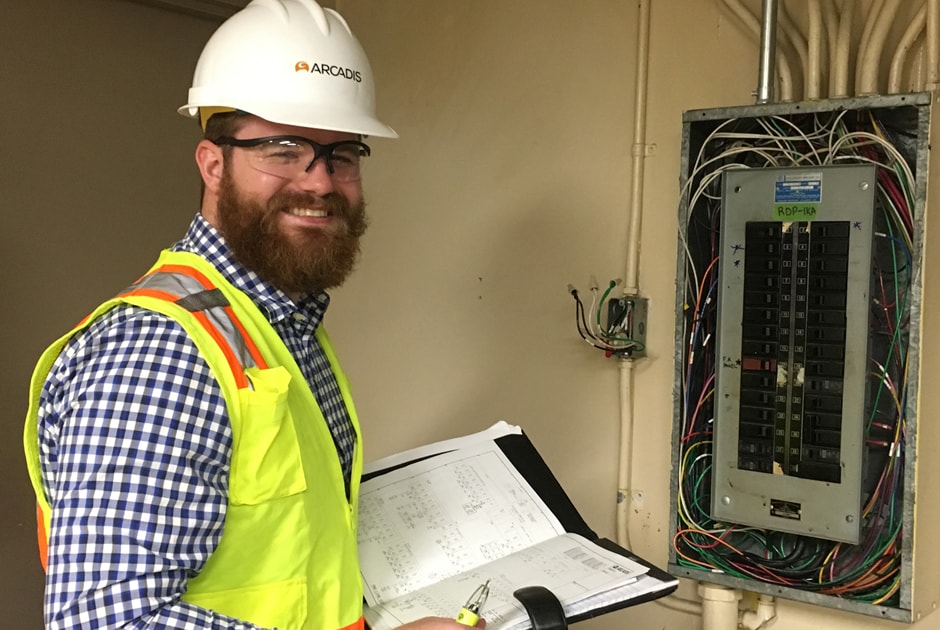 Arcadiaan Alex Kruger voert een elektrische controle uit
Durfee Pro Bono
'Life Remodeled' is een non-profitorganisatie die investeert in Detroit om de wijken op een duurzame manier te verbeteren. De organisatie had een verlaten, voormalige basisschool aangekocht en was bezig deze te veranderen in een gemeenschapsinnovatiecentrum met ruimte voor recreatie, naschoolse programma's voor onderwijs met praktijklessen en het leren van vaardigheden, en kantoorruimte voor kleine bedrijven. Het schoolgebouw stamt uit 1927 en was in slechte staat. Jackie stelde voor dat Arcadis het project zou sponsoren door mensen met expertise beschikbaar te stellen om te helpen het gebouw te herstellen, zodat het weer kon worden gebruikt door de gemeenschap. Er moesten verschillende aspecten van het gebouw worden beoordeeld: de staat van het gebouw (elektriciteit, gemeente-informatie en architectuur), gezondheid en veiligheid, asbest, drinkwater en plafondisolatie.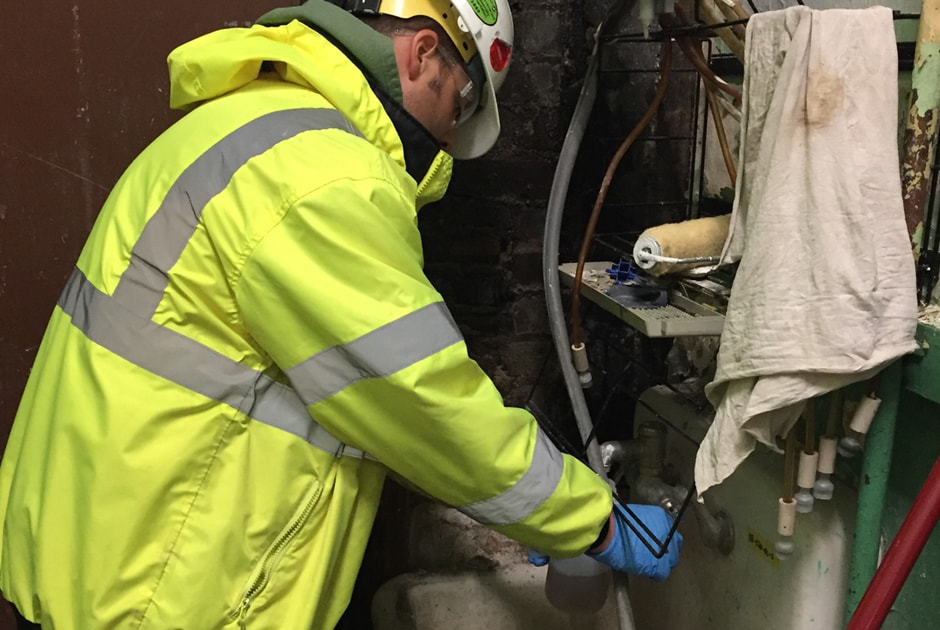 Acardiaan Donnie Richmond neemt een monster van gootsteenwater
In de loop van zes maanden hebben we ons ingezet om het gebouw een upgrade te geven, zodat de ruimte zo snel mogelijk zou kunnen worden verhuurd. Wij hebben de staat van het gebouw geïnspecteerd en hebben Life Remodeled fondsen aangeboden om de meest essentiële reparaties en onderhoudswerkzaamheden uit te voeren. Zelfs nu nog wordt onze inzet gebruikt om het gebouw te verbeteren.
Een voorbeeld voor haar dochters
Het Durfee Pro Bono-project was een zeer dankbare ervaring voor de werknemers van Arcadis die eraan hebben meegewerkt. Hiermee kregen ze de kans om hun werk in te zetten voor mensen die er direct van zouden profiteren. In het bijzonder voor Jackie was het een belangrijk project, omdat ze hiermee een voorbeeld kon geven aan haar twee dochters.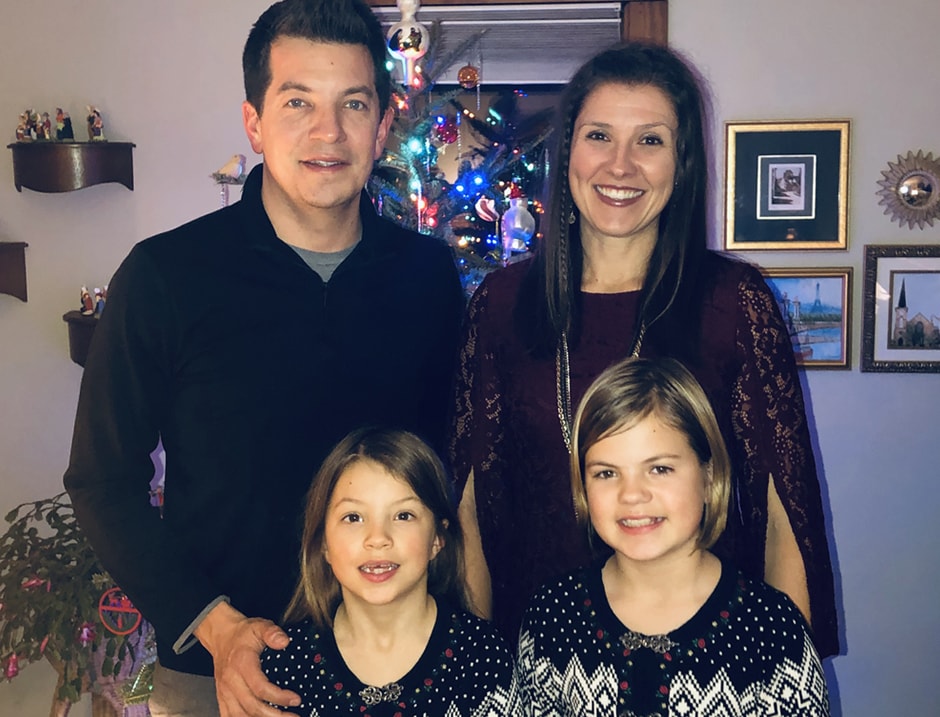 Het gezin Saling: Jackie, Josh, Sydney en AJ
Ik wil graag het goede voorbeeld geven aan mijn meiden. Ik werk hard zodat ze zien dat ze zelf ook mooie en goede dingen kunnen doen als ze volwassen zijn. Maar ik weet ook dat ze niet met veel mensen te maken hebben die er anders uit zien dan zij of die een andere financiële situatie hebben. Daarom vind ik het belangrijk om hen te laten zien dat niet iedereen het zo goed heeft. En ik wil dat ze uit de eerste hand ervaren hoe fijn het is om anderen te helpen.