You have not accepted cookies yet
This content is blocked. Please accept marketing cookies. You can do this here.
Jackie Saling est ingénieure et vice-présidente au sein d'Arcadis aux États-Unis. Dans le cadre de notre projet Quality of Life Pro Bono, en Amérique du Nord, elle a participé à la réhabilitation d'une école abandonnée dans le centre-ville de Détroit. Avec une équipe d'Arcadis, elle a contribué à la création de ce qui est aujourd'hui la Durfee Innovation Society.
Lorsqu'elle a rejoint Arcadis il y a 12 ans, elle avait déjà travaillé dans plusieurs petites entreprises, mais avait l'impression de ne pas être entourée de personnes avec qui elle pourrait apprendre. Jackie s'est entretenue avec Fred Payne, un Arcadien. À l'issue de ce premier entretien, Fred a remis à Jackie un exemplaire de son livre : « Assainissement des circuits hydrauliques ». C'est à ce moment qu'elle a réalisé qu'Arcadis était l'endroit où elle voulait faire carrière.
En sortant de cet entretien, je me suis dit : « C'est incroyable, il y a vraiment des employés de cette entreprise qui écrivent des livres sur ce que j'aime faire. Je serai toujours entourée de personnes désireuses de partager leurs connaissances. » Et cela s'est vérifié tout au long de ma carrière ici. Peu importe mes activités chez Arcadis, j'ai toujours beaucoup appris auprès de mes collègues.
Des communautés laissées pour compte
Jackie vit à Plymouth, dans le Michigan, avec son mari Josh et ses deux filles, Sydney et AJ, âgées de 10 et 7 ans. Mais Jackie est originaire de la banlieue de Détroit, dans le Michigan, et a un lien fort avec cette ville. La seconde moitié du XXe siècle a été difficile pour Détroit. En 1950, la ville comptait 1,8 million d'habitants et de nombreux emplois bien rémunérés dans l'industrie. En 2017, la population de Détroit était d'environ 673 000 habitants. Avec le temps, les emplois dans l'industrie ont disparu et de nombreuses personnes ont quitté Détroit, laissant derrière elles une population essentiellement afro-américaine. Dans les années 70 et 80, la ville était gangrénée par la drogue, dont les ventes alimentaient une violence et une criminalité endémiques. Ce phénomène a atteint son apogée au début des années 1990, lorsque Détroit était connue comme la capitale américaine des meurtres et des incendies criminels. Depuis lors, Détroit a connu un renouveau, les entreprises et les habitants revenant progressivement dans la ville. Mais rien ne permet de garantir que ce regain d'activité économique puisse profiter à toutes les communautés. Un email qu'elle a reçu en 2017 du PDG d'Arcadis en Amérique du Nord, le regretté Joachim Ebert, a fait réfléchir Jackie sur la façon dont elle pourrait apporter son aide.
Je cherchais un nouveau défi et un moyen de nouer des liens avec des personnes dans le besoin, lorsque j'ai reçu l'email de Joachim sur le projet Quality of Life Pro Bono. Il nous a demandé à tous de soumettre des idées de projets, qui mettraient à profit les ressources et le savoir-faire d'Arcadis pour aider les communautés. Sa seule exigence était de démontrer un potentiel d'amélioration de la qualité de vie des résidents et de mobiliser les compétences d'Arcadis. Je voulais vraiment accomplir quelque chose pour Détroit. C'est ainsi que j'ai découvert « Life Remodeled » et le projet Durfee Pro Bono.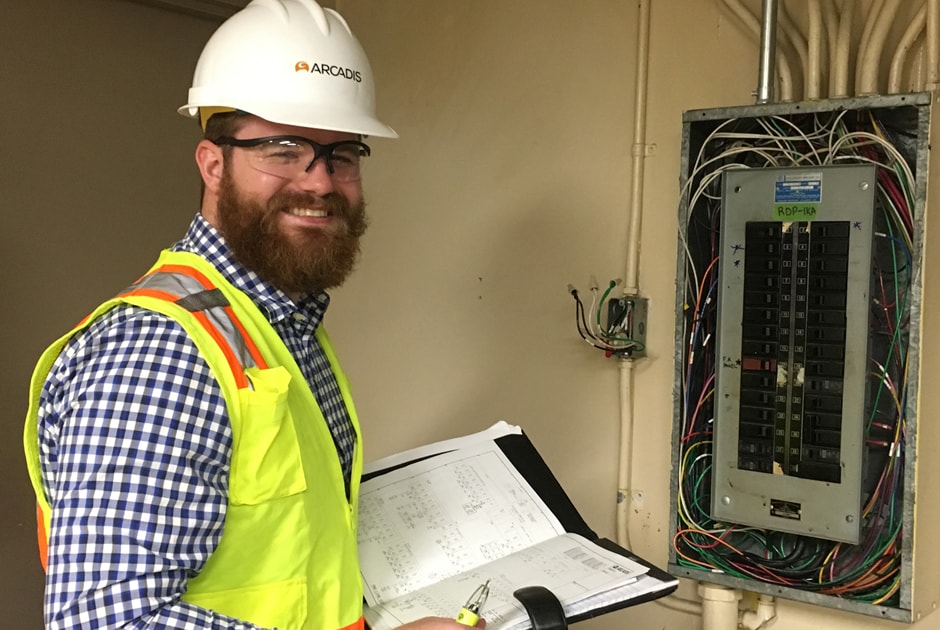 Alex Kruger, collaborateur d'Arcadis, effectuant une évaluation électrique
Le projet Durfee Pro Bono
« Life Remodeled » est une association à but non lucratif qui investit à Détroit, afin de rénover et d'améliorer durablement les quartiers. Cette association a acheté une ancienne école primaire abandonnée pour la transformer en un centre d'innovation communautaire afin d'y accueillir de loisirs, des programmes périscolaires pour l'éducation au monde réel et l'apprentissage de compétences, ainsi que des bureaux pour les petites entreprises. L'école, construite en 1927, était dans un état de délabrement avancé. Jackie a proposé qu'Arcadis parraine le projet en mettant à disposition le temps et l'expertise de ses collaborateurs pour améliorer l'état du bâtiment, et ce afin qu'il puisse être utilisé à nouveau par la communauté. Le travail d'Arcadis comprenait une évaluation de l'état du bâtiment (électrique, civile et architecturale), de l'isolation des plafonds et du volet santé et sécurité, ainsi qu'une étude sur l'exposition à l'amiante et un échantillonnage de l'eau potable.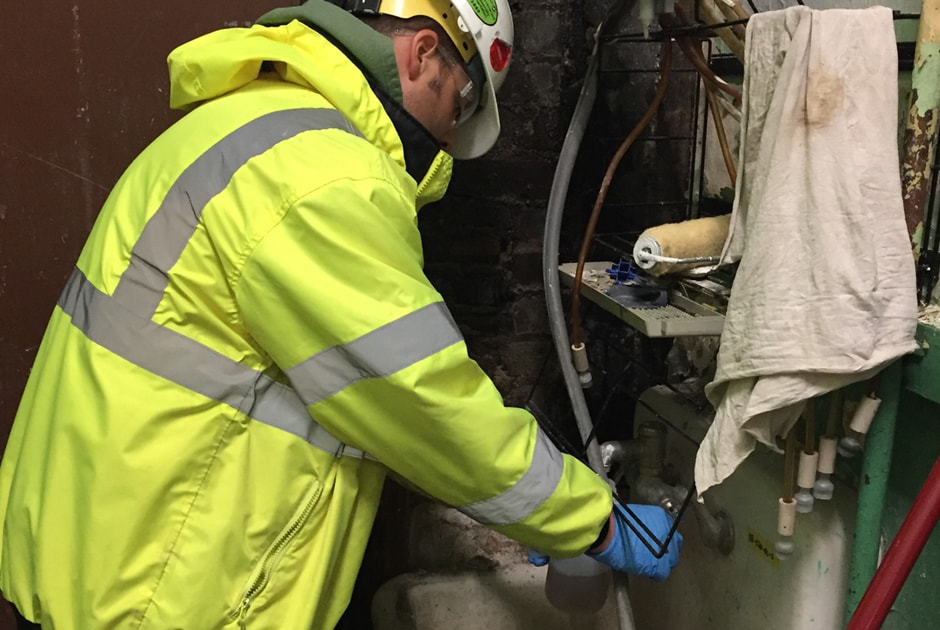 Donnie Richmond, collaborateur d'Arcadis, prélevant un échantillon d'eau d'un poste d'eau
Pendant six mois, nous avons travaillé à la rénovation du bâtiment afin de pouvoir louer l'espace le plus rapidement possible. Nos études ont permis à Life Remodeled de financer directement les projets de réparation et de réhabilitation les plus critiques. Notre travail est encore utilisé aujourd'hui pour optimiser le bâtiment.
Enseigner à ses filles à donner en retour
Travailler sur le projet Durfee Pro Bono a été une expérience très enrichissante pour les Arcadiens et les Arcadiennes qui y ont pris part. Ce fut pour eux l'occasion de mettre à contribution leurs expertises directement auprès des personnes dans le besoin. Mais cela était particulièrement important pour Jackie, car elle souhaitait montrer l'exemple à ses deux filles.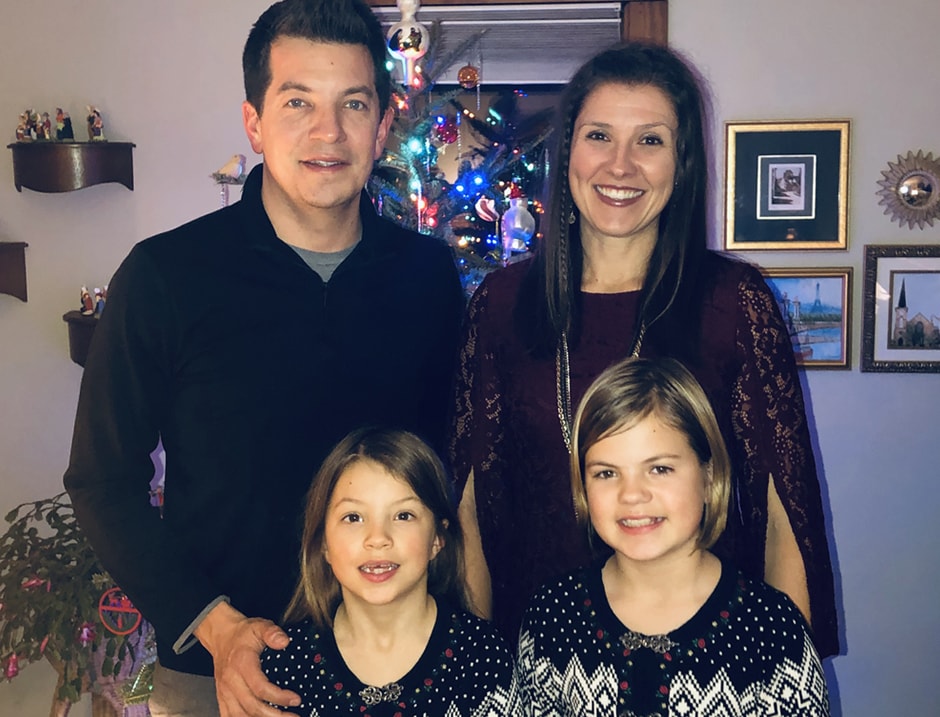 La famille Saling : Jackie, Josh, Sydney et AJ
Je suis très soucieuse de donner un bon exemple à mes filles. Je travaille dur pour qu'elles se rendent compte qu'elles pourront accomplir de grandes choses en grandissant. Mais je sais aussi qu'elles voient presque uniquement des personnes qui leur ressemblent et qui ont la même situation économique. C'est pourquoi j'essaie les faire voyager au maximum, afin qu'elles puissent voir que tout le monde n'a pas autant de chance qu'elles. Et je veux qu'elles découvrent, par elles-mêmes, combien il est gratifiant de donner et d'aider les autres.