You have not accepted cookies yet
This content is blocked. Please accept marketing cookies. You can do this here.
Jackie Saling es ingeniera y vicepresidenta de la sede de Arcadis en Estados Unidos. Gracias al programa Quality of Life sin ánimo de lucro de Arcadis en Norteamérica, Jackie ayudó a rehabilitar un colegio abandonado de una zona sin recursos de Detroit. Junto a un equipo de arcadianos, Jackie contribuyó a la creación de lo que se conoce actualmente como la Durfee Innovation Society.
Cuando se unió al equipo de Arcadis hace 12 años, ella ya había trabajado en otras empresas más pequeñas, pero sentía que no le quedaba nadie de quien aprender. Jackie tuvo una entrevista con el arcadiano Fred Payne y, al final de su primera conversación, Fred le dio a Jackie una copia de su libro: «Remediation Hydraulics». En ese momento, Jackie se dio cuenta de que quería formar parte de Arcadis.
Al salir de la entrevista pensé: «Vaya. Hay personas que trabajan para esta empresa y escriben libros sobre algo que a mí me interesa. Aquí siempre habrá alguien de quien aprender». Y así ha sido. Haga lo que haga en Arcadis, nunca dejo de aprender de mis compañeros.
Las comunidades olvidadas
Jackie vive en Plymouth, Michigan, con su marido Josh y sus dos hijas, Sydney y AJ, de 10 y 7 años respectivamente. Sin embargo, Jackie creció a las afueras de Detroit, Michigan, y siente una fuerte conexión con la ciudad. La segunda mitad del siglo XX fue una época difícil para Detroit. En 1950, la ciudad contaba con una población de 1,8 millones de habitantes y era fácil encontrar un trabajo bien pagado en el sector industrial. En 2017, solo quedaban en Detroit en torno a 673.000 personas. Con el tiempo, los empleos industriales desaparecieron y muchas personas se fueron de Detroit, dejando atrás a una población mayoritariamente afroamericana. En las décadas de los setenta y ochenta, el tráfico de drogas era uno de los mayores problemas de la ciudad, lo que creaba un entorno de violencia y delincuencia. El punto álgido se alcanzó a principios de los noventa, cuando Detroit se conocía como la capital de los incendios y los asesinatos de Estados Unidos. Desde entonces, Detroit ha vuelto progresivamente a la vida, ya que cada vez más personas vuelven y abren nuevos negocios en la ciudad. Sin embargo, la afluencia de actividad económica no garantiza que esta prosperidad llegue también a las comunidades menos favorecidas. Jackie recibió en 2017 un correo electrónico del antiguo director ejecutivo de Arcadis Norteh America, Joachim Ebert, que la hizo reflexionar sobre cómo podría ayudar a los más necesitados.
Estaba buscando nuevos desafíos y maneras de conectar con las personas que más lo necesitan cuando me llegó un correo de Joachim sobre el programa sin ánimo de lucro Quality of Life. Nos pidió a todos que propusiéramos ideas para proyectos en los que Arcadis pudiera utilizar sus conocimientos y recursos para ayudar a comunidades que lo necesitaran. Los únicos requisitos que se nos pedían eran que el proyecto pudiera mejorar de verdad la calidad de vida de las personas y que el trabajo estuviera en sintonía con las habilidades que Arcadis era capaz de aportar. Supe entonces que mi propuesta tendría que ver con Detroit. Así me enteré de la existencia de «Life Remodeled» y de Durfee, un proyecto sin ánimo de lucro.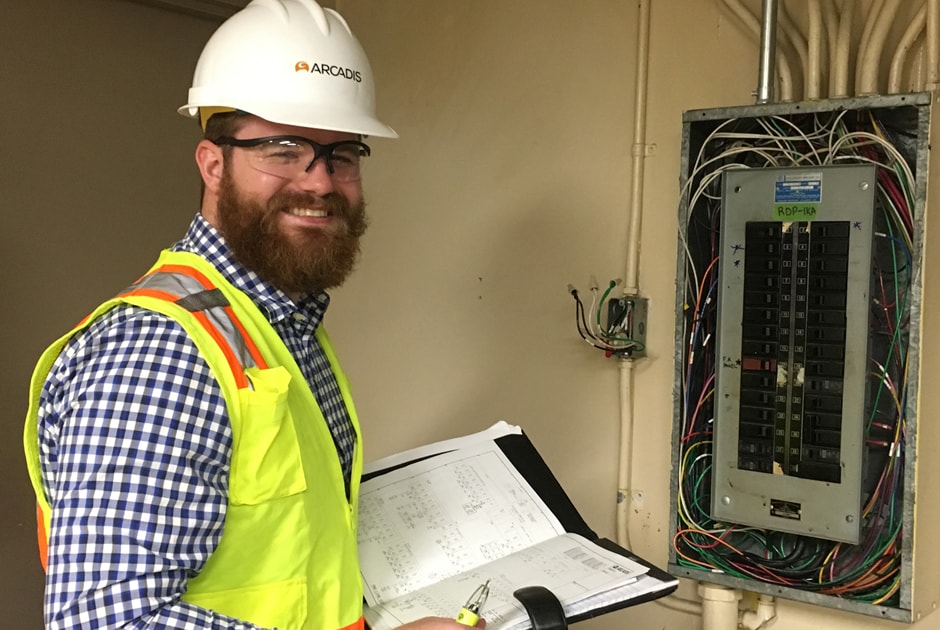 El Arcadiano Alex Kruger realizando una evaluación eléctrica
El proyecto Durfee sin ánimo de lucro
«Life Remodeled» es una organización sin ánimo de lucro que trata de mejorar los barrios de Detroit de manera sostenible. La organización había iniciado un proyecto para convertir una escuela primaria abandonada en un centro comunitario de innovación: un espacio donde pudiera ofrecerse entretenimiento, actividades extraescolares para enseñar distintas habilidades y un espacio de oficinas para pequeños comercios. La escuela, construida en 1927, estaba en muy mal estado. Jackie propuso que Arcadis patrocinara el proyecto, ofreciendo sus conocimientos y su tiempo para ayudar a mejorar el estado del edificio, a fin de que la comunidad pudiera utilizarlo de nuevo. Se evaluó el estado de la propiedad (arquitectónico, eléctrico y civil), en seguridad y salud; se comprobó que no hubiera amianto, se llevaron a cabo pruebas en el agua potable y se analizó el estado del aislamiento del techo.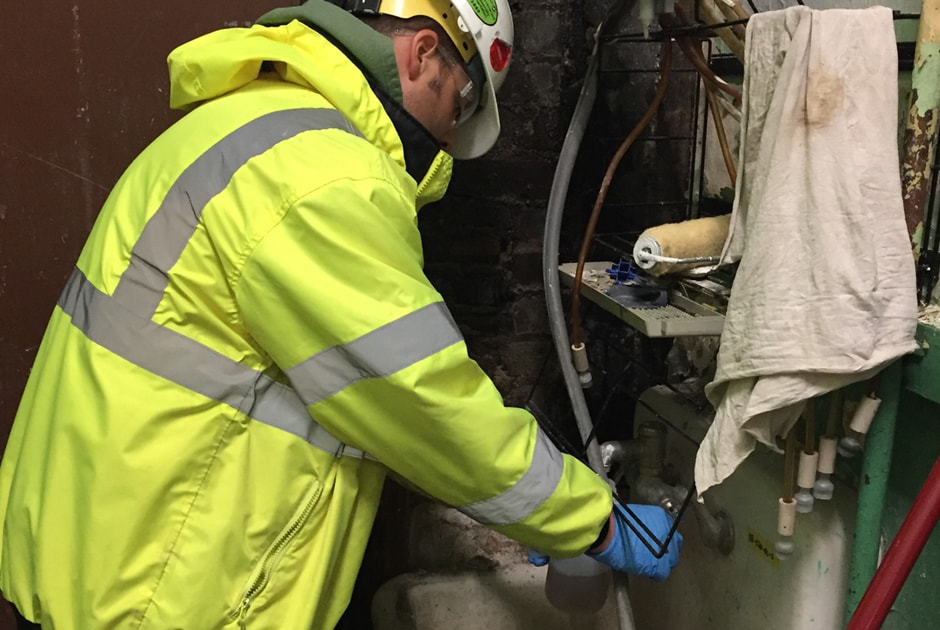 El Arcadiano Donnie Richmond tomando una muestra de agua del fregadero
En el transcurso de seis meses, trabajamos para restaurar el edificio, para que pudiera alquilarse lo antes posible. Nuestra evaluación del estado del edificio ayudó a que Life Remodeled pudiera dirigir los fondos a los proyectos de restauración y reparación más importantes. El trabajo que hicimos todavía se está utilizando para mejorar el edificio.
Enseñando a sus hijas a aportar su granito de arena
Trabajar en el proyecto Durfee sin ánimo de lucro fue una experiencia muy gratificante para los arcadianos que participaron en esta iniciativa, ya que tuvieron la oportunidad de utilizar su trabajo en ayudar directamente a las personas necesitadas. Sin embargo, para Jackie esta experiencia fue importante por otra razón: el ejemplo que estaba dando a sus dos hijas.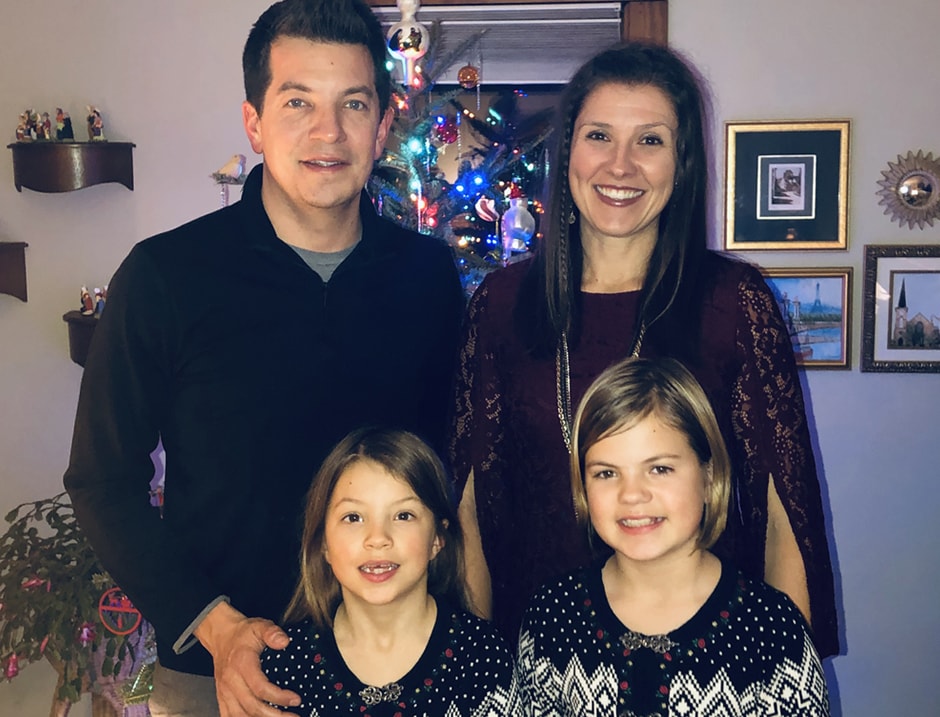 La familia Saling: Jackie, Josh, Sydney y AJ
Me gustaría ser un buen ejemplo para mis niñas. Me esfuerzo mucho para que vean que ellas también pueden hacer grandes cosas cuando crezcan. También soy consciente de que casi todas las personas a las que conocen se parecen mucho a ellas y que no han visto a nadie que viva en circunstancias socioeconómicas distintas a las nuestras. Mi prioridad es enseñarles que no todo el mundo tiene tanta suerte como ellas y me gustaría que viviesen de primera mano lo gratificante que es poder ayudar a los demás.