You have not accepted cookies yet
This content is blocked. Please accept marketing cookies. You can do this here.
Jackie Saling is an engineer and vice president with our company in the United States. Through our Quality of Life Pro Bono project, in North America, she worked to revitalize an abandoned school in inner city Detroit. She and a team from Arcadis helped create what is now the Durfee Innovation Society.
When she joined Arcadis 12 years ago, she had already worked at a number of smaller firms but felt that she'd run out of people from whom she could learn. Jackie interviewed with Arcadian Fred Payne. At the end of that first chat, Fred gave Jackie a copy of his textbook: 'Remediation Hydraulics'. That was the moment she realized that Arcadis is where she wants to build her career.
As I was leaving the interview, I thought to myself, 'Wow. There are literally people who work for this company who write textbooks on what I like to do. I will never ever run out of people to learn from here.' And that has been true throughout my career here. No matter what I have done at Arcadis, I have just continued to learn so much from my colleagues.
Communities left behind
Jackie lives in Plymouth, Michigan with her husband Josh and two daughters Sydney and AJ, aged 10 and 7. But Jackie's originally from the suburbs of Detroit, Michigan, and has a strong connection with that city. The second half of the 20th Century was hard for Detroit. Back in 1950, the city had a population of 1.8 million, and readily available, good paying, manufacturing jobs. In 2017, Detroit's population was around 673,000. Over time, those manufacturing jobs vanished, and many people moved out of Detroit, leaving behind a largely African American population. In the 70's and 80's, the city was plagued by drugs, the sales of which fueled rampant violence and crime. This peaked in the early 1990's, when Detroit was known as the murder and arson capital of the United States. Since then, Detroit has been undergoing a revival, with businesses and people slowly moving back into the city. But the influx of economic activity is no guarantee that underserved communities in the city will share in the prosperity. A 2017 email that she received from Arcadis North America CEO, the late, Joachim Ebert, got Jackie thinking about how she could help.
I was looking for a new challenge and a way to connect with people in need, when I got the email from Joachim about the Quality of Life Pro Bono. He'd asked us all to submit ideas for projects, where we could leverage Arcadis' resources and know-how to help communities. The only requirement was that the project had to show demonstrable potential to improve quality of life and the work needed to align with Arcadis' capabilities. I definitely wanted to do something for Detroit. That's how I found out about "Life Remodeled" and the Durfee Pro Bono project.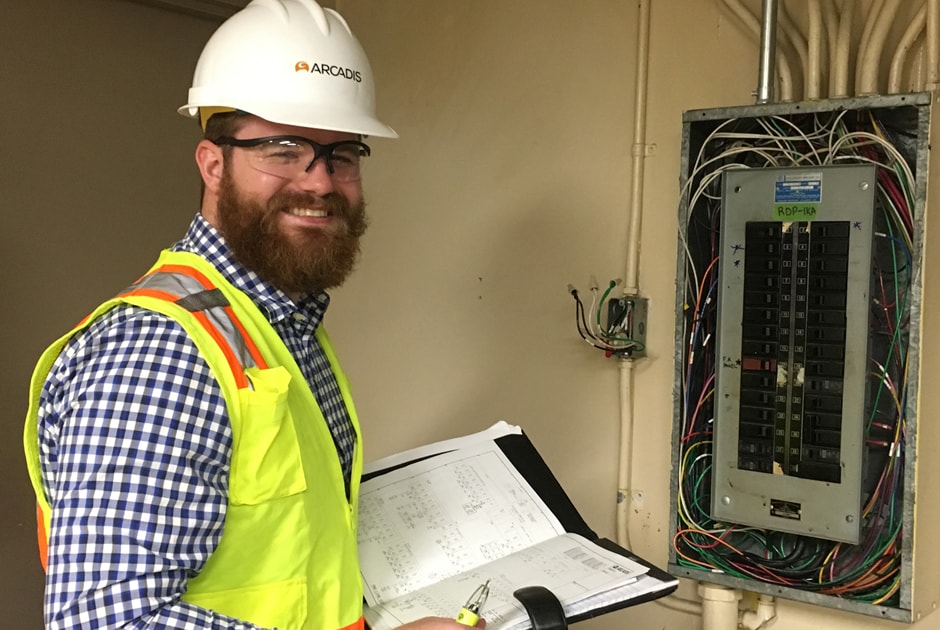 Arcadian Alex Kruger conducting an electrical assessment
The Durfee Pro Bono project
"Life Remodeled" is a non-profit that invests in Detroit, to sustainably transform neighborhoods for the better. The organization had taken over an abandoned, former elementary school and was working to change it into a community innovation center: space to provide recreation, after school programs for real world education and skills learning, as well as office space for small businesses. The school was built in 1927 and was in a bad state of disrepair. Jackie proposed that Arcadis sponsor the project by lending our people's time and expertise to help improve the state of the building, so that it could be used again by the community. This work included a property condition assessment (electrical, civil and architectural), a health and safety assessment, asbestos survey, drinking water sampling, and ceiling insulation evaluation.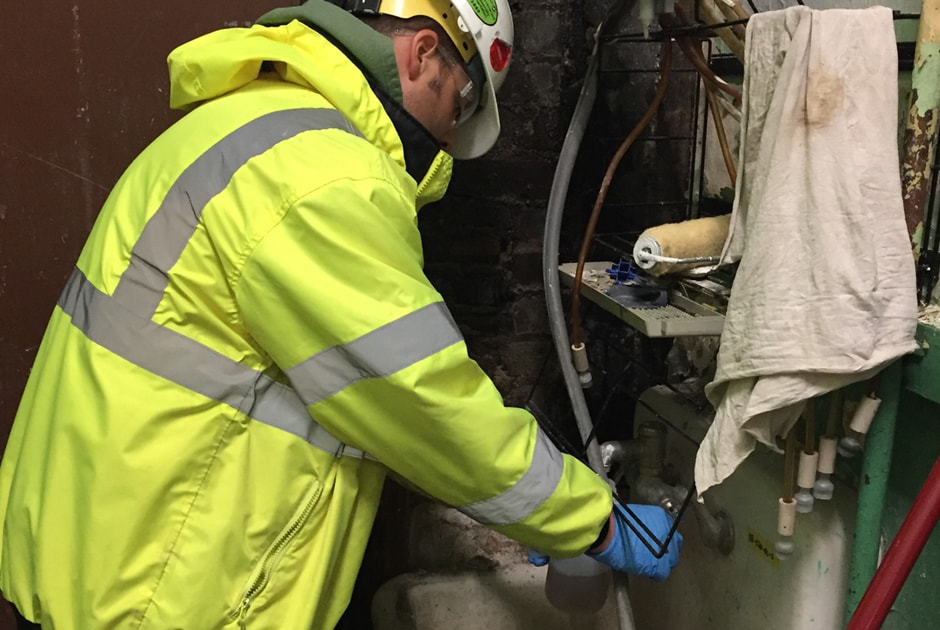 Arcadian Donnie Richmond sampling utility sink water
Over the course of six months, we worked to upgrade the building so the space could be leased out as soon as possible. Our property conditions assessment helped Life Remodeled direct funding to the most critical repair and restoration projects. And, even now, our work is being used to improve the building.
Teaching her daughters to pay it forward
Working on the Durfee Pro Bono project was a very rewarding experience for the Arcadians who took part in the initiative. It was a chance for them to use their work to directly benefit people in need. But it was particularly important for Jackie, in terms of the example she's setting for her two daughters.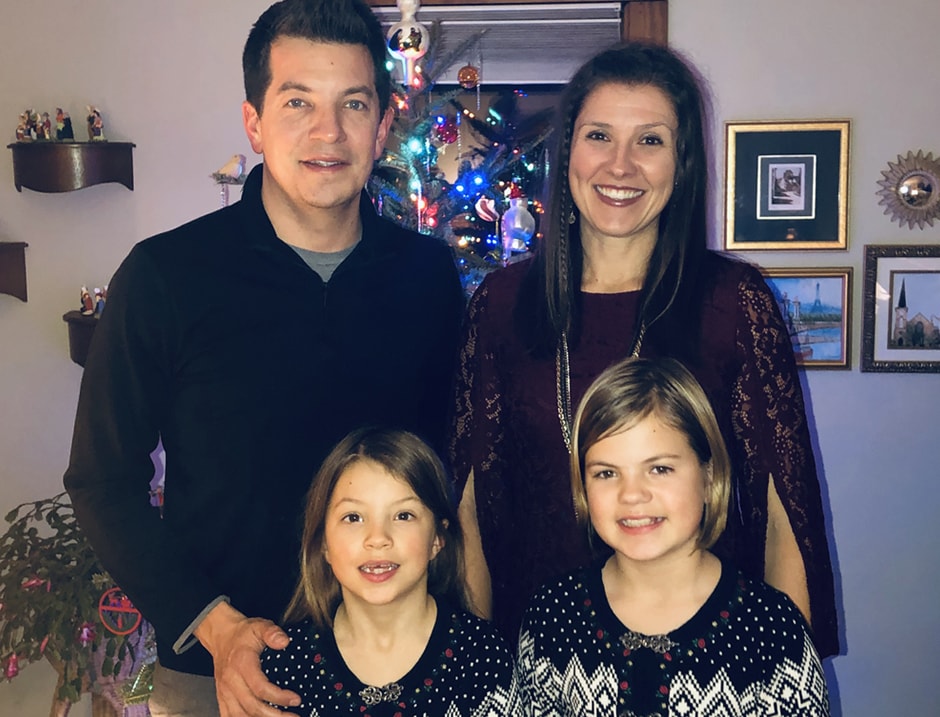 The Saling family: Jackie, Josh, Sydney and AJ
I'm very motivated to set a good example for my girls. I work hard so they can see that they can do great things when they grow up. But I also know that they don't see a lot of people who look different from them or have different economic circumstances. So, I have to make it a priority to get them to places, so they can see that not everyone is as fortunate as them. And I want them to experience, first-hand, how fulfilling it is to give back and help others.