The COVID-19 outbreak has affected people and organizations globally. Looking back to the most difficult time, Joe Chan, Head of Cost and Commercial Management in China, reflects on its impact on the real estate and construction industry in China and the outlook for the rest of the year and beyond.
Q:What is your view regarding the impact of COVID-19 on the real estate and construction industries this year?
Generally speaking, a capital liquidity crunch is the main issue for the property and construction sectors. Investment has been reduced across the market due to the blocked cash flow of developers. For developed projects, commercial business has been affected by the huge fluctuations in retail that have led to rental income decreases, while companies may decide to reduce office floor space in order to reduce rental costs. If this situation can't be mitigated, a greater impact will be seen on future development projects. Business has been slower for both developers and consultants, but, working on the assumption that the government will implement the appropriate quantitative easing measures to boost property development, the impact will be likely short-term instead of resulting in a crisis. Due to the current severe pandemic situation globally, the outlook is not clear yet. In the era of global integration, we are closely linked. If the world economy falls into depression no one will be an exempt - including us. Currently, the general situation is going in a good direction.
Q:Can you share your thoughts on the impact of COVID-19 on the business of construction consultancies, what are the major challenges?
The impact on our domestic business was not huge, and I think for other consulting firms it should be the same. The lockdown measure in different cities in China during the epidemic period meant that there was no time for delivery, the output value was reduced and the completion date of many projects will be delayed. However, the domestic epidemic situation is gradually improving, and now the challenge is to have the capability to take on new projects quickly. I think many companies have recently started receiving new project or service requests, so your reaction speed and delivery capability will be immediately reflected. The overall speed of recovery is expected to be relatively fast.
Q:What are the strengths of Arcadis in dealing with the epidemic?
Personally, I think the advantage of Arcadis is our excellent staff. "People First" has always been our priority. Whether in China or around the world, our people are flexible and agile. We believe our staff is the most important factor in a prosperous future for Arcadis. Considering the situation of the epidemic abroad, we have sent masks to our colleagues in Europe, just as our international colleagues helped us before. We are a big family and support each other.
Q:Based on the market performance in Q1 2020, what is your expectation for the industry in the next half year or the whole year? Can you give some suggestions for the business recovery and stabilization of the real estate and construction sectors?
Currently, the real estate and construction industries are less affected compared with other industries. As long as the world does not enter a great depression, the situation will certainly improve in the second half of 2020 and gradually recover, so we need to be fully prepared for this.
In terms of industry, for foreign developers, there may be good opportunities to buy land; for investors, there may valuable investment opportunities; for consulting firms, talent is most important, so it is important to retain talent. Transparency and close communication are even more important during this period, as well as avoiding transferring business pressure directly to employees. In fact, during this period, we can do things that we should have done before but often neglected, such as software learning and usage, database building, market insights and analysis, industry research, etc., so that employees can use this period to strengthen themselves and prepare for future opportunities.
Q:Crisis also generates opportunities. At present, the epidemic in China has been relatively controlled, are there any opportunities during this current difficult period?
A feature of construction projects is the relatively long construction period, which usually lasts for a few years. Therefore, the impact from this year may actually cause a greater impact next year or the year after. If we have a rapid economic recovery in the second half of the year, the overall industry will be able to develop steadily in 2020 – the risk resistance capacity of the construction industry is relatively strong.
The COVID-19 outbreak has changed the way people live and work to some extent. What we needed to do in person before may not be necessary now – for example, in our site work, there are now artificial intelligence automation machines that can help. Meanwhile, our clients are also gradually changing from the real estate industry to logistics, e-commerce, AI automation and other diversified industries. This year, Arcadis also launched our new digital business Arcadis Gen, which is an important step towards full digitization, helping us to maintain a leading position in data-driven products and solutions in the natural and built environment. Ultimately, maintaining a good corporate culture and the ability to develop new opportunities are the biggest competitive advantages of a company.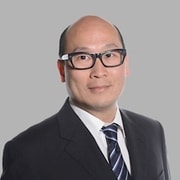 Connect with
Joe Chan

for more information & questions.
Joe Chan,

Head of Cost & Commercial Management, China Contact Joe