You have not accepted cookies yet
This content is blocked. Please accept marketing cookies. You can do this here.
How does a global company of almost 30,000 people operate without contributing to climate change? The truth is, no company has an answer to this question yet, but Arcadis is among the ones working towards a future where this can be possible. A year ago, during our Sustainability Day Broadcast, Arcadis CEO Peter Oosterveer and CSO Alexis Haass unveiled Arcadis' sustainability ambition and commitments, including our commitment to achieve net zero across our global operations by 2035. A year later, we are taking stock of the progress made so far and the work left to be done.
We joined the Race to Zero, a global campaign to rally leadership and support from businesses, cities, regions, and investors for a healthy, resilient, zero carbon recovery that prevents future threats, creates decent jobs, and unlocks inclusive, sustainable growth. We also joined the Science Based Targets Network and had a Near Term Target approved by the Science Based Targets initiative. We have continued to transparently report on our carbon footprint in our Integrated Annual Report, and across our global business we offset 100% of material scope 1, 2, and 3 emissions – which means the emissions we produce directly, indirectly and across our entire value chain - through high quality offsets as an interim step on our path to net zero. As of 2021, we are sourcing 90% of electricity purchased globally from renewable sources.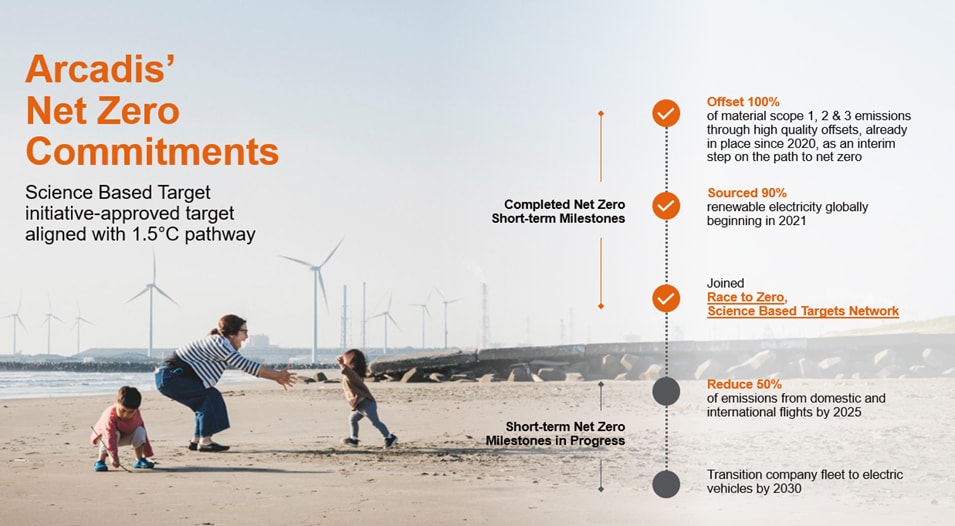 There is still much work to be done as Arcadis and our partners, suppliers, and clients work towards net zero. We have committed to reducing 50% of emissions from domestic and international flights by 2025. This will require a reduction in the overall number of flights as well as partnerships with airlines that are experimenting with sustainable aviation fuel. We have also committed to transitioning our entire company fleet to electric vehicles by 2030. This commitment will face different challenges in different areas where we operate, but our local teams are fully engaged in and committed to reaching this target. To support our clients on their own sustainability journeys, we launched a Sustainability Advisory practice area in 2021, working with governments and businesses to build comprehensive sustainability strategies.
Rating agencies are taking note. We are proud to share that Sustainalytics ranked Arcadis number 1 out of 299 companies in the Construction & Engineering Category for 2021. We also saw our EcoVadis rating increase from Gold to Platinum which puts Arcadis in the top 1% of companies not only in its industry (classified as Architectural and Engineering Activities, Technical Testing and Analysis; and which alone includes 2,800 companies), but also in the top 1% of companies, across 200 industries, that are assessed worldwide.
In announcing our net zero commitment last year, our CEO Peter Oosterveer stated, "Taking action to address climate change is not only a moral obligation, but also a clear commercial opportunity for Arcadis in developing smarter and greener solutions for our clients. I want us to be the leader in our sector; challenging norms, embracing innovation, collaborating with the best and pushing boundaries to solve this challenge."
Arcadians worldwide are certainly rising to this challenge.