You have not accepted cookies yet
This content is blocked. Please accept marketing cookies. You can do this here.
Klimaatdoelstellingen realiseren door te kijken naar voorbeelden uit het verleden.
Stedelijke energiesystemen voorbereiden en vormgeven
Steden over de hele wereld hebben ambitieuze klimaatdoelstellingen, maar wat is de volgende stap? Strategische planning is een cruciale stap bij het beoordelen van de toekomstige stedelijke energiemix om CO2-neutraliteit te realiseren. Om besluiteloosheid te overwinnen, moeten gegevens van energieaudits worden beoordeeld en de benodigde vaardigheden, capaciteiten en middelen in kaart worden gebracht. Het stellen van realistische, haalbare doelen om vroeg winst te behalen om het momentum te handhaven, is van cruciaal belang.
De snelle verstedelijking, stijgende kosten en verouderde infrastructuur zorgen er ook voor dat de energietransitie uitdagend en duur zal zijn. Het is dus belangrijk dat plannen de sterke punten van onze steden vertegenwoordigen.
Balanceren tussen micro en macro
De eenvoudigste en meest effectieve oplossingen liggen op microniveau. Om onze energiesystemen voor te bereiden, moeten we klein beginnen op gebouwniveau, waarbij we de energie-efficiëntie van panden beoordelen. Vervolgens moeten we de beschikbare energiebronnen op buurtniveau verkennen, zoals een nabijgelegen watermassa die kan worden gebruikt voor waterwarmtepompen. Als niet aan deze behoefte wordt voldaan of als er een bepaalde bron verder weg makkelijker kan worden benut, moeten we de focus uitbreiden naar wijkniveau. Een micro-naar-macro-aanpak kan helpen het traject te vereenvoudigen en vertrouwen te creëren in besluitvorming en haalbaarheid.
Aan de slag. De belangrijkste stappen:
Eenvoudige, effectieve oplossingen op basis van wat er beschikbaar is op het niveau van het gebouw, de buurt en de wijk zijn essentieel om de besluiteloosheid in dit complexe ecosysteem te overwinnen.
Elke toekomstige energiemix moet het verhaal vertellen van de sterke punten van een stad, de beschikbare hulpbronnen maximaliseren en er tegelijkertijd voor zorgen dat dit op een duurzame manier gebeurt. Milieu-impactbeoordelingen kunnen van essentieel belang zijn om ervoor te zorgen dat de energietransitie niet ten koste gaat van de lokale ecologie die nodig is om de stad te laten bloeien.
Haalbaarheidsonderzoeken zijn essentieel om ervoor te zorgen dat potentiële obstakels al in de strategische planningsfase proactief worden bekeken.
Voor een optimaal systeem moeten innovatieve oplossingen deel uitmaken van de vergunnings-, aanbestedings- en contractfase. Denk aan energievoorzieningsmodellen die de beste plekken aanwijzen om wijken te plannen.
Projecten
Ontdek hoe Arcadis grote gemeenten en organisaties ondersteunde bij het plannen en implementeren van duurzame energiesystemen.
Hoe wij kunnen helpen
Arcadis heeft ruime ervaring en expertise op het gebied van CO2-neutraliteit, van strategische planning tot praktische implementatie. Kom meer te weten over de belangrijkste oplossingen die wij bieden.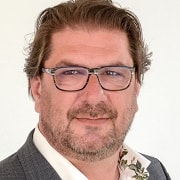 Wim Voogd
Program Director Energy Transition