You have not accepted cookies yet
This content is blocked. Please accept marketing cookies. You can do this here.
Arcadis will lead a team of consultants to deliver a pedestrian-centered redesign of New York City's iconic Fifth Avenue corridor
November 1, 2023 - Arcadis, a leading global design and consultancy organization for natural and built assets, is pleased to announce it has been selected by the New York City Economic Development Corporation as lead consultant to oversee the delivery of the permanent redesign plan of the iconic Fifth Avenue corridor between Central Park and Bryant Park. The plan envisions a pedestrian-centered urban business district that also prioritizes cyclists, mass transit and the public realm.
To realize this vision, New York City Mayor Eric Adams established the "Future of Fifth" – a public-private partnership between New York City and four key business improvement districts and civic organizations: Fifth Avenue Association, Grand Central Partnership, Bryant Park Corporation and Central Park Conservancy. The City's decision to advance the "Future of Fifth" project follows a comprehensive study conducted by Mastercard that found a $3 million increase in spending when the city transformed 11 city blocks into pedestrian-friendly public spaces on Fifth Avenue for three weeks in winter 2022.
As lead consultant responsible for the program management of the project, Arcadis is leading on construction phasing and implementation, heading-up a core team of three engineering, planning, and design firms: Sam Schwartz, Field Operations and Public Works Partners. As principal in charge, Arcadis is responsible for the overall delivery of the vision and redesign plan that seeks to integrate Fifth Avenue with the surrounding urban environs, strengthen connectivity, and balance the iconic boulevard's distinct identity with active programming, passive space, and transportation demands. Arcadis is also the Architect of Record for more than 20 of the stores on the famed boulevard.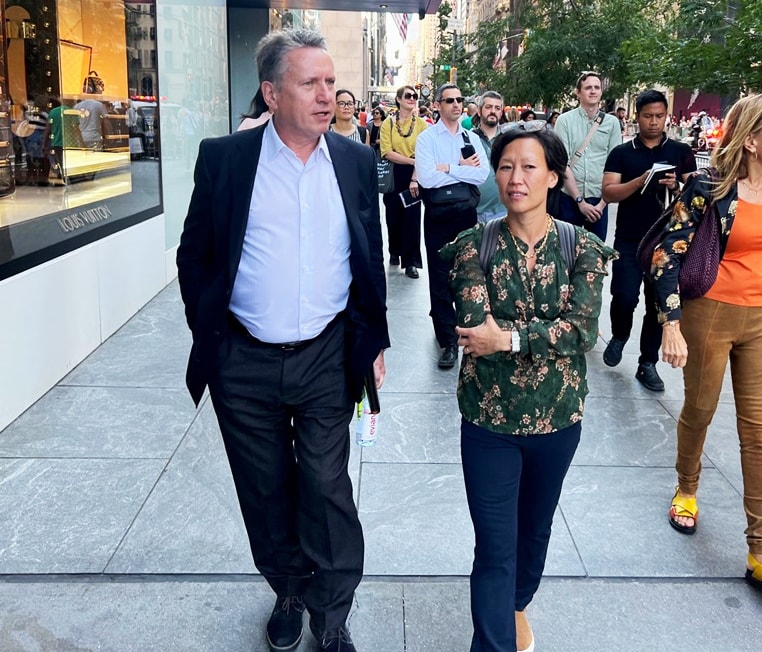 Arcadis CEO Alan Brookes with Jee Mee Kim-Diaz, New York City Executive, on New York's iconic 5th Avenue.
Jee Mee Kim-Diaz, New York City Executive at Arcadis, said: "Fifth Avenue is arguably one of the most recognizable stretches of real estate in the world. We feel incredibly privileged and proud to bring our global experience in creating world class streetscapes to transform Fifth Avenue into a pedestrian-friendly, dynamic retail corridor that supports the ongoing revitalization of New York City's central business district."
The Arcadis team will also be charged with leading the community and stakeholder engagement process which will inform the development of the comprehensive plan and design and make Fifth Avenue's world-class public space more appealing to residents, workers and visitors.
Alan Brookes, CEO of Arcadis, said: "The reimagining of Fifth Avenue as an even grander corridor is as much an economic story as it is a sustainability story. The strength of Arcadis is our ability to work alongside global clients like New York City and their various stakeholders to deliver public spaces that are both economic catalysts for surrounding communities and deliver sustainable urban outcomes."
The Fifth Avenue vision and redesign plan is scheduled to be delivered by mid-2024. The schematic design is scheduled to be completed by early 2025.
Connect with
Kerri Moore

for more information & questions.
Kerri Moore,

Corporate Communications Contact Kerri