You have not accepted cookies yet
This content is blocked. Please accept marketing cookies. You can do this here.
Arcadis demonstrates its commitment to the wellbeing of its people and clients through the newly achieved WELL Health-Safety Rating for its offices.
The WELL Health-Safety Rating comes after the Makati City office received LEED Gold Certification last August 2021.
Philippines, 13 February 2023 — Arcadis Philippines, Inc. (API) announced today it earned the WELL Health-Safety Rating for its offices in 8 Rockwell Makati City and JEG Tower Cebu City through the International WELL Building Institute (IWBI). The WELL Health-Safety Rating is an evidence-based, third-party verified rating for all new and existing building and space types focusing on operational policies, maintenance protocols, stakeholder engagement and emergency plans to address a post-COVID-19 environment now and into the future.
Achieving the WELL Health-Safety Rating demonstrates Arcadis' commitment to providing a safe and healthy workplace where people can maximize collaboration and engage with clients. With a hybrid working scheme in place, the WELL Health-Safety Rating instills confidence in Arcadians, visitors and stakeholders regarding the health and safety of our spaces in the wake of the COVID-19 pandemic.
"We have chosen these two locations to be our corporate office in the Philippines, as they support our aspirations of contributing to the mitigation of climate change, given that both locations are LEED-certified buildings," says Darneil Perez, Arcadis Philippines Country Head.
"In order to achieve the WELL Health-Safety Rating, we have implemented features such as selecting preferred cleaning products, establishing health entry requirements, having a smoke-free environment, assessing ventilation, and promoting health and wellbeing," says Corinne Malolos, Arcadis Philippines Senior ES Consultant, who led the certification of both offices. "The WELL Health-Safety Rating has helped us improve our current policies and plans in place. It has provided the company with science-based measures to apply in our operations to keep our greatest asset, the people, safe and healthy."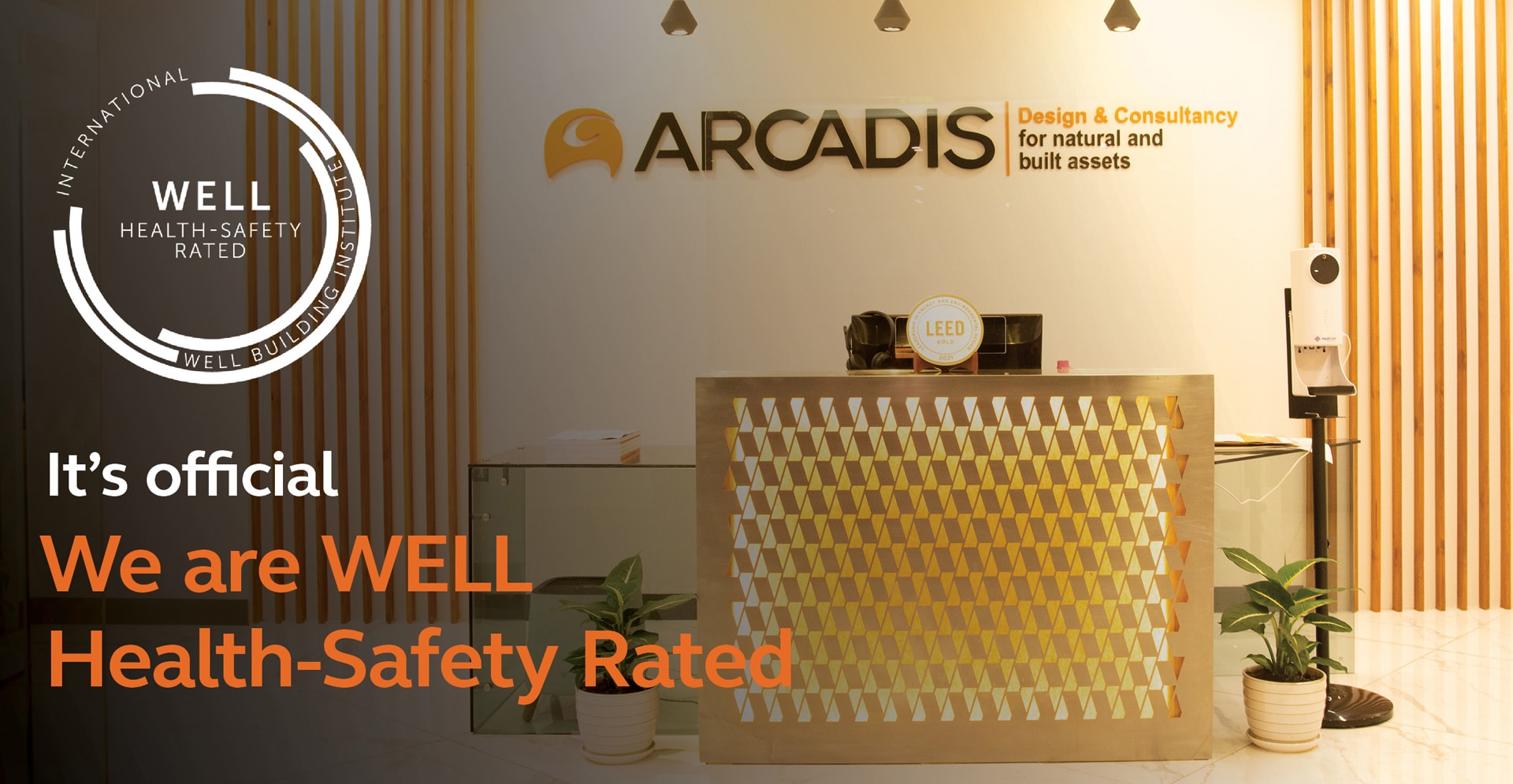 Features implemented to promote health and safety
Some of the key features which contributed to achieving the WELL Health-Safety Rating include:
Handwashing — protocols to reduce pathogen transmission associated with washing and drying hands. This includes the provision of proper handwashing supplies, implementation of additional sanitization strategies, installation of signage for effective handwashing, use of disposable soap containers and provision of hand-drying paper towels.
Surface contact — temporary and/or permanent strategies to reduce the amount of contact that people have with high-touch surfaces
Cleaning practices — rigorous cleaning protocols that address high-touch surfaces by detailing the extent and frequency of cleaning, provided annual training for cleaning staff and required detailed documentation procedures
Preferred cleaning products — restricted use of hazardous or harmful ingredients in cleaning, disinfection and sanitization products
Respiratory particle exposure — design and policy strategies to minimize instances of contact with contaminated respiratory particles
Healthy re-entry — a plan for re-entry after an emergency event that addresses maintenance and sanitization protocols, stakeholder engagement, access to personal protective equipment (PPE), dedensification (including phased re-entry), ongoing communication and training methods, and continuous evaluation of health and safety protocols in the building
Health entry requirements — vaccination disclosure requirements or testing and masking requirements for occupants to utilize the space
Sick leave — promotion of stay-at-home policies and provision of short- and long-term sick leave to support the overall health and wellbeing of individuals
Smoke-free environment — a policy to deter smoking, minimize occupant exposure to second-hand smoke and reduce smoke pollution
Ventilation — assessment of the ability to increase fresh air supply through mechanical and/or natural means, thereby diluting human- and product-generated air pollutants to minimize indoor air quality issues. Air quality monitors were also put in place to accurately assess both offices' indoor air quality and conditions.
Air treatment systems — a system inventory conducted for all filters and UVGI equipment to inform proper air treatment and filtration maintenance
Mold and moisture — a moisture management plan and inspection protocol to limit the potential for bacteria and mold growth within buildings from water infiltration, condensation and internal leaks
Health and wellbeing — a culture of health cultivated by reinforcing programs, amenities and policies available to support health and safety, including regular communications and occupant education such as signage about important health safety actions and information.
The WELL Health-Safety Rating provides a centralized source and governing body to validate efforts made by owners and operators. It leverages insights drawn from the IWBI Task Force on COVID-19, in addition to guidance on the spread of COVID-19 and other respiratory infections developed by the World Health Organization (WHO), US Centers for Disease Control and Prevention (CDC), global disease control and prevention centers and emergency management agencies. The rating also references recognized standard-making associations such as ASTM International and ASHRAE, and leading academic and research institutions, as well as core principles already established by IWBI's WELL Building Standard, the premier framework for advancing health in buildings and spaces of all kinds.
Both offices were awarded the WELL Health-Safety Rating following the successful completion of a third-party documentation review by GBCI to confirm it has met the feature-specific intents and requirements.
Last August 2021, Arcadis Philippines' 8 Rockwell office also achieved LEED Gold Certification from the US Green Building Council (USGBC). It was awarded 73 points in total, gaining LEED Gold Certification and validating our status as a sustainable workplace that has met one of the highest levels of environmental sustainability standards.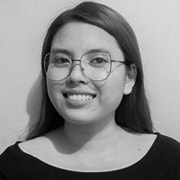 Connect with
Ma. Kathrina Galang

for more information & questions.
Ma. Kathrina Galang,

Marketing & Communications Executive, Philippines Contact Ma. Kathrina