You have not accepted cookies yet
This content is blocked. Please accept marketing cookies. You can do this here.
Managing the impacts of shocks and stresses on supply chains for the built environment in the Middle East
The current COVID-19 emergency reinforces the criticality of business resilience in the GCC construction and infrastructure sectors, not just for dealing with issues right now but for planning for recovery and securing a stable long-term future. The resilience of the industry is highly dependent on reliable, flexible, and sustainable supply chains. This paper describes the supply chain management steps that clients, contractors, and major suppliers alike should take to: secure supply right now, look ahead to business recovery, and the plan for a post COVID-19 world. We call this three-step process Secure, Recover, and Prepare.

Our work at Arcadis is almost exclusively with clients in the built and natural environments. These sectors are a major employer and integral to our economy: the construction sector contributes 6.5% of Dubai's GDP and 6.2% to Saudi Arabia's GDP, for example. How can these sectors continue to make significant contributions in these uncertain and volatile COVID-19 market conditions?
The first priority is that we keep our people safe, healthy and in work where possible. Sites should only operate if safe to do so and that in the GCC means following the latest Government guidelines. Lessons taken from what has happened in other parts of the world has informed thinking on health protection for workers. Measures that enable people in all occupations to continue to work – for example, adapting site practice to minimize contact risks – will be essential if we are to continue to build.
The second priority – business continuity – is equally urgent. Cash is a major factor, and it could stop circulating through the sector within weeks. It is important to recall that, in the immediate aftermath of the 2008 financial crisis, nearly 70% of construction business failures occurred as a result of either reduced cashflow, a reduction in workload, or as a consequence of a slowdown in the wider economy. Through a perfect storm of work stopping on sites and the holding of money within the supply chain, untold damage was done to industry capacity – damage that still affects the sector.
However, ensuring overall business continuity is even more complex, and is highly dependent on supply chain resilience.

How to respond, recover and prepare for a resilient future?
Even before the Covid-19 emergency, we were all becoming accustomed to a VUCA World (where Volatility, Uncertainty, Complexity and Ambiguity are the new norms). What should the construction and infrastructure sectors do now, to evaluate supply chain vulnerability and create true resilience going forward?
As organizations look ahead, they will want to learn the lessons from Covid-19 but also ready themselves for the next shock or disruption (whether it is due to extreme weather, financial market distress, energy scarcity, cyber-attacks, or civil unrest, for example).
We have set out 8 key steps to be taken. Some need to be immediate to secure supply, others will come next to support businesses to recover, and the remainder are longer-term actions to prepare for a post Covid-19 world and build for a resilient future.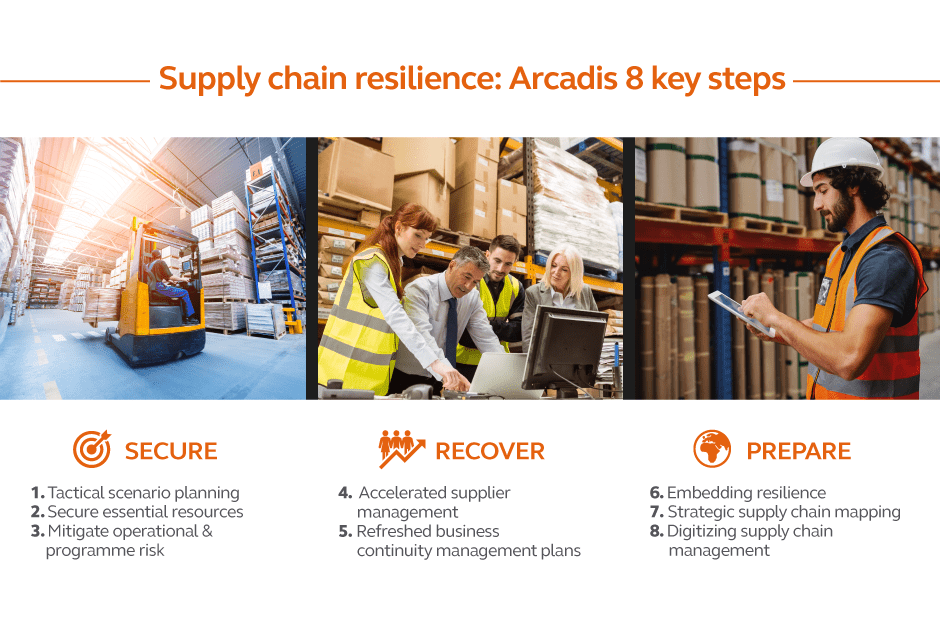 These are not steps for any single party to take alone. But they will need strong and proactive leadership from clients and developers in collaboration with their supply chains.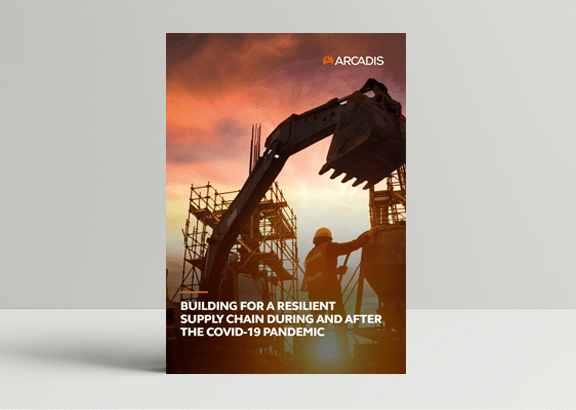 Building a resilient supply chain during and after the COVID-19 Pandemic

Learn more about the necessary steps on how to secure, recover and prepare for a resilient future by downloading the Construction Industry Supply Chain Resilience brochure.
Download Report
Connect with
Name here

for more information & questions.
Derek Sprackett,

Business Advisory Director Contact Derek
Connect with
Name here

for more information & questions.
James Barker,

Cost and Commercial Management Director Contact James