You have not accepted cookies yet
This content is blocked. Please accept marketing cookies. You can do this here.
Shaped by the devastating impacts of World War II, the Dutch city of Rotterdam has a remarkable history, which led it to develop into a modern and forward-leaning city. After the war, as Rotterdam underwent rapid transformation, some residents began to feel that it was becoming a bit impersonal and lacked cultural amenities. This sentiment led to the birth of the Schouwburgplein, also known as Theater Square, which served as a focal point for cultural development. In this episode of Better Cities by Design, we go to Rotterdam and speak with Teun Bokhoven, Chairman of the 7 Square Endeavour. This public-private partnership is spearheading an ambitious initiative to transform Rotterdam's Schouwburgplein into a 100% climate-neutral city square by 2030.
Subscribe on your favourite platform
Chairman of the 7 Square Endeavour Teun Bokhoven joins the show to talk about this ground-breaking project which was inspired by the 2015 Paris Climate Agreement. Teun and others began looking for ways to contribute to the global climate change discussion. One of the outstanding aspects of the 7 Square Endeavour is its informal partnership structure. Teun explains that the collaboration is not bound by legal structures, but rather relies on voluntary participation and collective work towards a common goal.
Through collaborative efforts, the 7 Square Endeavour aims to optimize the square's systems, reducing energy consumption and implementing sustainable practices. We gain a deeper understanding of the alliance's ambitious vision to make Schouwburgplein a global model of climate neutrality by 2030. Teun discusses the unique challenges faced and the innovative solutions being developed. Teun also lays out why he believes that bottom-up approaches, focused on district-level collaboration and benefiting all stakeholders, hold the key to addressing the climate crisis in cities worldwide.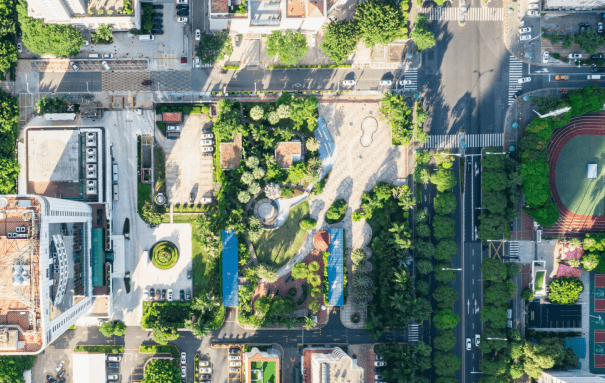 The Arcadis global podcast
Better Cities by Design
Arcadis' fortnightly global podcast series, where we talk to change-makers to discuss how they are making our urban environments better places for people to live, work, and play
Episode transcript:
We recognize that not everyone is able to listen to our podcast, which is why the show is also available in text. If you would prefer to read what happened in the show instead of listening, please click the link below for the episode transcript.
00:05

Davion Ford

Welcome to Better Cities by Design, a podcast brought to you by Arcadis, where we talk to changemakers, who are working to make our cities better places for people to live, work and play. I'm your host, Davion Ford. This week, we're headed to Rotterdam to speak to Teun Bokhoven, Chairman of the 7 Square Endeavour which is a public private partnership, working on the realization of a 100% climate neutral city square, the Schouwburgplein by 2030. It's a cutting-edge effort to address the ways in which cities are contributing to the climate crisis and also need to be protected from its impacts.

00:52

Davion Ford

The city of Rotterdam is the Netherlands second largest city with just over 1 million inhabitants. It's known for its bold, modern architecture and the plucky nature of its residence. Rotterdam has one of the largest ports in the world and the largest in Europe. Though it isn't necessarily as well-known as Amsterdam or the Hague, Rotterdam is an economic powerhouse. Here's Arcadis' Global Director Energy Transition, Carolien Gehrels.

01:22

Carolien Gehrels

Rotterdam is really a great city and important for the Netherlands because it's the gateway to Europe. And we all know that we have the Port of Rotterdam, which is one of the biggest globally and the atmosphere is very creative, very entrepreneurial, so they bring in a lot of money for the Netherlands as well.

01:41

Davion Ford

Rotterdam has a rich and unique history. And one can easily see this difference just by looking at the city skyline, which is very different from Amsterdam. Rotterdam doesn't really have an extensive ancient city center. Instead, Rotterdam city center has many skyscrapers, and 20th and 21st century architecture. The reason for this is the fact that in May of 1940, during the Second World War, the German air force destroyed most of the center of Rotterdam. This bombing run, which was part of a wider assault on the country, led the Netherlands to surrender. But the bombing of Rotterdam wasn't just a devastating attack on the people of the Netherlands. The Nazis also filmed the bombing. And then airdropped reels of the destruction throughout France as a warning of what was coming their way. And this is believed to be the first use of film for war propaganda. After the war ended, Rotterdammers, as they're known, began rebuilding their city in earnest. Given the destruction, they decided not to restore the city center to its previous state, but instead to create a modern 20th century city. The reconstruction of both the city and the harbor took place between 1945 and 1968. And during this period, the people of Rotterdam earned their reputation for not complaining and working hard. By the 1960s, some folks in Rotterdam felt that their new city was a bit impersonal and lacking sufficient cultural amenities. And that led to the creation of the Schouwburgplein or Theater Square, which was almost constantly under development from the 1960s through till the 1990s. Fast forward to 2015, when a public private alliance was formed with the goal of making the Schouwburgplein an example for the entire world by making it climate neutral by 2030. It's called the 7 Square Endeavour and it's an ambitious effort given that the Schouwburgplein is still an important part of Rotterdam. There's a movie theater there, many shops, restaurants, a television studio and even an electric vehicle charging station. Once again, here's Arcadis' Global Director of Energy Transition, Carolien Gehrels.

04:07

Carolien Gehrels

It's the collaboration that makes 7 Square Endeavour really special collaboration within the municipality go through institutions, housing corporations, energy production companies, the water companies, and when you collaborate you can improve the systems of the systems. You can reduce energy use, for example, you can improve your roadmap to net zero, you can do water savings, energy savings so in Rotterdam they did a real special thing with 7 Square Endeavour.

04:37

Davion Ford

So to find out more, it's my pleasure to welcome Teun Bokhoven to the show. Teun is the Chairman of the 7 Square Endeavour. Teun, Welcome to Better Cities by Design. Can you tell us a bit about your role in the 7 Square Endeavour effort and what you've achieved so far?

04:55

Teun Bokhoven

Well, the 7 Square Endeavour is a very organic organization, that's an initiative in Rotterdam, where we try on a district level to create some climate neutrality in 2030. It's an interesting area, which is a round square, where we have a musical theater of Rotterdam, to see them as restaurants, offices, and apartment buildings. And it's a very nice spot in Rotterdam, is a very ancient spot that has some, of course after the war, it has monuments that it is a very interesting area. And after the Paris Climate Agreement in 2015, a group of people were wondering what we could do to give our own contribution to the climate change discussion at that time. And so we started the 7 Square initiative. Some inspirational people, we could include in that period, most of the building owners and building users around the square. And they were all excited about the idea. And so since that time, I had the pleasure of chairing this group of people, and trying to achieve our ambition and our mission. And of course, this anticipating on a very wider development, I would see in many areas, not only in developed, but also around the world, where people are taking initiatives to actually try to get involved and try to do something in addressing the energy and climate issue.

06:29

Davion Ford

Okay, so listen, there are sustainable development efforts taking place all around the Netherlands, all around the world. Tell me what makes 7 Square Endeavour unique?

06:39

Teun Bokhoven

Well, I think the uniqueness is that it is a very informal partnership, we don't have a legal structure at all. So it is basically based on collectively working together on a voluntary basis towards a common goal. I think that is the main unique element, we are combining building owners and building users and trying to bring them to the level that they take their own responsibility in addressing this climate change issue. And doing that, based on this overall goal we have. And basically, we work with three themes: one is energy, one is the the green roofs we have around the square, and we also try to address the livability of the area. So those three main areas are the things we tried to bring together from a bottom-up initiative. And I think they'll work quite well.

07:40

Davion Ford

So, in order to pull off a project like this, there's quite a lot of stakeholders from both the public and the private sector that you have to bring together. Can you talk a bit about that stakeholder engagement piece and how you've managed all of that?

07:53

Teun Bokhoven

Well, this is true, we have a great variety, we see public parties, like the municipality, and the water authority is part of our group, and we have, of course, the public, the private owners of the buildings and the users. I think the main challenge was to bring them all together around a common ambition, this climate neutrality of the square. And it basically inspired many of them, so each could take from their own role, and their own responsibility actually could contribute, whether it be a user or building owner, they all could take their role. So collectively, we could achieve far more than each of the parties could do individually. I think that is the big gain we had in this approach by, we could do far more. So, one and one is three in this case and not two.

08:51

Davion Ford

So you mentioned actually earlier about the green roofs that are around the Square. But that's not the only color roof in the square. My understanding is that we've got green, yellow, red, blue, almost all of the colors of the rainbow. Can you explain what these different types of roof tops are? And how do they contribute to the sustainability and the climate resiliency of the Square.

09:17

Teun Bokhoven

Now that is true, I mean it's confusing with all those colors, but then actually they will not be the actual colors on the roof. The fact is that we have to address on the roof a number of issues. One, we would like to use the roofs to address heat stress in the area. Heat stress is a big problem in cities at the moment because the temperature rises a few degrees more due to the fact that the all the color of the grounds and the fact that we have all materials like concrete and asphalt that increases heat stress. So heat stress is one thing we'd like to address, then we have to try to get rainwater storage, because we have much heavier rains in the area, so we need to store the water on the roof as much as possible. And we like to use the roofs also as energy providers with photovoltaics with the solar panels. So, the green stands for only a roof with vegetation to cover the heat strategy. And sometimes the construction doesn't allow to do more than that. If you want to go one step further, we can make it a blue roof, then we increase also water storage capacity, and below the green vegetation so that we can store water, and then we put PV on that roof as well, apart from storage and the green, then we have a yellow roof. And on top of that, if you want also to include recreation, that we make it a red roof. Well, that's the kind of stipulation we have. But it's important that we do and we look at the kind of building what is the construction allowing to do. And then we try to get as much of these three elements, the heat stress, the water storage, and the energy production and see what is available and possible.

11:13

Davion Ford

That's really fascinating. And, you know, this is a really innovative project and an ambitious project. It's the type of experimentation that we really need to see all around the world to address the climate challenge. What would you say has worked out well, in the 7 Square Endeavour? And what are some of the lessons that you have learned that you think should inform future efforts like this?

11:37

Teun Bokhoven

Well, what worked well, is that we could gather around a common ambition. And that is a very important element, this common ambition provided us inspiration to take all our responsibilities for each of the parties. So I can say that basically, for each of the individual parties who are part of this process, the balance between the give and take was positive, apart from the inspiration received by participating in the process. I think from the lessons learned part, it is the people who actually are the key. And the interconnection people have that makes it a success. I'm quite convinced that if we don't have this personal relationship, and the people don't feel comfortable, and trying to work together on these common goals, then this doesn't work. So that people are important to do this. And I think it's a very important understanding we need to take home, that if you want to take these kinds of initiatives, it is the people around it, who make it a success.

12:42

Davion Ford

So, I just want to jump on this question, which is around the people. Maybe you can talk a little bit about what the reaction has been to this project to the people who are there?

12:52

Teun Bokhoven

Well, in particular, the main target group is the home owners, the office building owners and the owners, they are positive because it's the increased value of the property as a result of this. And the fact that the whole area is addressing heat stress, and make it greener, it is more pleasant to be around to live there, and to work there and to recreate. So, it is the combination of these factors, which makes it a very, more pleasant place to stay. And I think that's in particular as it is a square where all these buildings around, the square is a common meeting place and people feel more comfortable being there. So that's something to benefit, we understand. There's maybe another thing which has maybe not so much exposure from the outside. But we also have an energy network connected there as that we build a new network where cooling and heating is addressed. And that's also giving a kind of a more feeling of collective approaches to jointly work on the energy transition at the same time. So, it's not only the roofs, it's the energy system, there's a livability, all these three elements together, make it more pleasant to be their

14:11

Davion Ford

Teun, to wrap things up. I'm curious, how important is an effort like this when it comes to Rotterdam or other cities around the world in achieving their climate goals? And why?

14:21

Teun Bokhoven

Well, I think if you look at the climate change issue, cities are compact, they face the heat stress, the heat the water, problems with excess water rainfall. The livability of cities are very important. And of course, climate change issues are generic, but for cities, these are adding to the problems. And organizing these kinds of initiatives on a district level is always very complex, but I think it's the only way you can address it by looking at the district level. And I think this example in Rotterdam shows that if the stakeholders together, work together and show results, it is an inspiration, which otherwise couldn't be achieved. So, in that way, I believe this kind of bottom-up approach is where districts are collectively working towards a common goal, which provides benefits for all. I think that is the kind of inspiration we need on more cities around the world.

15:24

Davion Ford

Okay, I want to sneak one more in with you here Teun if that's okay. So, what's next for the 7 Square Endeavour?

15:31

Teun Bokhoven

What's next for seven 7 Square Endeavour, well, we achieved a lot of our first and foremost ambitions. So, we have done quite well in addressing this, the things I mentioned earlier. The next step is to scale it up. Look for other cities where we can inspire people who do the same and are trying to create the organizational level, on a very informal way to others, also to duplicate these kinds of processes. And of course, each of these districts will have their own characteristics and their own ambition and their own elements to look at. But the approach to unite people around a common goal is something we like to share to other cities, within the Netherlands and elsewhere. And hopefully it will take up in other places.

16:23

Davion Ford

So, on that very hopeful note, our wrap up discussion, Teun. Thank you so much for your time, appreciate you joining us.

16:28

Teun Bokhoven

Good, thank you very much.

16:30

Davion Ford

And that's all for this episode of the show. We hope you enjoyed our conversation with our guest Teun Bokhoven, Chairman of the 7 Square Endeavour. At Arcadis we are thrilled to be one of the organizations working on this project. Stay tuned for our future episodes as we continue to bring changemakers to the table who are driving progress in urban development. And if you haven't already, please subscribe and check out our other episodes. I'm Davion Ford and you've been listening to Better Cities by Design, a podcast brought to you by Arcadis, the world's leading company delivering sustainable design, engineering, and consultancy solutions for natural and built assets. You can learn more by visiting our website arcadis.com or by following Arcadis on LinkedIn or Facebook. Stay curious, get inspired and remember the future belongs to those who dare to make a difference in the cities we call home.