I challenge all companies to publicly commit to clear, ambitious gender goals. It's the only way we can make real progress towards gender equality.
Just last year, I joined Arcadis as Chief Financial Officer, tasked with ensuring the company's financial stability and growth, so that Arcadians can continue focusing their creativity and expertise on improving quality of life. I'm really happy to have joined a great company, which focuses on having an outsized, positive impact on the environment and helping to create resilient communities.
But I'm also mindful that I work in an industry in which women are underrepresented. And across our global economy there are not nearly enough women in roles like mine. This needs to change, not just from a moral standpoint but also because of how it will benefit the economy and our global society. When more women work, economies grow faster and lift more people (in particular children) out of poverty. A study done by PwC indicates that if all OECD countries had a female employment rate that matched Sweden's, this would boost global GDP by a massive six trillion dollars (USD).
Recognizing this and how having more women working at Arcadis will help us achieve even better results, we have set the ambitious goal of increasing female employment to 40% by 2023. I strongly believe that if we don't give ourselves goals, we won't make the progress we need to make on this front.


What needs to change
That said, there's still more work we all need to do to level the playing field for women and girls. I believe this begins long before women enter the workforce and starts with children. We need to look to make changes in our education systems so that opportunities are equally available to all children. For instance, here in France, some preparatory classes for competitive exams, granting access to top-ranking engineering schools, were set up for male education, and their boarding facilities remain largely designed for and allocated to boys, while girls need to commute into school. Of course, this is unfair and also detrimental to the girls. And there are many more examples like this out there.
It's also very important that women leaders are doing what we can do pave the way for future generations of women to succeed. I am very aware of this responsibility in both my professional life but also in my personal life, as the mother of two daughters. At work, I strive to be open and accessible to all of my colleagues and I hope that over time, any woman (or man for that matter) working at Arcadis will feel that they can reach out to me for advice or just to talk about their career goals and how they can go about achieving them. And, at home, I'm very focused on making sure that my daughters understand their true worth and that they never internalize setbacks.
This last point is perhaps the best bit of advice I can offer to all women out there fighting to achieve their goals. Please trust yourself. Dare to dream and to discover what you really want out of your career and your life. And know that there are people out there who will help, as long as you are willing to speak up and be heard.
That said, I certainly don't have all of the answers. So, I wanted to hear from some Arcadians. I connected with three women in our company and asked them to share their thoughts on all of this. You will find that below. In their own words, they talk about what needs to change in order for more women to achieve their goals, how companies will benefit from having more women in positions of power and they offer advice on how women can maximize their potential in work and in life.
I hope you will enjoy reading their words as much as I did.
Nana Berchie
Global Head of Internal Communications

Honestly, we've got to get used to the fact that most things, by design, have been created to suit or reflect how men and male leaders work. Women are almost always the ones who have to adjust their style, temperament, way of speaking, and many other things to fit the 'norm'. Now, perhaps that shows how versatile we are, but I believe that when it's acceptable for women to be their full selves, the positive benefits for companies and the world will be immeasurable. It's time to rethink the 'industry-norm' incentives, measurements, and leadership styles in most companies.

Just look at the COVID-19 pandemic. I shudder to think about how many millions of women have either dialed back or completely sidelined their careers, in order to care for their children, during these extended lockdowns. What, if anything, is being done by companies and governments to make sure that this won't become a drag on women's careers?

And that's a real shame because we have also seen the role women have been playing ending this pandemic. Just take a look at New Zealand's Prime Minister Jacinda Ardern. She is leading with what I can only describe as a wide and embracing empathy and pulling no punches. I am sure there are more than a few little girls and boys who saw the magical moment she confirmed that the pandemic lockdown did not apply to tooth fairies or the Easter bunny. I wouldn't be surprised if some of these kids are inspired to enter politics in the future. And then you've got the breakthrough technologies, science and medicine being led by women. For instance, African-American scientist and immunologist, Kizzmekia Corbett, who is one of two leaders of the team that was at the forefront of developing the leading COVID-19 vaccine.

Here's my advice to women out there. It's based on bits of advice I have received over the years: Self-doubt can be a good litmus test to maintain balance and perspective, as long as you remember that your unique set of skills and qualifications are just that – unique, so own it and use it to make a difference. Be proactive. Challenge more. Demand better. Do things unconventionally. We need more unapologetic female leaders in the world.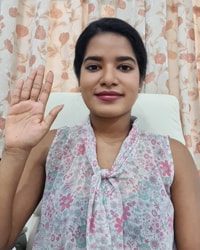 Ravali Bandroju
Analytics Consultant

It is imperative that we build an environment where women and men can equally succeed. Addressing subtle and unrecognized prejudices and barriers that can be so ingrained in the culture that they are hard to see, is an important step to creating true equality. I think empathy is a female leader's greatest superpower. It is a meta-skill that helps us look below the surface and truly understand the needs of the other person. Leadership of this nature will foster loyalty and build happy, motivated, and high-performing teams.

"Without effort, your skill is nothing more than what you could have done but didn't." When I learned that what we eventually accomplish will depend more on our passion and perseverance than on our innate talent, it changed my mindset completely. Effort counts twice.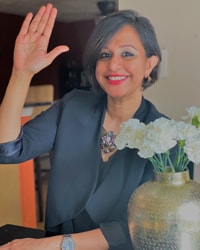 Supriya Murthy
Associate VP & Principal Consultant:
Transformation, Insights & Performance Excellence

Companies need to institutionalize diversity, inclusion, and belonging as a culture and keep people and leaders accountable, in terms of making progress in areas like hiring, retention, mentoring, and opportunities for professional development – just like companies do for health & safety. This way, creating a balanced workplace won't be an opt-in, but part of the cultural fabric of companies. This, I think, starts with revolutionizing the goals and incentive structures to focus on creating more diverse and inclusive workplaces. And we all have a role to play in helping to ensure that everyone feels comfortable bringing their authentic selves to work.

We also need to accept that setting diversity targets, while important, is not the end of the story. Companies must dig deeper and examine the types of roles women hold within the business. How many of them are in the C-Suite? How many are in senior leadership roles or client facing roles? Also, companies need to give more women access to mentoring for professional and leadership development and facilitate allyship programs that will help women grow their networks. This isn't because women need some unfair advantage over men. It's because, traditionally, these types of programs and access to professional and informal networks have been much more readily available for men. These need to be adapted to be inclusive and applicable to our diverse workforce. This is about leveling the playing field and creating pathways for women leaders to truly thrive, as the best versions of themselves.

Good women leaders are pragmatic, collaborative, creative and solution focused. They don't just hope for the best, they prepare for the worst. They are unafraid to show their human side – their passion, their mirth, and their tears, which gets them admiration, respect, and loyalty. They study. They base their decisions on facts and science and top it off with good judgement and intuition. They also surround themselves with smart people, so they do better than their best for those that they serve. Most importantly, they have worked really hard to get where they are, so they don't take anything for granted. I see all of these traits as imperative for success in the highly disrupted, diverse marketplace and the global economy, so why would we not have more women in positions of power? Case in point - what do countries with the best coronavirus responses have in common? Women Leaders.

To all of the women out there reading this, remember, you have the power to create such an energy around you - that authenticity, creativity, and excellence happen. Don't relinquish that power.