You have not accepted cookies yet
This content is blocked. Please accept marketing cookies. You can do this here.
Droughts today affect about 1.7 billion people globally. The situation is dire, with dry summers in England predicted to increase by up to 50%, and escalating long-term drought conditions spurred by climate change in parts of Europe, the US, and regions like southern Pakistan. There's a 98% likelihood that the next five years will be the warmest on record. Coupled with challenges around water scarcity, this poses a real cause for concern, with the urgency for climate mitigation and adaptation solutions becoming clearer than ever before.
Climate uncertainty and unpredictability calls for careful water management to deal with the consequences of extreme droughts – to preserve, secure and ensure equitable access of this essential resource for our communities and industries. There are many pathways and opportunities, but often it requires courage and political will, diverse leadership, and investment for effective solutions that match the need of the hour.
In this blog and thought paper, our experts join world leaders to discuss opportunities and best practices within our grasp to address droughts and water scarcity well into the future. We explore first-hand experiences and practices from Phoenix, a guiding city when it comes to managing with limited water resources in desert conditions, under the leadership of Mayor Kate Gallego and Troy Hayes, Director of Phoenix Water Services.
How is water management being considered, particularly in water stressed or desert regions?
Troy Hayes, Director of Phoenix Water Services: In Phoenix, with respect to climate change and droughts, it's really about the uncertainty of water supply. We've experienced a 23-year drought with the Colorado River. That brings questions: Are we going to get full municipal water allocation? How can our utilities operate systems, treatment plants, and move water around? There are hundreds of potential scenarios to account for, and this is just today's challenge. As we look to the future, we are going to see periods of 'wetter wets' and 'drier dries'. The solutions we implement today will have to consider both of these trends if we are to overcome them in future.
Mayor of Phoenix, Kate Gallego: In Phoenix, we manage water very carefully, prioritizing it in our decision-making. Part of this is also about weighing the trade-offs, for example, between energy and water, and recognizing the interconnectedness of these resources. All the while we must also approach this very real challenge as a global citizen, knowing that 4 billion people on our planet don't have access to a good water supply for at least one month of the year. There are solutions that we're bringing with this long-term view, like tree planting and sustainable desert development to ensure water planning is central to our community's growth.
What is a key consideration to preserve this important resource in heightened climate crises scenarios?
Mayor Kate Gallego: Knowledge on how to forecast and manage this resource – not just at the municipal level, but also with individuals is key. In some ways it feels like the water industry is maybe a decade behind energy in terms of helping us manage our own use. But over the last few years, there's been real momentum to make sure that we are all better equipped and better informed, which is very exciting.
Troy Hayes: The City of Phoenix, for decades, has really put efforts in to leverage wastewater effluent to use. The next evolution is to take it further and make it reach drinking water quality. We're working with the state of Arizona to get rules in place in 2024 to make progress here. Water (re)use can be a powerful tool in adding additional water resources that weren't part of a city's or municipality's portfolio, especially when thinking of mechanisms or solutions that can overcome the compounded impacts of drought.
Mayor Kate Gallego: With water use, there's always going to be priorities and give-and-takes; and those can be very emotional and difficult conversations. It's important that each stakeholder has the opportunity to present their perspective, no matter how different it may be, because it often has to do with their livelihoods and their lives. And so, the conversation needs to be approached in a responsible way. Some of the steps that need to be taken together will require behavioral change at all levels.
Prof . Anusha Shah, Arcadis Senior Director for Resilient Cities and UK Climate Adaptation Lead; Institution of Civil Engineers (ICE) President (2023- 2024): It's also about changing the language, from water scarcity and drought to water availability. At 50L Home Coalition initiative, for instance, we seek to address water security and climate change by reshaping perceptions of domestic water consumption and aspiring for a daily water demand of 50 litres per person and making it an irresistible solution. We can do this by addressing the entire system and making saving water easy and effortless for the end consumers. The goal is for '50L' to represent abundance rather than a shortage.
We've touched upon 'behavioral change'. How can we drive this forward to address water scarcity, and what role do leaders have in facilitating this change?
Mayor Kate Gallego: We need to make sustainability attractive and simplify communication. Price signals will play a role in behavioral change as water becomes more expensive. Leading by example, effective communication, and educating our communities will be key in driving change.
Ifetayo Venner, Arcadis US Senior Vice President Water; President for the Water Environment Federation (2022 - 2023): Access to information and tools is key. Removing barriers to adopting water-saving technologies and innovations, along with education and policy changes, will be critical in influencing behavior. As leaders, we play a vital role in advocating for and implementing these changes.
How does equity factor into water management approaches? Is it an important consideration?
Anusha Shah: We have people from different faiths, cultures, genders and economic conditions – with all this impacting their water usage. So, it's equally important that we have those diverse voices at the table when considering solutions that need to be implemented. Today, only about 15% of water leaders are women…a figure that's not representative of our population. We must involve diverse voices in policy, technical solutions, and implementation to address these challenges comprehensively. Only then can we achieve climate equity, especially considering the disparities disadvantaged communities face in accessing water and green infrastructure.
Mayor Kate Gallego: Equity is central to our decision-making. Phoenix sits on indigenous land, and the communities who've been here the longest are excellent water managers. We aim to learn from their practices. We're also mindful of the disparities in tree cover between wealthier and disadvantaged communities, aiming to rectify these imbalances through more intentional investments.
Ifetayo Venner: It's important to recognize that not everyone has benefited from some of the transformations that we've had in water over the years. To truly progress, we need to ensure that our climate related, circular water economy solutions are being developed with everyone in mind, and with everyone understanding their value. As WEF President, climate equity is a major focus of our strategic plan. We want to ensure that the solutions we develop benefit everyone, recognizing that different communities have unique needs. We're committed to educating our members (many of whom comprise people who plan, design and operate water facilities) about incorporating equity into their work, advocating for equity in water solutions, and fostering collaboration to break down industry silos.
What do we need to do first and fast to accelerate our response and solutions to droughts and water scarcity?
Mayor Kate Gallego: In a recent Council meeting I led, we were very focused on water and passed several measures on how we manage this precious resource, including sustainable desert development guidelines. As we build in our community, water planning must be at the forefront. As Mayor my most important speech every year is the State of the City address where I talk about how Phoenix is doing. My focus this year was on water and in particular water recycling. This needs to be an important topic at all levels of the discussion – and it needs to start from leaders.
Piet Dircke, Global Director Climate Adaption, Arcadis: Earlier this year, I attended the UN Water Conference along with colleagues, industry leaders and peers. The one thing that I took away was the similarities in water challenges worldwide. It emphasized the need for workforce renewal that reflects our communities, the importance of strong leadership and simple storytelling to make water issues visible, and the necessity of breaking down silos for effective solutions. It's not about reinventing the wheel or starting from scratch. There are many great solutions across the world, which we can learn from. Leaders like Mayor Kate Gallego and Troy Hayes, and colleagues like Anusha Shah and Ifetayo Venner are actively driving change through their positions, emphasizing equity, sustainability, and innovation as key elements in tackling these pressing challenges.
We explore these solutions in our "Water Under Pressure" thought paper, including seven key pathways to progress and examples from cities around the world. What's needed ahead is strong leadership to drive collective action, behavior change, and evolving solutions that continue addressing the needs of tomorrow.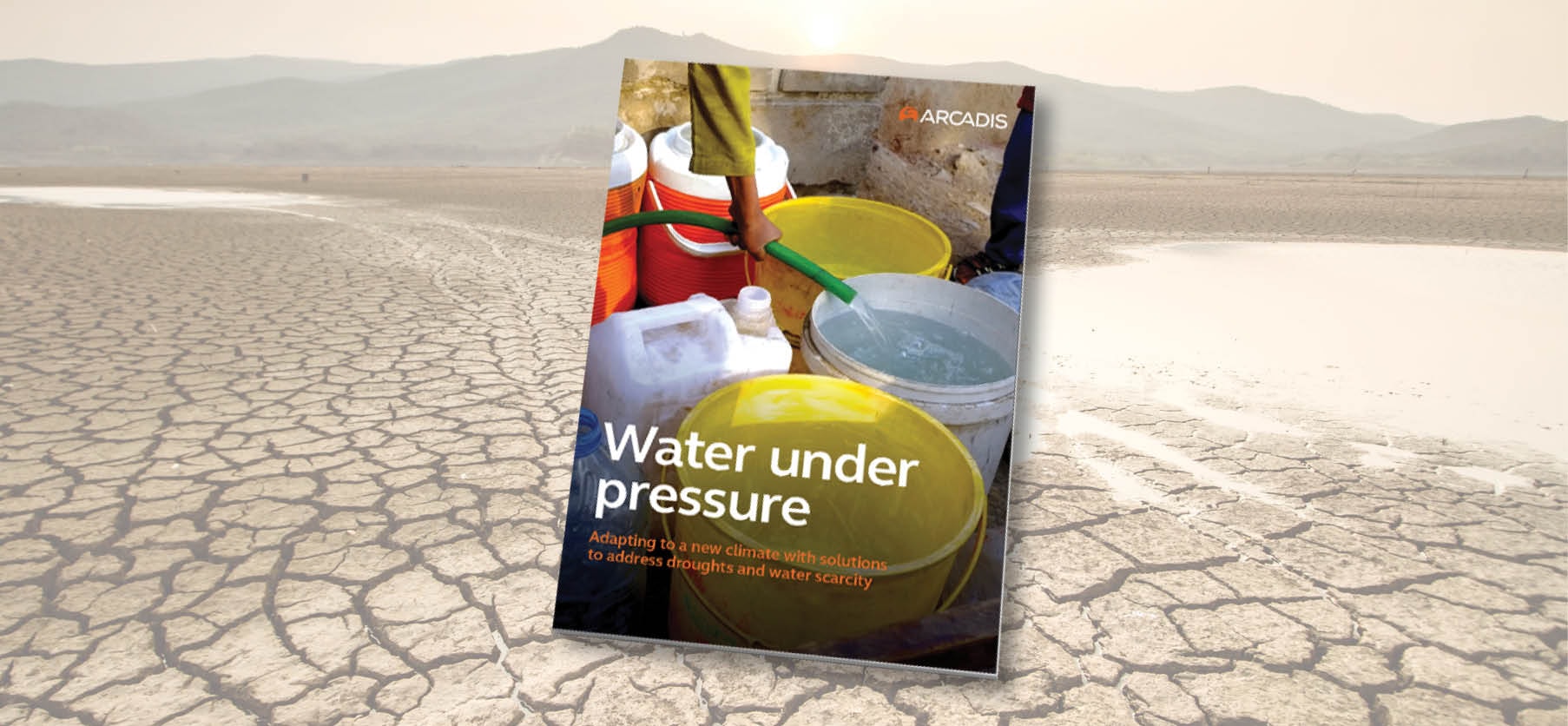 Water under pressure
Adapting to a new climate with solutions to address droughts and water scarcity