You have not accepted cookies yet
This content is blocked. Please accept marketing cookies. You can do this here.
If ambitious net zero carbon objectives are to be achieved, planners, designers, and builders need to take a whole-city approach to sustainability, including infrastructure and transit-oriented development. Together, these elements not only address sustainability planning needs, but are also crucial when it comes to supporting equity and social justice at a community level.
Reducing energy consumption and using low-carbon materials should be a priority for cities everywhere, where the circular use of materials and retrofit of aging infrastructure can provide great value. However, planners and architects must give equal consideration to climate-responsive design in new buildings as well as reviewing existing building stock.
Universally, five top elements come into play in ensuring that buildings are either built or upgraded to desired sustainability goals:
Careful site selection;
Tight controls on methods of construction;
Design and deployment of high-performing building envelopes;
Employment of passive design principles; and
Installation of clean energy and high-performance heating and cooling mechanical systems.
We explore each of these elements in more detail below.
1. Careful Site Selection
One of the biggest misconceptions in urban planning and architectural design is that new construction is more sustainable than retrofitting. In reality, due to embodied carbon savings, existing buildings and infrastructure are inherently more sustainable than greenfield sites because of the significant amount of embodied carbon savings that can be leveraged.
Prime examples can be found in downtown Detroit and Cleveland of urban brownfield sites being radically transformed from former industrial zones into economically vibrant, socially robust, and mixed-use communities well served by public transit. Bedrock, the largest commercial property owner in Detroit and one of the largest in Cleveland, is playing a critical role in leading a transformational redevelopment of several once-derelict waterfront districts into a series of sustainable compact neighborhoods.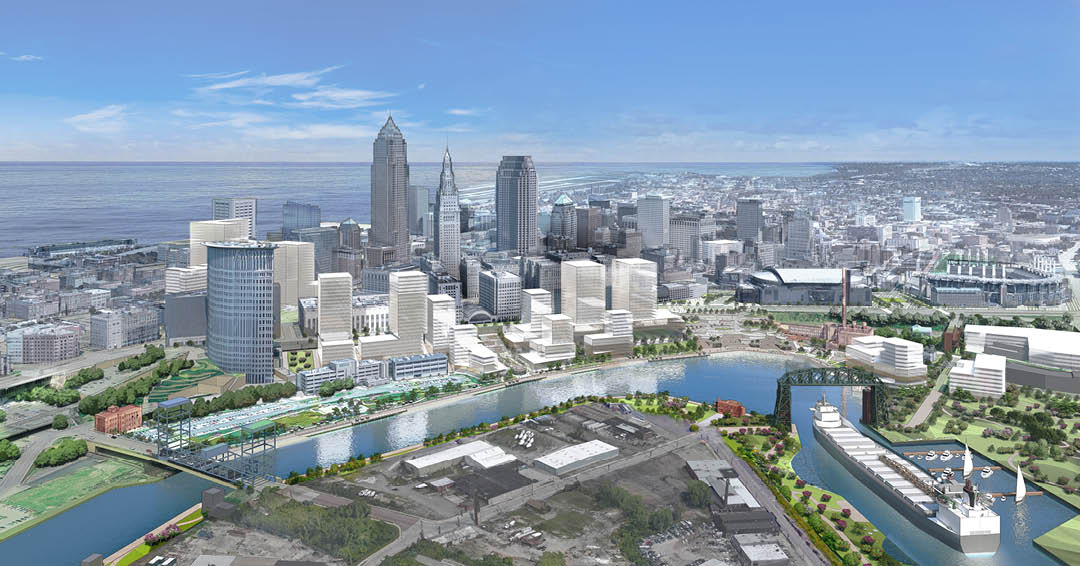 In December 2022, Bedrock unveiled its long-range master plan for a waterfront district in Cleveland, which would transform 35 acres (14 ha) of the downtown riverfront into a new, walkable neighborhood.
Working closely with Arcadis on the redevelopment plans, Bedrock has a vision for new 15-minute waterfront neighborhoods that will take shape over the next 15 to 20 years. These will each offer an optimal mix of mixed-use residential, commercial, and infrastructure development, all closely connected to amenities like grocery stores, cafés, and parks. Part and parcel to these plans is Bedrock's commitment to use clean energy sources in most of its properties and reduce the carbon footprint of the retrofitted historic buildings in each district by 50 percent and in new construction by 100 percent over the next 10 years.
2. Construction Methods
Tight controls on methods of construction should be accompanied by a requirement for using sustainable, locally sourced building materials, ideally with rapidly renewable resources.
This focus can also be expanded to include low-carbon materials. Embodied emissions in building materials can occur at any point, from raw material supply to fabrication, transportation, construction, maintenance, and repair, as well as deconstruction, demolition, waste processing, and disposal. However, these carbon emissions can be quantified and reduced by using specialized software to perform comparative analyses of design options.
Within this context, it is important to use rapidly renewable materials that have low embodied carbon and—even better—that sequester carbon, such as bamboo, hemp, and cork. At the same time, to reach a zero-carbon future, we designers must move quickly to adhere to a Whole Life Carbon Vision, as laid out by the World Green Building Council, that considers both embodied and operational emissions over a building's entire life cycle.
The durability of materials is another extremely important consideration. Depending on the choices we make, the embodied carbon impact—up to 80 percent of which can be embedded in the structure alone—can be spread over a much longer period. In short, we must design durable building structures that can be more easily renovated and retrofitted.
3. Building Envelopes
High-performing building envelopes should be designed and deployed—and be airtight when needed, have thermal breaks, and, ideally, contribute to energy generation.
Because most buildings today that require retrofitting are more than 60 years old, eliminating thermal bridges and creating better, high-performing building envelopes are keys to reducing energy use and cumulative adverse impact on the environment.
A prime example of the work Arcadis has been doing to address this need is Castellana 66, a 30-year-old office building in Madrid that badly needed to be upgraded to current building standards for acoustics, energy efficiency, and carbon emissions. Focusing on refurbishment, we dramatically reduced the building's operational carbon footprint by designing a high-performance exterior facade that generates energy through integrated photovoltaics. This saves more than 100 metric tons of carbon dioxide equivalent per year while keeping 9,000 metric tons embodied in the structure—and out of the atmosphere.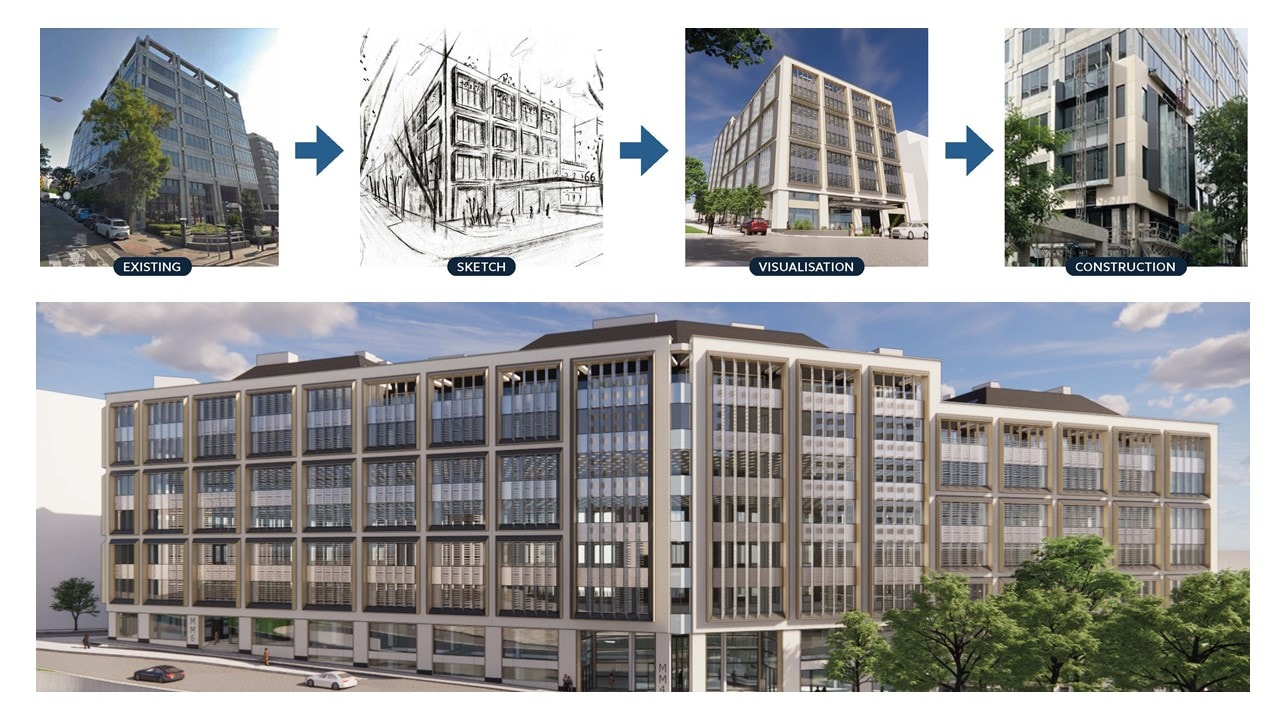 Castellana 66 offers a wide variety of uses, ranging from restaurants and stores to hotels, gyms, and leisure facilities, all within walking distance.
4. Passive Design
Passive design focuses on creating indoor climate-conditioning systems that are driven primarily by natural phenomena rather than parasitic power sources. Conventional solar heating, ventilation, and cooling (HVAC) systems for space conditioning are considered to be active because of their use of motorized mechanical components to move fluids and air in and through a building. Passive-designed buildings, on the other hand, use few, if any, conventional sources of energy for these functions.
Ideally, passive design and regenerative building principles can be applied any time a new structure is being planned, because the reuse/adaptation of buildings virtually always has less environmental impact than new construction. In fact, the long-term economic and carbon savings that can accrue from retrofits can be significant, while a regenerative building approach can also play an important role in promoting social inclusion, community resilience, and overall environmental sustainability.
The Artist Hub on Pacific Street in Vancouver, British Columbia, is an excellent example of a new-build passive design project that reflects the needs and persona of the community it serves. The seven-story, 21,000-square-foot (1,950 sq m) building is an all-electric, near-zero-emissions facility, fitted with an electric air source heat pump to efficiently deliver domestic hot water, along with space heating in the winter and cooling in the summer. As well as adhering to many other Passive House design principles, the award-winning facility provides real-time energy-use data to inform development of future sustainable urban buildings in the region.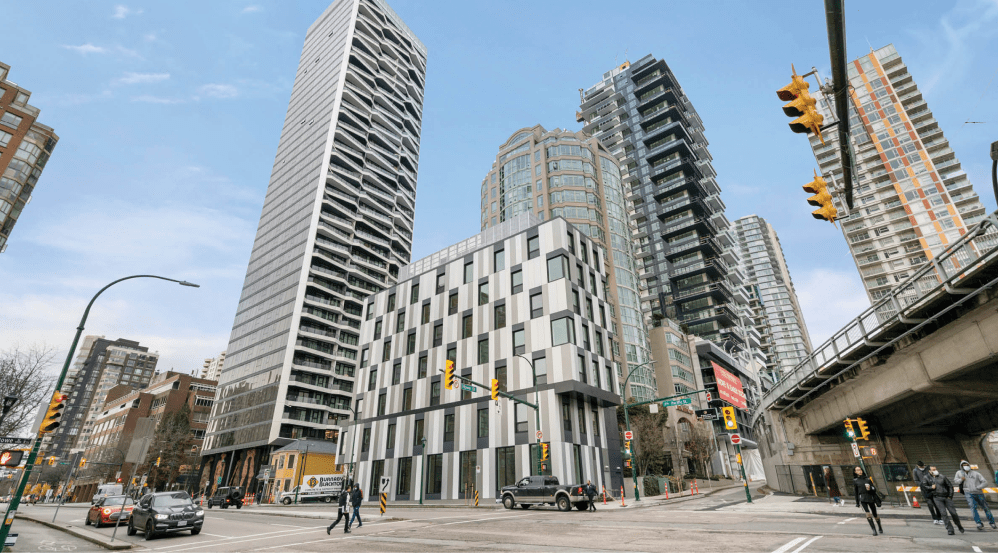 The Artist Hub is an all-electric, near-zero-emissions facility that will offer gallery space, affordable production studios, and office space for nonprofit organizations in the city.
5. Clean-Energy, High-Performance HVAC Systems
In most climates, it is not possible to heat and cool buildings solely using passive strategies, so integrating passive with mechanical systems for heating and cooling is necessary. While the use of mechanical systems may be unavoidable, it is still our responsibility to design buildings as efficiently as possible by combining high-performance mechanical systems with high-performance envelopes. This is particularly true for buildings running on a clean energy platform—such as an electric heat pump or district energy—because they can make very positive and effective contributions toward achieving net zero goals.
Unfortunately, all-electric systems do not yet make sense everywhere. Places with a cold-weather climate may see extreme spikes in electricity consumption that can trigger concerns about energy affordability. Cold weather in regions where buildings are still operating on "dirty" electricity grids may ultimately cause the burning of more fossil fuels and higher greenhouse gas emissions than buildings with modern natural gas boilers.
Thus, the analysis and determination of what type of systems should be used—and under what conditions—need to be conducted holistically, with a particular view toward making sustainable building design choices that support reduced energy consumption and that can ultimately offer opportunities for positive regenerative inputs into both the natural and built environments.
In Neath, United Kingdom, the Bay Technology Centre is an example of a self-sufficient, energy-positive active building that—thanks to an integrated renewable energy generation and storage system—can be self-sustaining in its operational energy performance. It also features an airtight building envelope and uses renewable and low-carbon technologies for heating and cooling. The Technology Centre's design team gained an Excellent rating under the Building Research Establishment Environmental Assessment Method (BREEAM), with an almost unheard of 100 percent score for Energy Credit 01, covering energy performance, prediction of operational energy, beyond zero net regulated carbon, carbon negativity, and post-occupancy evaluation.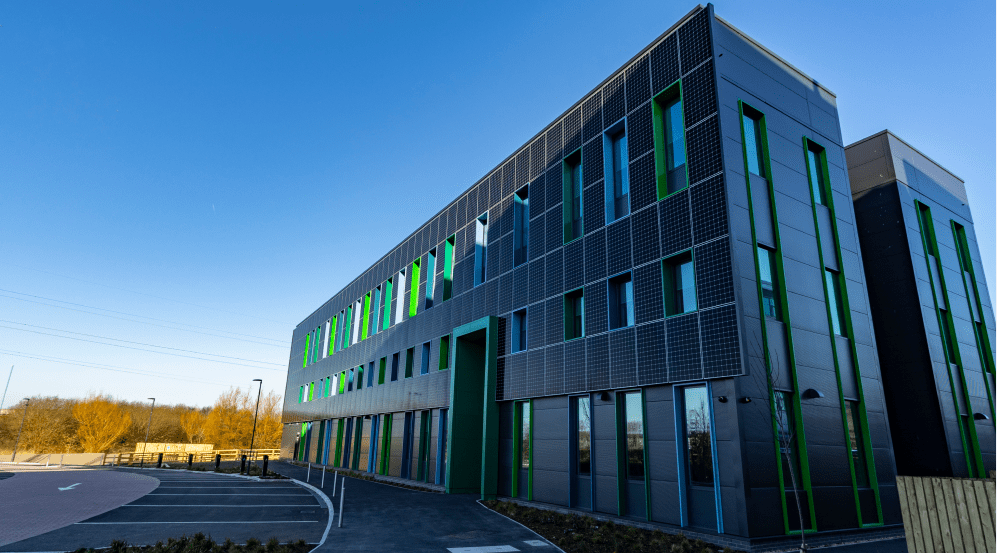 The design and construction of the Bay Technology Centre leveraged net zero design techniques and technologies to create Wales's first energy-positive commercial building (Courtesy Morgan Sindall).
Moving towards a carbon-positive future
Whether new or retrofit, urban planners and designers need to take a holistic view that embraces the power of nature and fosters integration with the environment, reduces the consumption of nonrenewable resources, and minimizes waste, while moving also toward the creation of a carbon-positive and regenerative building landscape.
At Arcadis, we are doing this by putting the weight of our global organization behind redefining the future of urban environments through people-centered planning and design that reduces carbon footprint, guards against damage to the natural environment, improves quality of life for all, and pushes the boundaries of design excellence.
The fact is, we are in the business of designing structures as places that inspire, motivate, and support people to live, prosper, and grow - now and in the future. That is what sustainability is all about.
A longer version of this viewpoint was published by Urban Land on 26 June 2023.