You have not accepted cookies yet
This content is blocked. Please accept marketing cookies. You can do this here.
In June 2022 Arcadis had the privilege of attending the World Urban Forum 11 in Katowice, Poland to discuss the importance of sustainability in the natural and built assets of our global cities. Our conversations reinforced our belief that the private sector is not only ready to be a partner for the future of sustainable urban development, but that the private sector must be a leader in this model.
More than 80 percent of global GDP is generated in cities and nearly 70 percent of the world's inhabitants will live in cities by 2050. The private sector is intimately intertwined in all aspects of urban development from planning, design, finance, implementation, and operations and maintenance1. It is with this understanding that we feel the private sector must lead the approach for the future of urban development. The private, public and governmental sectors must engage with one another to ensure that these investments prioritize sustainability to mitigate the future impacts of climate change and to not lock in unsound practices and outcomes for decades to come.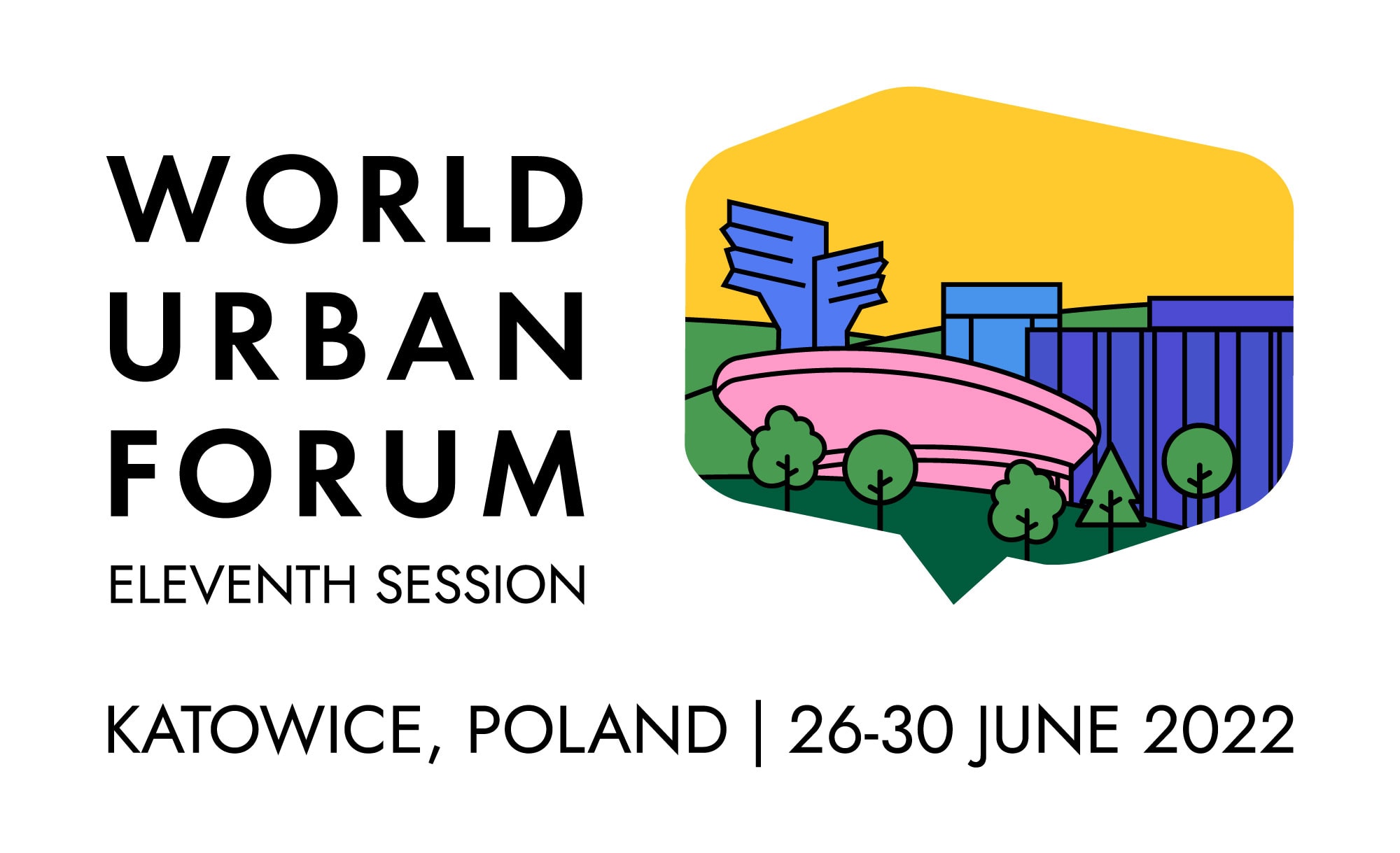 Engaging Local Communities
Arcadis staff from the Shelter Program spoke with numerous representatives from governmental, intergovernmental and non-governmental sectors to gain insight into aspects that can help our private-sector clients create long-lasting partnerships and facilitate sustainable urban development. One of the primary themes of these discussions was that it is imperative for the private sector to engage stakeholders who live in the local communities affected by their projects. The local community know which of their needs, whether they be economic opportunities, infrastructure needs or natural resource protection, are most critical to address with sustainable development approaches.
Furthermore, early engagement helps build trust that projects will not negatively impact the community, which can help increase community acceptance and speed project approval. Arcadis has realized these benefits through our community stakeholder engagement processes for our commercial and pro-bono projects and will continue to assist our clients in this area to implement sustainable urban development practices. We must work to advance private sector investment in sustainability to meet an annual financing gap for infrastructure of $3.2 trillion if we are to get back on track to reach the UN Sustainable Development Goals. Multisector dialogues fostered by the World Urban Forum are critical to creating partnerships for this effort.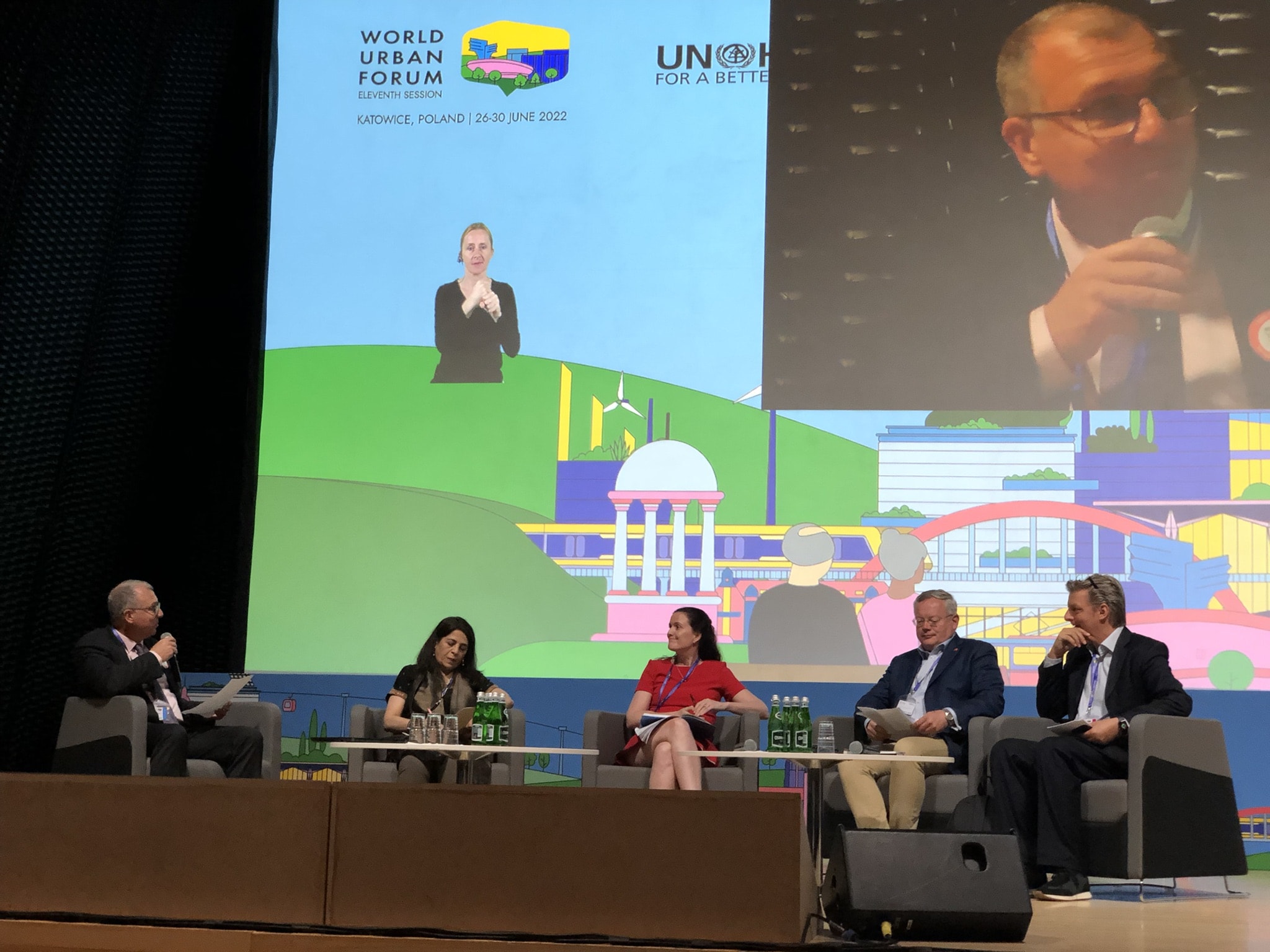 City-to-City Learning
Our Global Cities staff took opportunities presented at WUF 11 to discuss how Arcadis' services can help the world largest cities achieve sustainable development approaches and address the challenges of climate change, rapid urbanization, and growing populations.
"We gain a lot from city-to-city learning. The challenges developed cities face differ greatly from developing cities." says Arcadis Global Cities Program Manager, Verali Von Meijenfeldt "But in both cases, the challenges are comparable and developing cities have the opportunity to create future proofed, sustainable environments without falling into the traps of past unsustainable practices. The bigger question is how to plan long-term versus short-term (crisis) responses in a city. How do we ensure that the decisions we make today do not hinder future solutions? We need to connect the short-term jumps with longer-term, large-scale improvements to achieve long lasting sustainable solutions. Cities must balance their approaches to benefit the three pillars of sustainability (people, planet and profit) to bring prosperity beyond profit."
Krzysztof Kutek, BA Sales Director, Resilience also points out that "Growing cities require care and guidance that will ensure their safety not only for residents but also for investors and visitors. Sustainable development of cities is also an issue of responding to climate change, migration to cities and the need to ensure an adequate quality of life. It is important to have a partner whose knowledge, vision and experience will guide you through all the potential obstacles that await in cities. A company like Arcadis can focus on providing services related to sustainable development in connection with minimizing the impact of climate change on cities, minimizing the effect of the energy crisis and energy transformation."
Initiatives such as the Arcadis Sustainable Cities Index identify areas of strengths and improvement for the world's largest cities to foster discussion on where our cities should focus to bring about a sustainable future for their communities.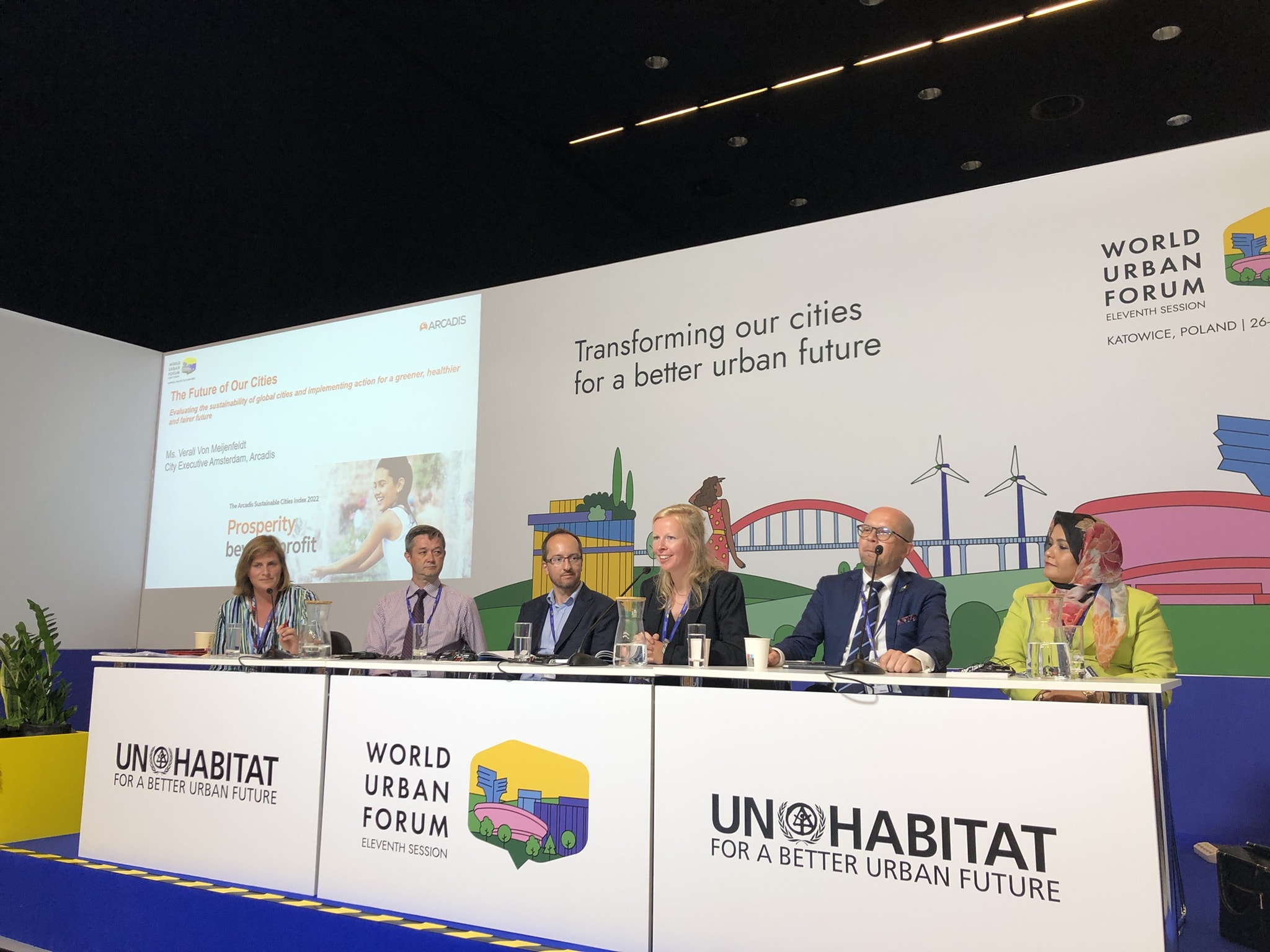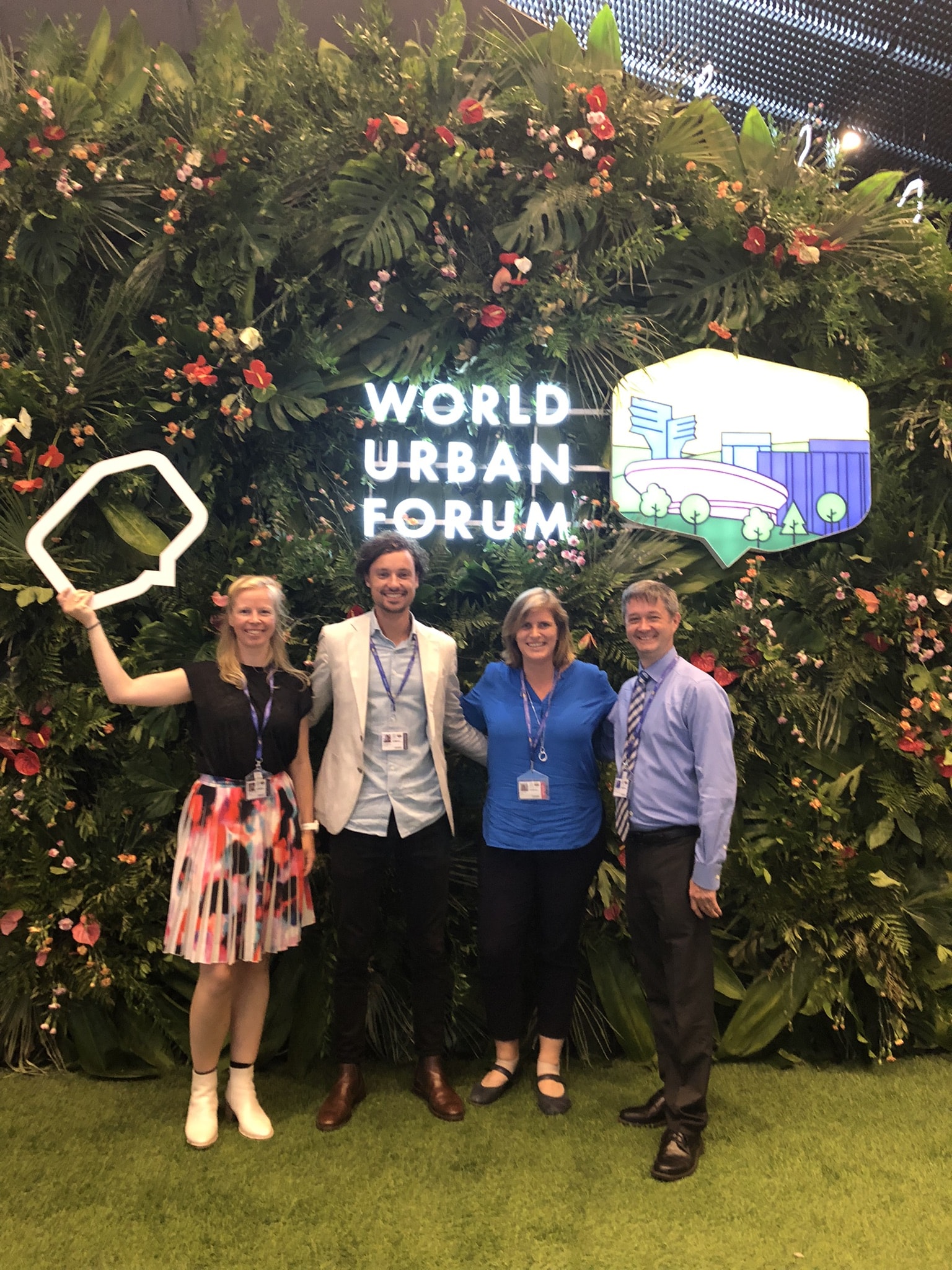 Cities in Crisis
With the war in Ukraine ongoing, an Urban Crisis track was added to the events at WUF11. The Ukraine war is a unique situation that requires international cooperation and support. The crisis management aspects we learn from these arduous events should not be forgotten, as many cities will find themselves facing other issues unique to their location, population, and resources as climate change progresses. The conversations we have now about how to be resilient in the face of crises and how to rebuild better will be lessons which cities can learn from in the future.
Leah Ackerman, Arcadis' Help Ukraine Taskforce Project Manager, attended many sessions within the Urban Crisis track and made the observation, "We must learn from crises of the past, be forward thinking and ensure strong engagement with Ukrainians at all levels. It will not be enough to rebuild buildings and infrastructure; we will need to rebuild communities and society."
At Arcadis, we are committed to supporting communities to address their most urgent needs in times of crisis and to help them mitigate and adapt to future challenges. We combine local knowledge with our global footprint to provide expertise that engages local communities and incorporates innovative solutions from around the world. All of our discussions at World Urban Forum 11 strengthened our belief that now is the time for embedding sustainability at the core of everything we do and strengthened our resolve as we found so many partners holding this same conviction.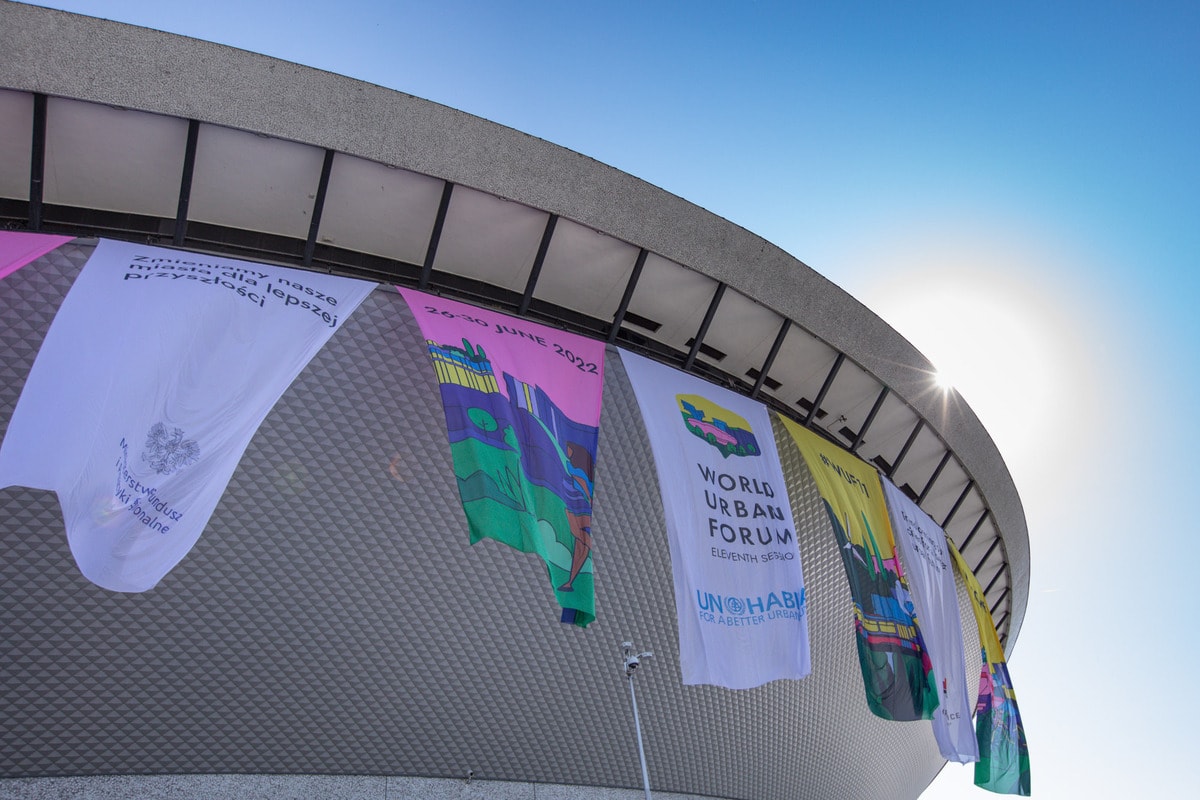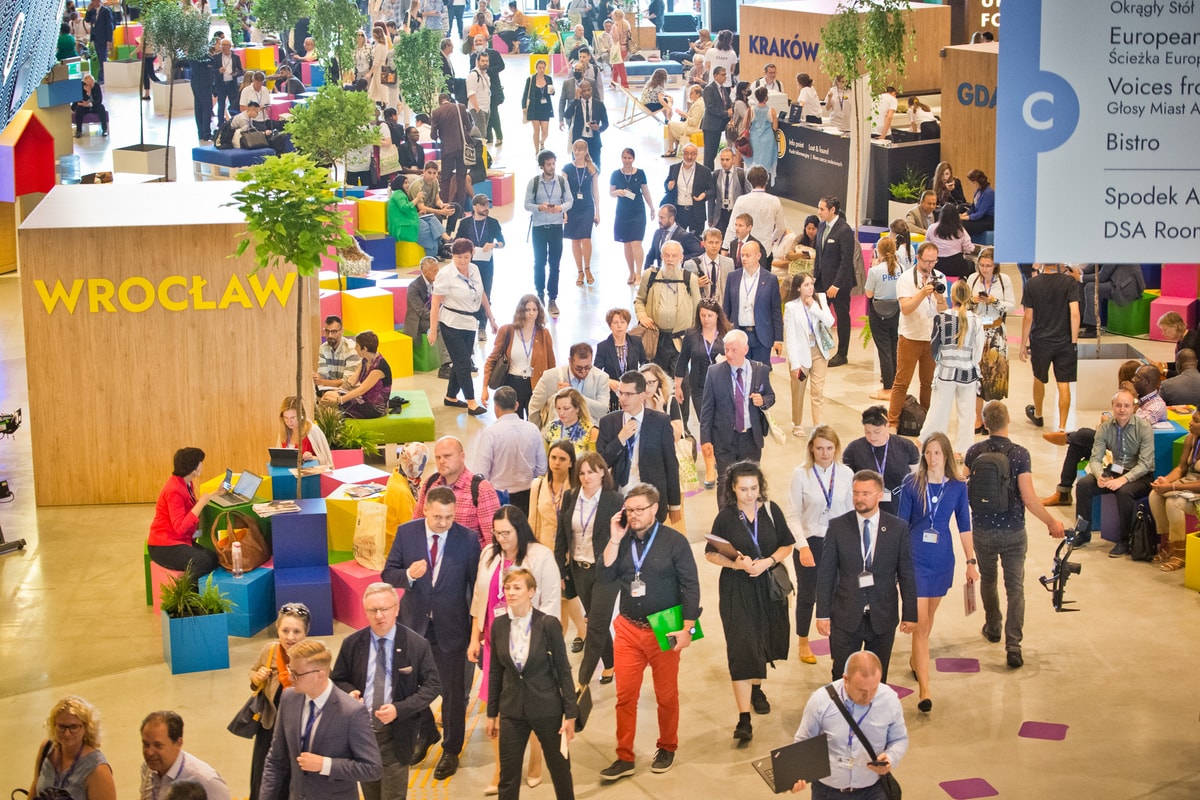 ---
1. In developing countries, the private sector generates approximately 90% of jobs and funds approximately 60% of economic investments (Australian Department of Foreign Affairs and Trade 2014). Seventy-two percent of GDP in the Organization for Economic Cooperation and Development countries is generated by the private sector (McKinsey & Company 2021).