You have not accepted cookies yet
This content is blocked. Please accept marketing cookies. You can do this here.
Vier strategieën voor de heruitvinding van het verlaten winkelcentrum.
Toen online shoppen net opkwam, zagen veel mensen dat als het einde van traditionele winkelcentra. Zo voorzagen ze ook al dat Kindle het papieren boek zou vervangen en dat bioscopen zouden verdwijnen door de komst van Netflix. Maar mensen houden nog steeds van een boek op schoot en het uitstapje naar de bioscoop op vrijdagavond. En mensen komen ook nog steeds graag samen in winkelcentra voor het gemak, het gevoel en het plezier van het fysieke winkelen. Onze winkelcentra moeten zich inderdaad aanpassen aan onze voortdurend veranderende manieren van leven, ze moeten concurreren met de efficiëntie van online winkels en ze moeten belevingen bieden voor de nieuwe consument. Maar in tegenstelling tot wat vaak wordt gedacht, zullen we niet te maken krijgen met talloze verlaten winkelcentra. Hoewel sommige van deze centra meer waarde bieden als een andere bestemming, kunnen andere nog lang blijven bestaan als er creatief wordt nagedacht over hoe ze kunnen voldoen aan de veranderende behoeften van de consument.
Er zijn vier strategieën waarmee we onze winkelcentra opnieuw kunnen uitvinden, ze een nieuw leven geven en onze stad nieuwe manieren bieden om ervaringen te delen en contact te maken met de omgeving.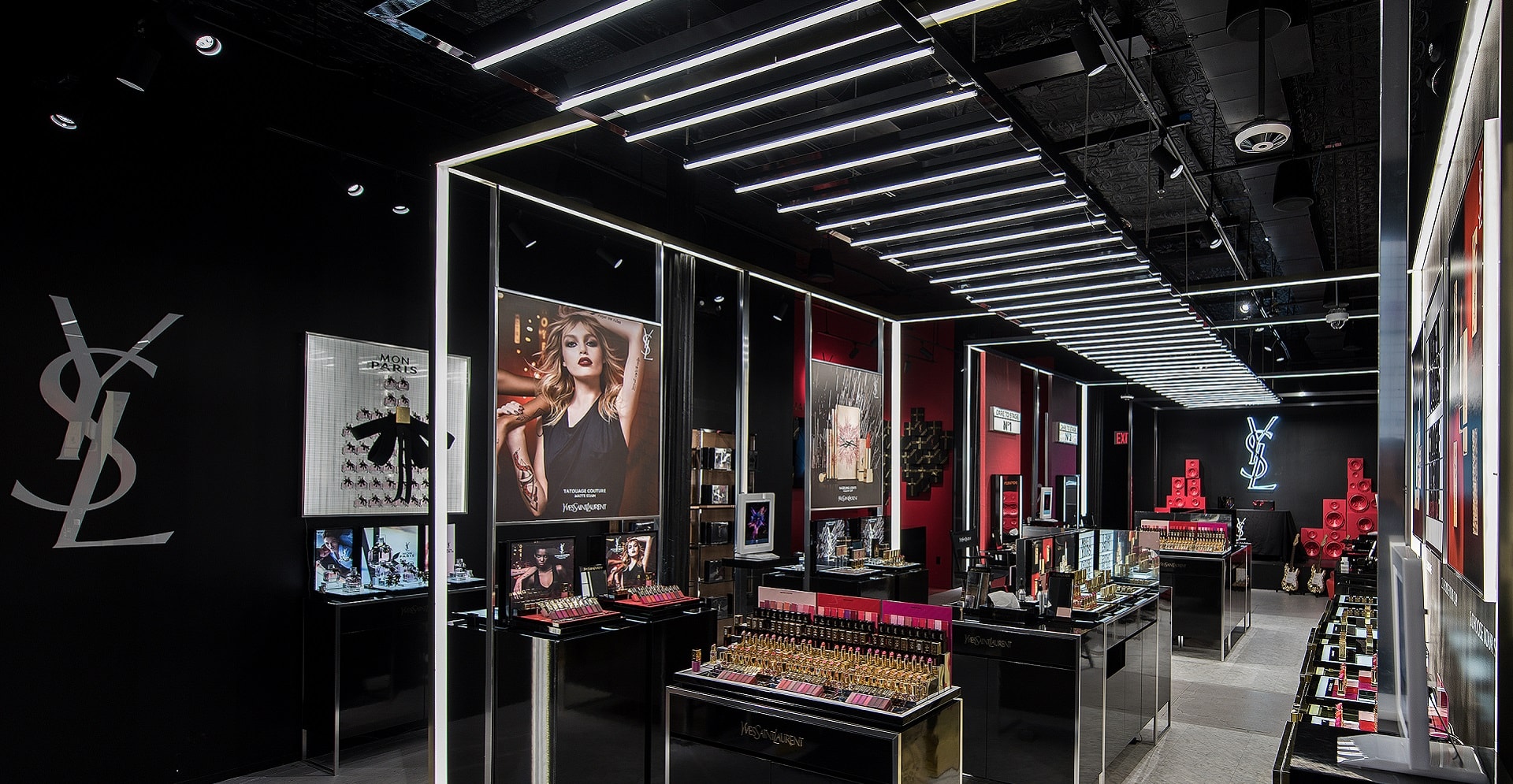 Een nieuw middelpunt voor de toekomst
De opkomst van winkelcentra leidde tot een bredere verspreiding van mode. Ze gaven tieners een plek om samen te komen en families een plek om te eten en alles te kopen wat ze nodig hadden. Grote warenhuizen, waarvan er nu veel zijn verdwenen waren een kernonderdeel. Slechts enkelen zijn er nog steeds, dankzij hun vermogen om zichzelf te presenteren als bestemming om iets te beleven. Slimme eigenaren en ontwikkelaars kijken nu niet alleen meer naar deze innovators in de retail, maar ook naar entertainment-retailers en -locaties om bezoekers te trekken. Een uitgedacht programma van ervaringen, permanent of roulerend, kan de interesse in winkelcentra weer vergroten en mensen een reden geven om te komen shoppen en nog wat langer te blijven.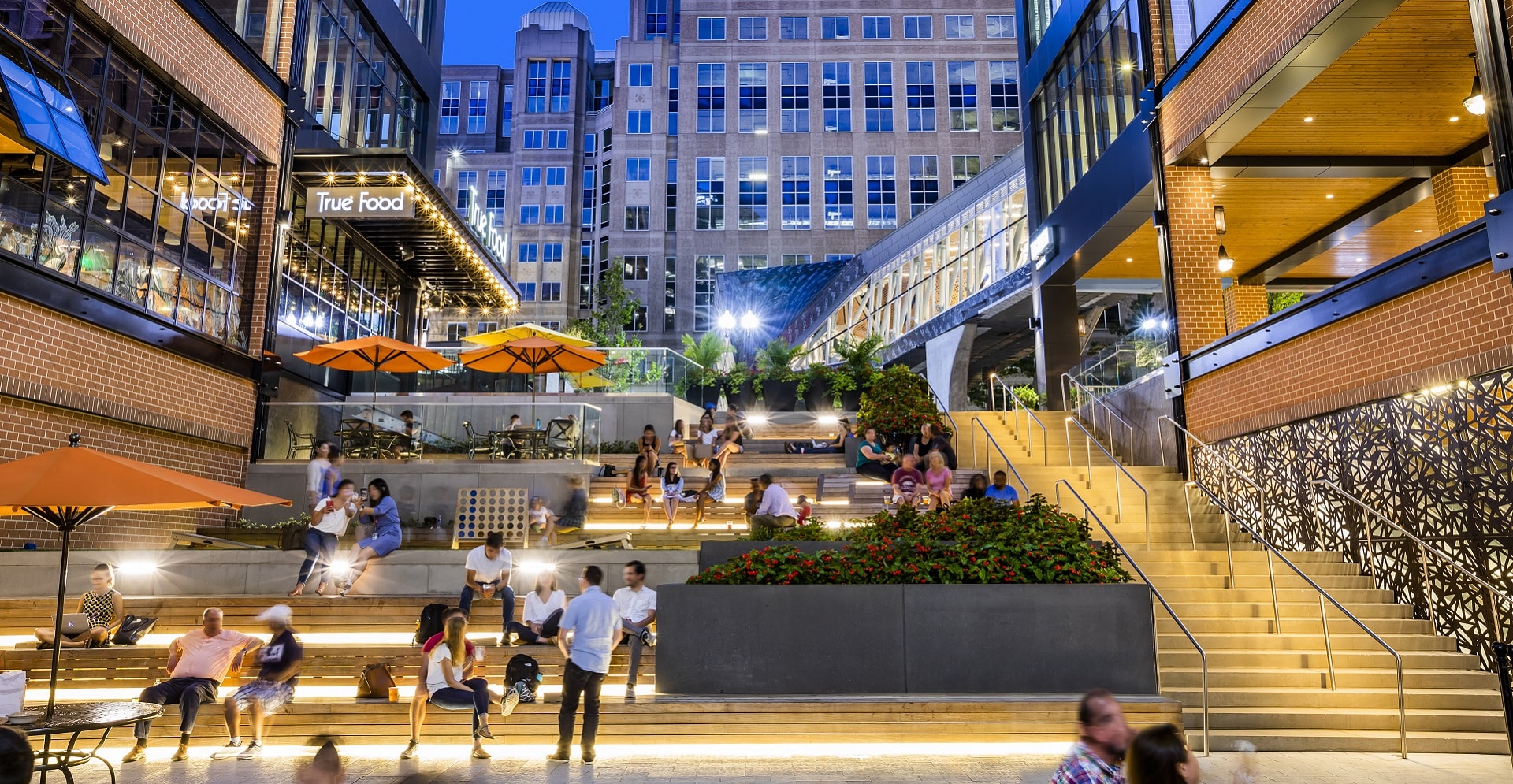 Terug naar de gemeenschap
Een winkelcentrum was vroeger ontworpen als een soort eiland. Deze vorm was bewust gekozen, maar trekt tegenwoordig geen publiek meer. Het winkelcentrum van morgen moet naadlooze overgaan in zijn omgeving. Op die manier kan het winkelcentrum de lokale waarden en cultuur weerspiegelen en tegelijkertijd voorzien in de behoeften van de consument. In sommige steden kunnen retail, woongebieden, horeca en andere plekken samen bestaan met openbare groene ruimte. Het traditionele winkelcentrum maakt plaats voor een centrale hub, een plek waar de buurt samenkomt, waar mensen waren kunnen kopen maar ook toegang hebben tot essentiële en alledaagse services: zorg, vers voedsel, sportscholen en pop-ups van lokale ondernemers.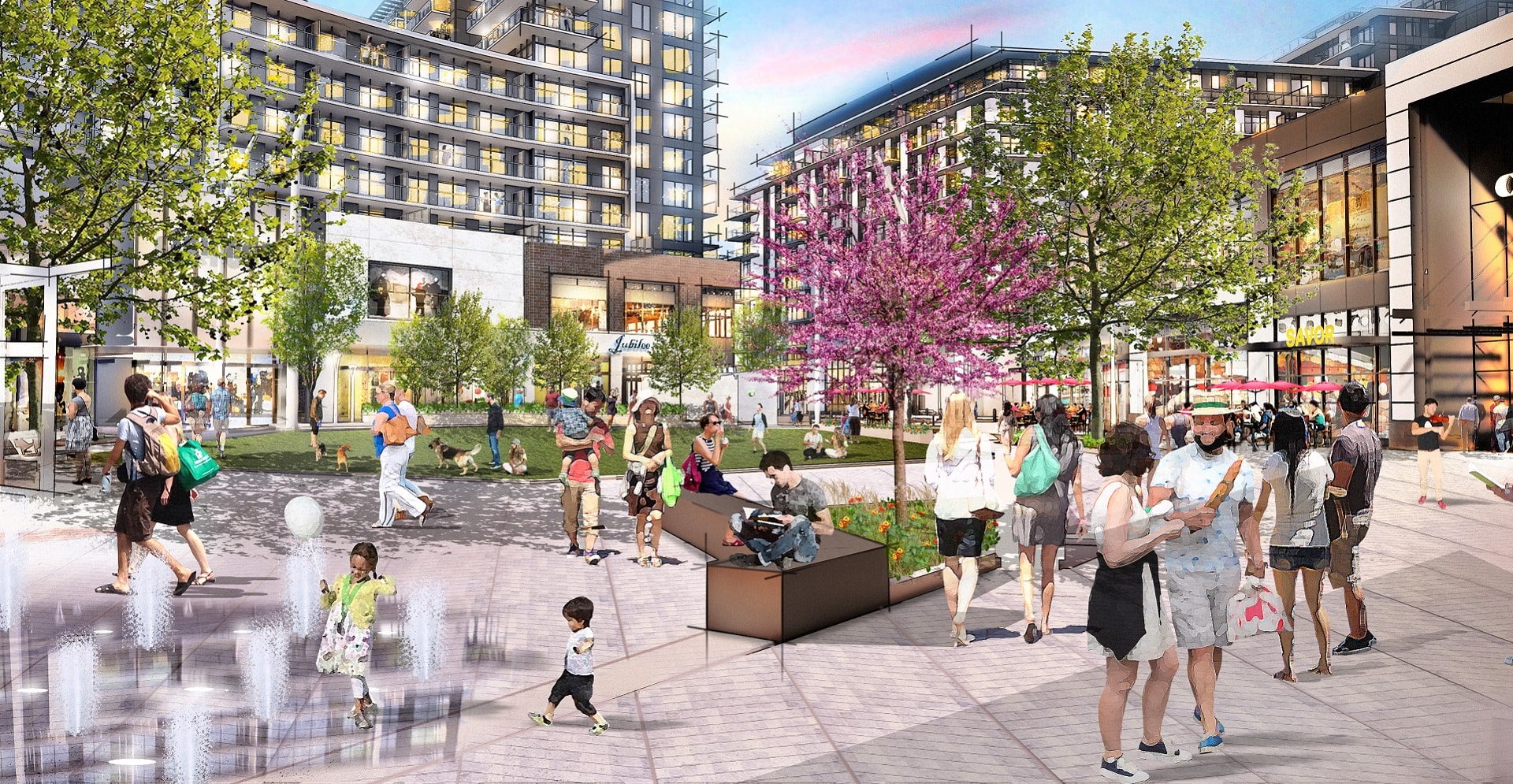 Een nieuw aanzien voor de hoofdstraat
Om deze winkelcentra succesvol te maken, kunnen ze niet langer barrières opwerpen, met eindeloze parkeerplaatsen en actviteiten die alleen naar binnen gericht zijn. In sommige gevallen, vooral in de meer stedelijke gebieden, wordt het winkelcentrum volledig binnenstebuiten gekeerd. Dat wil zeggen dat gebouwen worden gesloopt. De muren en daken verdwijnen tot er een nieuwe hoofdstraat zichtbaar is, waar voetgangers en een beperkte hoeveelheid verkeer weer het echte centrum in kunnen. Het resultaat is meer een stadscentrum of winkelstraat. De nu lege parkeergebieden zullen plaatsmaken voor parken en buitengebieden. Wanneer alles klaar is, zal het moeilijk zijn om te zien waar het afgesloten en ingesloten retailcentrum zich bevond.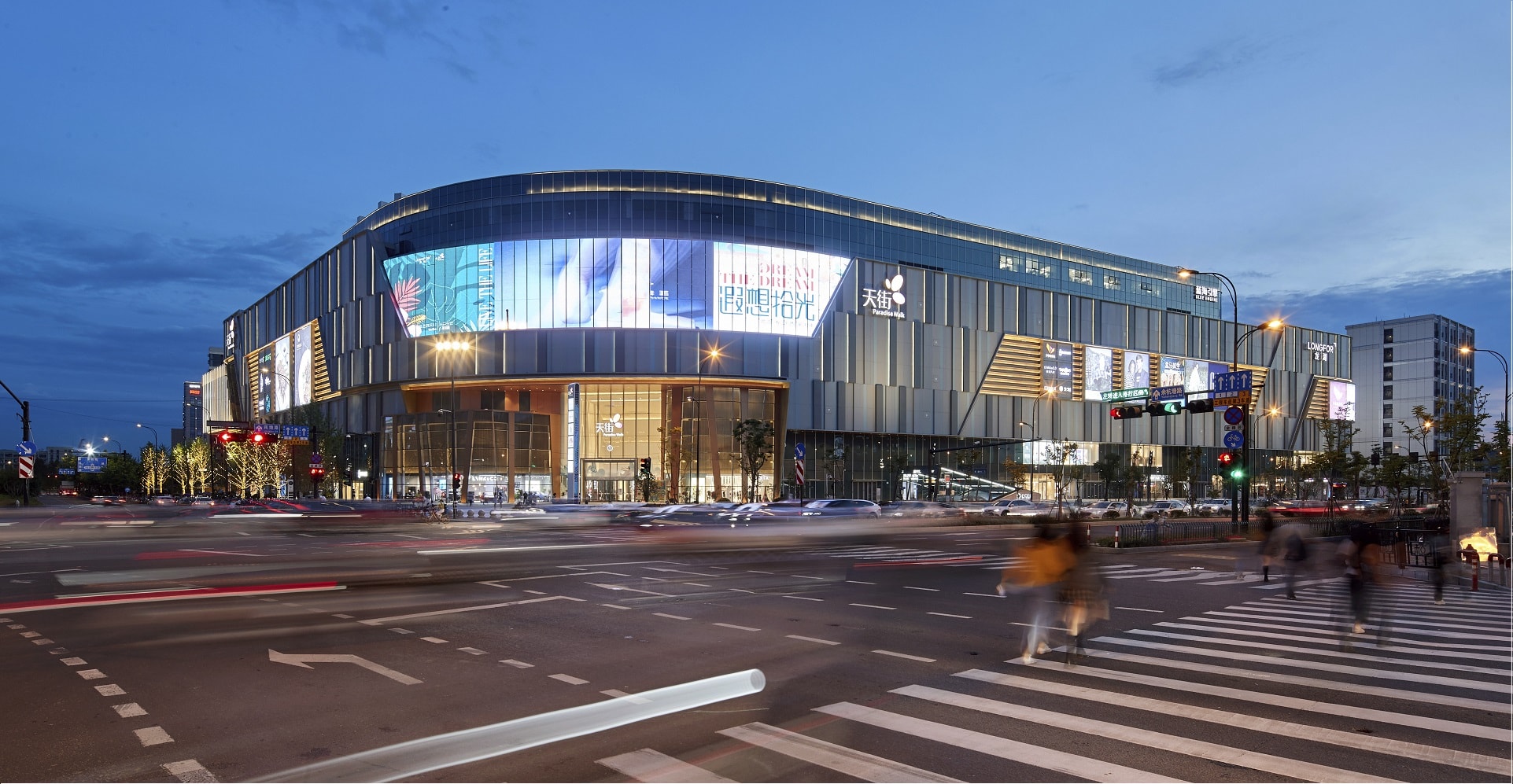 Een nieuw doel
Sommige bestaande winkelcentra ontwerpen we helemaal opnieuw. Hun doel verandert van het aanbieden van consumentenproducten naar het leveren van services in de consumentenbranche met uitvoerings- en distributiecentra. In andere gevallen kunnen ze overgaan in onderwijs- of zorginstellingen, met een focus op technologie, biowetenschappen of hoger onderwijs. Winkelcentra bevinden zich nu vaak op belangrijke locaties in de buurt van grote snelwegen of verkeersclusters, zaken die essentieel zijn voor het toekomstige succes van elke stad. Er zijn eindeloos veel mogelijkheden om hun structuren en faciliteiten te laten ontwikkelen.