You have not accepted cookies yet
This content is blocked. Please accept marketing cookies. You can do this here.
Hoe je de energiedoelstellingen van je stad inventariseert om de implementatie van de energiemix van de toekomst te versnellen.
Inventarisatie van energiedoelen
Steden wereldwijd stellen steeds meer ambitieuze klimaatneutrale doelen om hun energietransitie te stimuleren. De 'Climate Leadership & Community Protection Act' van New York richt zich op uitstootvrije elektriciteit in 2040, terwijl in Europa veel steden, bijvoorbeeld in Duitsland en Nederland, de komende drie jaar 'fossiele' verwarming willen verbieden.
Ondanks deze ambitieuze doelen, is échte actie nodig voor werkelijke impact. De eerste praktische stap is de inventarisatie van stedelijke energieplannen en -doelen via een diepgaand auditingproces. Elke stad verschilt, dus een essentieel onderdeel is een visie voor de lange termijn. Zo zorg je ervoor dat de toekomstige energiemix aansluit op de sterke punten van een stad – waarbij beschikbare middelen en infrastructuur toewerken naar een nieuwe bestemming.
Met vooruitkijken analyseren we potentiële hiaten om te zien of energiesystemen goed zijn ingesteld om aan deze groeiende vraag te voldoen. Tegelijk kunnen we ook voorzieningen treffen voor eventueel te implementeren partnerschappen en systemen. Als de netcapaciteit bijvoorbeeld de vraag niet aankan, kunnen steden bijvoorbeeld ongebruikte batterijen op het net aansluiten om te helpen met incidentele stroomopwekking. Mogelijk kan de stad industrieel afval gebruiken om het stadsverwarmingsnetwerk te ondersteunen als er geen infrastructuur beschikbaar is voor zonne- of windenergie.
Belangrijkste stappen om je reis te ondersteunen:
Audit van besluiten voor energiesystemen en infrastructuur om inzicht te krijgen in hiaten en doelen
Beoordeel of de stad de komende 5-10 jaar voldoet aan zijn toekomstige energiebehoeften door middel van strategische scenarioplanning, met inbegrip van een masterplan voor energie
Inventariseer de beschikbare middelen en mogelijk partnerschappen
Plan een energiemix die aansluit op de sterke punten van je stad – haalbaarheidsonderzoeken in dit vroege stadium vooraf zijn van cruciaal belang om de levensvatbaarheid met betrekking tot capaciteit, middelen en commercieel oogpunt te beoordelen
Projecten
Ontdek hoe Arcadis grote gemeenten en organisaties ondersteunt bij het plannen en implementeren van duurzame energiesystemen.
Hoe wij kunnen helpen
Arcadis heeft de ervaring en expertise om met je samen te werken, van strategische planning tot implementatie in je overstap naar CO2-neutraliteit. Kom meer te weten over de belangrijkste oplossingen die wij bieden terwijl je door deze fase van je reis navigeert.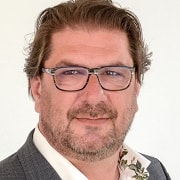 Wim Voogd
Program Director Energy Transition