Certain effects of COVID-19 will be permanent. To become resilient against this pandemic and whatever comes after, water utilities must develop new skill areas in their organizations.
Navigating the uncharted waters of COVID-19 has pushed us all far past our comfort zones. With fewer people able to work in their normal offices, utilities have had to adapt to meet new challenges and, above all else, avoid service interruptions.
While going "back to normal" sounds comforting, the reality is that some of these changes will remain permanent post-COVID-19. Focusing on the following skill areas will help your organization come out of this crisis prepared for whatever the future may hold.
Build an IT-savvy workforce
For years, employees have largely relied on information technology (IT) professionals for simple desktop support. With the advent of remote working en masse, more people are facing challenges on their own and realizing the full power of IT and the need to build a workforce with certain level of IT self-sufficiency.
Now is the perfect time to expand workers' digital skills. It will make their lives easier and allow for more flexible and productive working environments moving forward.
Training the entire workforce in basic IT practices will also free up IT professionals to focus more on rapidly growing cybersecurity concerns. Cyberattacks are becoming more sophisticated, and utility networks are vulnerable. IT experts will provide more long-term value developing smart standards and frameworks, assessing alternate service delivery models (e.g., cloud-based solutions) and testing other emerging cybersecurity solutions than they would running desktop support.
Invest in industrial hygiene training
We've all been forced to consider new methods to disinfect our work areas in recent months. The scramble has certainly exposed gaps in our preparedness. Now that we are all a few months wiser, we understand the importance of having properly trained facility staff in our offices.
Pandemics are typically cyclical in nature until a vaccine becomes readily available. Having staff with industrial hygiene expertise could provide actionable insights for maintaining our work environments while preserving the health of our people.
Develop captivating communicators
As we see opportunities to improve our systems, we will need to use strong communication practices to encourage professional development among employees, deliver business cases for capital improvement projects and, ultimately, build trust in the community.
In particular, I see strong storytelling becoming the most valuable communication skill in the future.
Being a strong storyteller means keeping your audience's main concerns at the heart of any messaging. Messages must be relatable, engaging and understandable to resonate beyond your utility and garner public trust and support (especially when posturing for funding). Data can help tell compelling stories, but make sure it's presented in proper context. Don't leave it to readers to decipher the key insights, clearly highlight the important takeaways that the target audience will relate to.
Focus on what you can control
This pandemic has taught us a lot about what we can and can't control. If you're wondering where you should and shouldn't focus your energy right now, you might want to consider the National Institute of Occupational Safety & Health (NIOSH) pyramid – a hierarchy of controls during a crisis.
The fact is, we can't influence the two most effective levels of control when it comes to COVID-19. If we focus on the other three levels, from engineering controls (e.g., building design) to administrative policies (e.g., increased telework options) and personal protective equipment (e.g., wearing masks) , we will be doing everything we can to ensure business continuity in the months and years to come.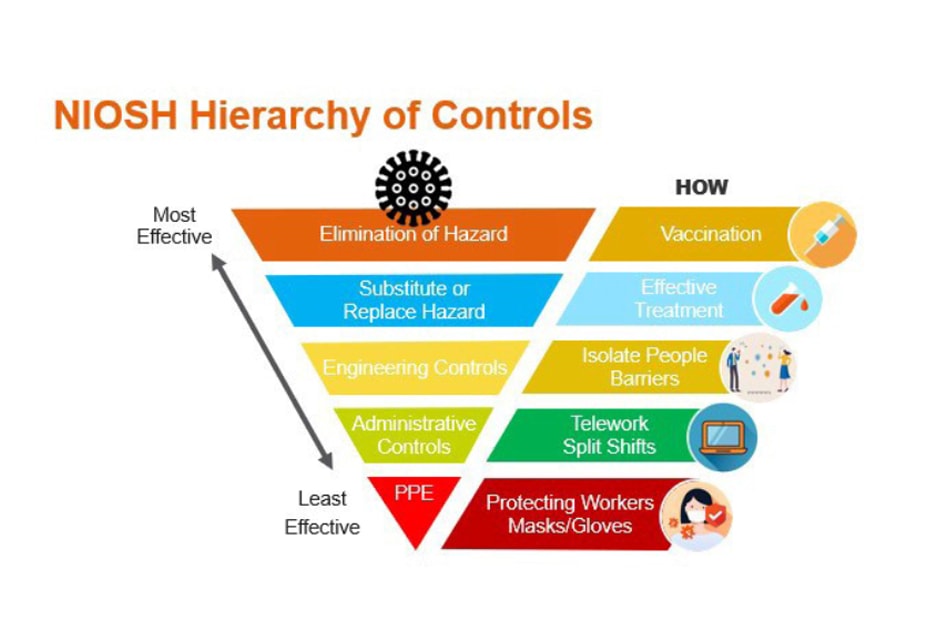 The National Institute for Occupational Safety and Health (NIOSH) shows us that the more distance a worker has from the hazard, the safer the worker will be.
While going "back to normal" may not look exactly like we may have expected early on in this crisis, if you and your utility can develop organization-wide skills in IT, hygiene and communication, while remaining focused only on what you can control, you will emerge from this trying time built to last.
Susan Wyatt joined Arcadis in September 2019 after working for more than 20 years in the water, wastewater and emergency management fields. Susan is Arcadis' senior enterprise resilience consultant and critical infrastructure protection specialist who is recognized as a continuity practitioner for the U.S. Federal Emergency Management Agency (FEMA).