You have not accepted cookies yet
This content is blocked. Please accept marketing cookies. You can do this here.
Construction disputes are, at times, unavoidable. But throughout the entire project lifecycle there are measures you can implement to help mitigate or resolve disputes that arise along the way.
I always enjoy taking the Global Constructions Disputes Report "on the road" in client conversations after it releases. Relating the survey results to people's real-world experiences adds clarity to what the broader trends look like for individual organizations.
Take COVID-19; our survey showed the number of disputes in in 2020 was about the same as 2019 despite COVID-19 impacting many projects. It turns out that most parties were quick to act when the pandemic struck, working in good faith and putting in extra effort to avoid disputes. A great example was in infrastructure, where highway and bridge projects took advantage of reduced traffic to expand operations and balance out potential delays caused by site restrictions.
That shared desire to avoid full-blown disputes, even in the face of a pandemic, fell right in line with this year's report theme: The road to resolution. We developed a simplified roadmap consisting of effective claims resolution techniques across a project lifecycle. Here are some examples of how, at every project phase, there are opportunities to potentially mitigate disputes or avoid them altogether.
Pre-design: Establish a sound risk management plan
Risk management is one of the first key landmarks on the road to resolution. When we combined survey results from all the regions surveyed, risk management held the top spot among the most effective claims avoidance techniques. But with construction projects becoming more complex than ever, it can be a challenge to accurately assess and manage risks.
Having a model that continuously monitors and plans for potential risks can help remove the stress and uncertainty you'd encounter trying to respond to risks on the fly. We use a six-step cycle that utilizes data-driven decision-making to guide response plans: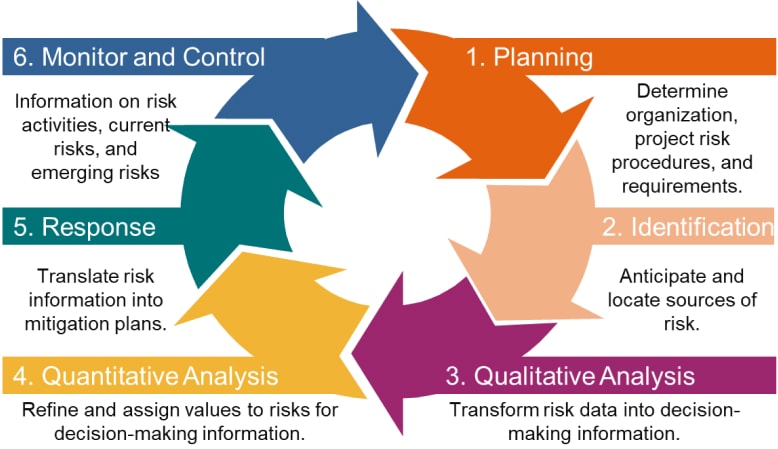 Design: Select the appropriate form of delivery
One important aspect to pay attention to during the design phase is choosing an appropriate form of project contract delivery. The number one cause for disputes last year was Owner/contractor/subcontractor failing to understand and/or comply with its contractual obligations.
Most common dispute causes in North America in 2020
Owner/contractor/subcontractor failing to understand and/or comply with its contractual obligations
Owner-directed changes (tied)
Errors and/or omissions in the contract document (tied)
We still run into cases where it's obvious that people didn't read contract, either regarding a technical issue or the process for filing a claim, which opens the door for rejection of claims due to non-compliance. Ensuring standard contract language and provisions that address the dispute resolution process will put you in a better position to mitigate and avoid disputes later on.
Looking ahead, plan for language that addresses the ripple effects of COVID-19. Escalation clauses where both parties agree to share the risk of rising material costs, for example, could offer a fair protection plan for everyone involved. Owners can even address COVID-19 impacts head-on with an adjustment clause, which might not be a bad idea considering more than 60% of our survey participants encountered project impacts due to the pandemic.
With the right delivery methods in place, all parties can embark on new projects with confidence knowing there are built-in agreements to fall back on. Taking this step lightly could lead to a serious loss of leverage if something goes sideways.
Construction: Document, document, document
We have a saying when it comes to the construction phase: If it's not written down, it didn't happen! Proper documentation will minimize the time and money spent resolving disputes. It starts by documenting everything you can – but the real secret is documenting with an eye on a potential dispute. Are the documents provided by other parties clear and easy to understand? If the project goes bad, how will the documents you're creating be read? This level of scrutiny can add more clarity to a project while providing a clear record in the instance of a dispute down the line.
Post-construction: Neutral parties can expedite resolution
Our survey results in North America showed great efforts put forth toward avoiding litigation. Including alternative dispute resolution plans in a contract can help parties avoid drawn out and expensive disputes.
Alternative dispute resolution options
Dispute review board (DRB)
Mediation
Arbitration
DRBs are emerging as a popular choice for negotiating solutions. They typically comprise of three unbiased members, where one member is selected by the owner, one by the contractor, and a third member (who serves as chairperson) selected by the first two members. One of the biggest advantages they bring to the table is helping parties articulate their positions. Even if they can't solve the problem outright, the neutral approach can help narrow the scope of the dispute.
Stay on the road to resolution
For more on the Global Construction Dispute landscape, download the full report. Also, we'll be sharing insights like these at future events and webinars; send me an email or connect with me on LinkedIn if you want updates on upcoming presentations.