You have not accepted cookies yet
This content is blocked. Please accept marketing cookies. You can do this here.
The Corporate Sustainability Reporting Directive (CSRD), in effect since the beginning of this year, imposes a legal obligation on companies to report on their sustainability performance. Though CSRD is much more than just reporting. The standards set under the directive call for significant changes in business operations to ensure companies meet their sustainability commitments and provide clear reporting on their interactions with people and the planet.
What is the CSRD and what are ESRS?
The Corporate Sustainability Reporting Directive (CSRD) is European legislation that has been in force since January 2023, requiring companies to provide transparent annual reporting of their sustainability performance. The specific contents for reporting are determined for each topic by the European Sustainability Reporting Standards (ESRS), approved by the European Commission in July 2023. The new directive ensures better and more rigorous comparison and monitoring of companies in terms of sustainability. Failure to comply or take appropriate actions can put companies at risk of reputational damage, administrative and even financial sanctions.
Impact beyond the European Union
All companies with a significant presence in Europe must comply with CSRD's requirements. This has a considerable impact on, for example, multinational corporations operating in Europe, who may need to reevaluate existing sustainability reporting. More specifically, non-European companies with at least one subsidiary or branch in Europe and a turnover of more than 150 million euros must report their sustainability performance following the directive for the first time during the financial year 2028.
Why is this important, particularly for multinational American companies considering implications of the proposed SEC rule?
While both directives have a shared purpose of standardizing sustainability disclosures and providing investors with reliable and transparent ESG information, CSRD goes a step further. It requires more comprehensive disclosure of a company's impacts on sustainability, mandating third-party audits and elevating reporting integrity. For companies looking to create consistent global sustainability reporting, this necessitates further steps to ensure that a holistic disclosure framework is put into place in the coming years.
Reporting is just one piece of the puzzle
Reporting is the final step in a much larger process. The European reporting standards require discussion of strategy, risks, opportunities, policies, actions, resources, objectives, (financial) impact, and measurements for each of the company's material sustainability topics. And the starting point for this is a clear sustainability strategy that systematically addresses each topic with clear goals and roadmaps.
We pride ourselves in providing end-to-end solutions to our clients. This means not only helping establish strategies and goals, but also guiding the implementation steps needed for robust reporting aligned with standards like the CSRD – ultimately giving our clients the confidence to see their plans through to action and create real impact.
The CSRD requires a clear sustainability strategy with ambitious goals and objectives. Without these elements, reporting is meaningless.
At Arcadis we recognize that a successful sustainability strategy should be the right fit for your business. Our team has the know-how to co-create an actionable sustainability path with you, considering your stakeholder expectations, industrial standards and emerging regulations, such as the recent CSRD guidelines.
Get CSRD-ready in 5 steps
How can your company get started today?
The first step is determining your company's priority sustainability topics via a robust materiality analysis guided by the standards. Next, it is important to compare your existing management measures and reporting practices with the requirements outlined in the CSRD.
Consider three questions as part of a focused reporting gap analysis:
What is already being done?
What is expected?
What is still lacking?
The outcome of this analysis forms the basis to develop a roadmap outlining your company's priorities. To ensure credibility and alignment with the directives, it is important to establish well-defined objectives and key performance indicators (KPIs) for each area requiring action. The fifth and final step is focused monitoring then reporting against these set KPIs.
Our expertise
Arcadis' strategic and technical experts can partner with you at every step to identify, prioritize, implement and evaluate your sustainability objectives, transforming your goals into real value for your company, and strengthening your market reputation and leadership.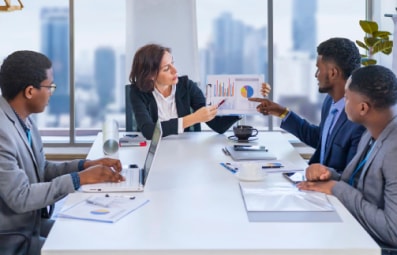 Are you looking for more background information on the new Corporate Sustainability Reporting Directive?
In this blog, our experts provide more context and explanation about the new Corporate Sustainability Reporting Directive (CSRD).
Solutions
We deliver sustainable design, engineering, and consultancy services for natural and built assets.