As environmental, social and governance (ESG) issues become central to business strategies, organizations are facing increased pressure from aging assets, extreme weather events and rising regulatory and customer expectations.
Built from a unique combination of decades of deep asset knowledge and advanced analytics capabilities, AppliedInsight's suite of intuitive applications empower asset intensive organizations to make better management and investment decisions through data-driven, actionable insights for greater sustainability, efficiency and resilience.
AppliedInsight offers an accessible, affordable first step towards digitalization, through cloud-based app subscriptions. Apps like the Water AI Pipe Predictor use artificial intelligence and machine learning to help utilities predict the pipes that most likely to fail; while simple data repair and visualization apps help digitally immature organizations take a first step towards digitalization.
To find out more about the Arcadis Gen AppliedInsight platform, visit their website.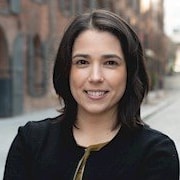 Connect with
Mary John

for more information & questions.
Mary John,

Head of Arcadis Connections & Collaboration Contact Mary
We are eager to hear from you, because improving quality of life is something we can only do by working together.