You have not accepted cookies yet
This content is blocked. Please accept marketing cookies. You can do this here.
Arcadis, LEVL Telematics and Geotab join forces to offer a data-driven approach for electric vehicle transition. 'Fleet Electrification: An Arcadis Solution' is being used to help organisations, including central government and Arcadis, upgrade vehicles to more sustainable options.
Arcadis, together with LEVL Telematics and Geotab, the world's leading connected transportation company, have joined forces to offer an innovative digital solution to help organisations looking to transition their fleets to electric vehicles (EVs). Fleet Electrification: An Arcadis Solution will help businesses to determine how and when they should make the transition to EVs, and in the most efficient way possible.

Through Fleet Electrification: An Arcadis Solution, Arcadis and its clients will work closely with LEVL Telematics and Geotab to analyse data processed from vehicles using the Geotab fleet management system. Data ranging from GPS and vehicle mileages to engine diagnostics and even driver behaviour will be combined with Arcadis' Electric Vehicle Suitability Assessment (EVSA) tool to determine which vehicles in a fleet are best suited for EV replacement.

Drawing on Arcadis' understanding of the built environment, Fleet Electrification: An Arcadis Solution will also ensure that the right charging infrastructure is in place across all properties within an organisation's property portfolio. In this way, the offering helps to provide a full bespoke blueprint for fleet electrification - including change management, procurement support, programme and project management, and supply and installation of charging infrastructure.

The case for electrifying fleets is getting stronger. Not only are the Government's policies pushing this forward, but many companies are realising the additional benefits of switching, such as reducing carbon dioxide emissions, improving air quality, access to more readily available EV charging infrastructure and having an increased selection of electric vehicles to choose from.

As Simon Swan, Future Mobility Director at Arcadis, explained:

"It is estimated that by 2025, 20% of all cars sold will be electric. This will have a huge impact on reducing air pollution but also, with lower running costs and being cheaper to maintain, helping to generate significant cost savings. Big organisations with big fleets.

"The benefit of our Fleet Electrification solution is that it offers a uniquely focused way of bringing new technology to the decision making and implementation process, whether for a small fleet across five sites or a large fleet over 1,000 sites. It means that Fleet and Estate Managers can explore different scenarios and see what the impact will be, without having to commit to making any expensive financial decisions."

Arcadis is currently using the Fleet Electrification solution to transition its own fleet of more than 30 business vehicles to electric. Over the last year, Arcadis has explored various ways to update its diesel fleet to more sustainable options, and has recently taken ownership of its first two Plug-in Hybrid vehicles to kick-start the process. The vehicles are being equipped with advanced telemetry systems to monitor how they are used, including how many trips they take, how long they are used for and where they are going. The data will be analysed, before making an assessment to determine the most suitable ultra-low emission vehicle and the most appropriate electric vehicle charging solutions.
Jan O'Hara, Director at LEVL, commented:
"Bringing together two industry leaders such as Arcadis and Geotab to create a truly end-to-end product like Fleet Electrification: An Arcadis Solution is, in my opinion, market changing. Arcadis will now be in a position to offer an innovative and timely product for fleets wishing to transition to electric while also providing unique insights to help ensure long-term success.
"Fleet Electrification: An Arcadis Solution is available for all LEVL customers in the UK and we look forward to helping drive the EV market forward while providing data-driven support to facilitate seamless fleet electrification."
David Savage, Geotab's Regional Manager, UK & Ireland, added:
"With sustainability as a core pillar of our business, Geotab is committed to providing businesses with customisable solutions that can help address their specific electrification needs. As the largest commercial telematics platform in the world, with 13 years specific experience in the EV space, it is critical that Geotab works together with Partners to provide data-centric solutions that help fleet managers and organisations meet their sustainability and electric vehicle goals."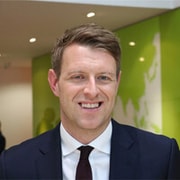 Connect with
Chris Wiggan

for more information & questions.
Chris Wiggan,

Global Corporate Communications Director Contact Chris