You have not accepted cookies yet
This content is blocked. Please accept marketing cookies. You can do this here.
The Intergovernmental Panel on Climate Change (IPCC) recently concluded that we need to limit global warming to 1.5°C to avoid catastrophic consequences for people and our environment. To do so, the world needs to follow up peak emissions in 2025 with a halving of emissions every decade until 2050 , starting with the first halving by 2030. This simple rule of thumb, called the Carbon Law can be applied to everyone: companies, cities, nations and citizens.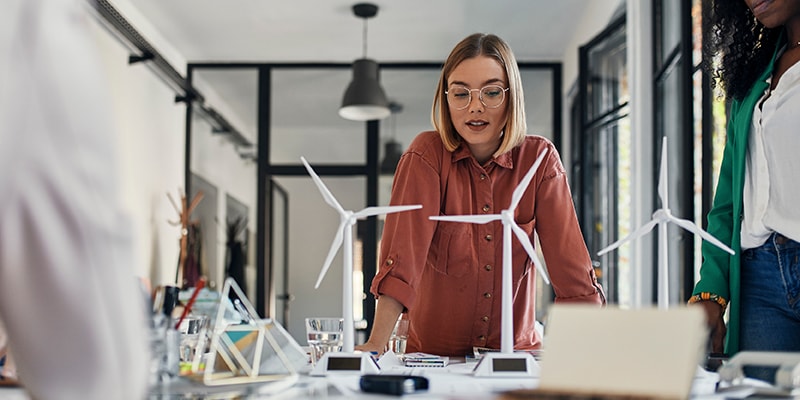 Net Zero is the point at which global greenhouse gas (GHG) emissions are balanced by emissions reductions and carbon removal projects. We must maximize GHG emissions reductions, relying on carbon removals only to balance residual emissions.
At Arcadis, we help you understand and translate the impact of net zero throughout your organizations – in your strategy, operations, supply chain, investments and innovations. We work with you to set up the building blocks, investment case and roadmap to deliver on your net zero commitments. From renewable energy strategy and market-based procurement to net zero investment forecasting, we have expertise that can support your business transformation.
Our services include:
Establishing net zero targets and ambitions (aligned with climate science)
Developing net zero strategies with near- and long-term achievement priorities
Planning for and implementing projects with net zero considerations
Designing for net zero
Measuring and reporting on GHG impacts
Operating sustainably (supported by governance, processes, data automation, behavioral and cultural change)
Talk to an expert
For projects, RFPs, and RFQ's, please get it touch with us so we can connect you with the best point of contact.
Learn more about Sustainability Advisory
We partner with you on your sustainability journey to co-create accessible ambitions and roadmaps, seeing these through to realization.
Learn more about Sustainability Advisory
This also might be interesting for you