You have not accepted cookies yet
This content is blocked. Please accept marketing cookies. You can do this here.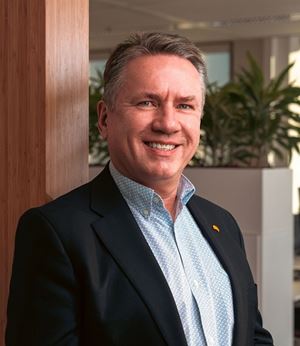 Alan Brookes
Chief Executive Officer and Chairman of the Executive Board
British Nationality, 1961
Chief Arcadian. People Champion. Passionate about finding solutions to global challenges. Playing his part in helping to preserve the planet and improve quality of life.
Alan was born in Chester in the United Kingdom. He has lived and worked abroad in Asia, but home now is in Warrington, just over half an hour away from where he grew up. He's married to Tracy and has four children – who are now (young) adults – and is a 'retired' amateur singer and lover of all kinds of music.
Alan was appointed the Chief Executive Officer of Arcadis in May 2023. He works with, and leads, 36,000+ talented and gifted Arcadians in over 70 countries who are dedicated to improving quality of life.
He started his career as a surveyor, where he grew to lead a chartered surveying practice and then chair Povall, Flood and Wilson, which was eventually acquired by EC Harris in 2000. Alan helped transform the business into a global force, moving to lead the Asian business in 2011 and became an EC Harris Board member. When EC Harris was acquired by Arcadis, Alan continued to lead Asia supporting the acquisition of Langdon and Seah before returning to the UK in 2014 to integrate the businesses into one Arcadis team.
In 2019, Alan was appointed as Group Executive to lead the UK, Europe, and Middle East businesses across €1.2bn revenue, 12,500 people and 14 countries. In 2020, Alan became Global Chief Operating Officer and has led the development of the global operating structure of Arcadis - a structure which sets Arcadis up to be successful in a future that is rapidly changing.
Alan is convinced that the most important aspect of his role is to unleash the potential of Arcadians, so they can continue improving quality of life and helping clients with their biggest challenges.
To do this, Alan is helping to explore new approaches using people and tech to deliver innovative digital solutions that keep clients ahead of the curve. He's also very personally committed to Arcadis's 2035 net zero targets, as well as providing Arcadian knowledge and advice as a force for good for the planet. Since 2014, Alan has also chaired and been actively involved in Crash, the UK construction industry homelessness charity.
Alan wants to build an even more diverse and inclusive team at Arcadis. He believes that background and experience is what makes Arcadis an interesting and dynamic business - ultimately bringing different ideas and solutions to the table. He's committed to the fact that everyone at Arcadis should feel included, have a sense of belonging and respect for human rights.
Alan is passionate about improving quality of life, looking for the good in bad and championing solutions to create a better world.