Responding to the IPCC's Sixth Assessment Report
The last few months have been a chilling reminder of the impact of climate change and a glimpse into our future; the heatwave in North America, the floods in Germany and wildfires in California and Greece. With global temperatures now estimated to be 1.1°C higher than preindustrial levels, we are feeling the effects of the impact human beings have had on the climate. The recently launched Sixth Assessment Report from the Intergovernmental Panel on Climate Change (IPCC) is a stark warning or us all. It shows that we are not doing enough, or at a quick enough pace, to tackle climate change and calls in to question the commitments made by the signatories of The Paris Agreement in 2015. There is no time for delay. There is no time for excuses. This is 'code red for humanity'.
Why is the IPCC's Sixth Assessment Report important to us?
The IPCC's Sixth Assessment Report is the latest set of IPCC reports that assess the scientific knowledge on climate change, including our past, present and future climate, its impacts and future risks and options for adaptation and mitigation. This enables the scientists to bring together new understanding to help us refocus our efforts. The report highlights how we may gain advantage from treating gasses like methane differently and further confirms the need to achieve deep reductions in the coming decades. It also describes the future that we will face from the impact we have already had and what could happen If we don't take further action.
What did the report find?
The message is simple. What the science predicted has been observed and proved to be an unequivocal fact. Humanity has affected the Earth's climate in every region and across the whole climate system. Many of these changes, such as continued rise in sea levels, are irreversible over hundreds to thousands of years but strong and sustained reductions in emissions of carbon dioxide (CO2) and other greenhouse gases (GHG) would limit climate change.
We are facing a continuingly challenging future. For many of us, even with deep reductions, we will see a worsening climate through much of our lifetime. There will be an increasing need to adapt to change and respond to the impact of increasingly devastating weather events. By taking immediate, rapid action to adopt large-scale reductions in GHG emissions, we can reverse the warming that we have caused and build a future where the tide will turn. This will not be a quick fix. The next 20 years will need us to constantly innovate to protect our communities whilst meeting deep reduction targets.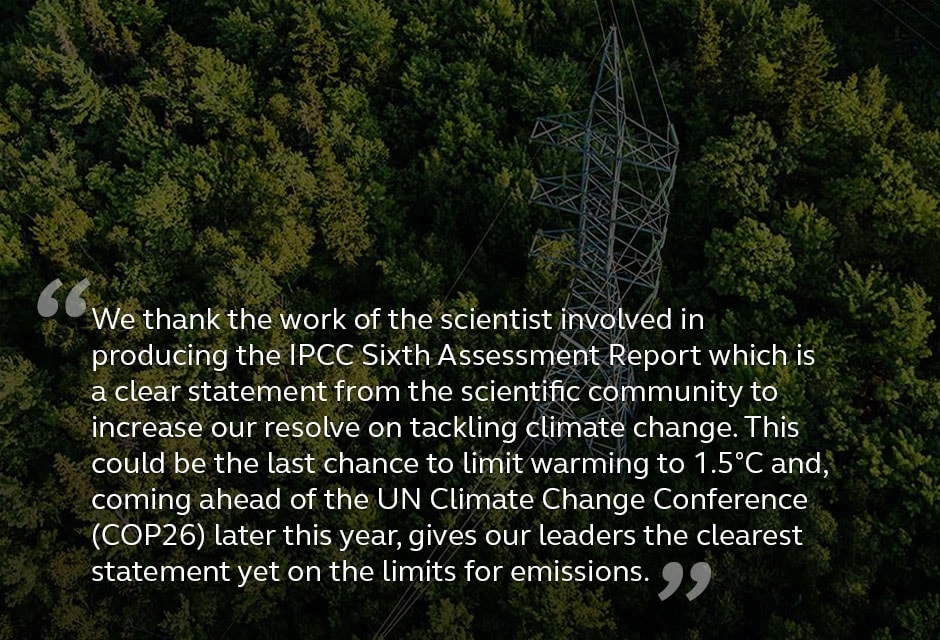 What does this mean for the built environment?
Whilst many of the challenges to achieve deep reductions sit within the built environment, it is our sector that also holds many of the answers. The report is a call to collectively refocus our efforts on ensuring that we limit warming to 1.5°C. We need to continue to capitalise on the decarbonisation of energy production, work on ways to integrate storage, maximise the value from existing assets and identify the lowest carbon options for construction of new buildings and infrastructure. The World Green Building Council has found that buildings and their construction accounts for 39% of all carbon emissions in the world, with 28% attributed to emissions from operation (lighting, heating, and cooling buildings) and the remaining 11% to emissions related to the construction. We will need to retrofit many of our buildings for them to achieve Net Zero, but we will also need to work across supply chains to identify nature-based solutions, new products and materials that limit the emissions from our sector in the construction and maintenance of our existing built environment and in the construction of the solutions which will be needed to protect us from a changing climate.
"We thank the work of the scientist involved in producing the IPCC Sixth Assessment Report which is a clear statement from the scientific community to increase our resolve on tackling climate change. This could be the last chance to limit warming to 1.5°C and, coming ahead of the UN Climate Change Conference (COP26) later this year, gives our leaders the clearest statement yet on the limits for emissions.
"As businesses it is our responsibility to all our stakeholders to take every opportunity to limit emissions and work across our sector to not only find Net Zero options but to continually innovate, drive down the cost, and scale those solutions around the world."
Acceleration of climate mitigation is vital
What is clear from the report is the need for acceleration. We must find a way to change the pace and ambition with which we come at the challenge of mitigating climate change. Momentum is building, we are seeing that from the commitments that have been made. Almost half of the entire asset manager sector globally has signed up to the Net Zero Asset Managers Initiative ($43 trillion of assets), the major countries and trading blocks have set Net Zero commitments, and businesses are committing to science-based targets through SBTi, Race to Zero and Climate Pledges. The question this report raises is whether we are going fast enough.
Whether public or private, all organisations need to be setting clear sustainability strategies and science-based targets that align to the goal of limiting global warming to 1.5°C, and have a clear plan to achieve it. This is not easy, we have committed to this at Arcadis, and it requires us to think how we set up our business, the priorities that we have for things such as travel, for collaborating with our clients, partners and suppliers on shared targets, and taking advantage of new technology when it is available and developing our own when it is not. We are faced with different decarbonisation challenges in the different countries that we work in, but that diversity brings with it new ideas and solutions. Our sustainability advisory team also work with clients who are committed to doing the same, to get the most out of the budgets available to them and to be leaders in achieving their targets. I have worked in sustainability for nearly 20 years and have seen the urgency of the message and the ability to respond spread across our sector. As we challenge ourselves to do more we must learn from the experiences of others, utilise diverse skillsets and the dynamism and new ideas of the next generation.
The need for better climate adaptation
We have known for some time that we will need to adapt to a changing climate. It has been part of the planning of cities and infrastructure. The report gives a clearer picture of what the future scenarios will be, and we must develop better climate adaptation strategies to build resilience against the climate extremes that are already upon us. In North America, we have been increasing the climate resilience of Lower Manhattan's coastal communities, safeguarding the low-lying neighbourhoods most at risk of rising sea levels, coastal storms and intense precipitation.
Intelligent engineering and construction are integral in addressing all aspects of the crisis, including protecting coastal cities from sea level rise, water conservation in light of increased drought conditions as well as designing structures that can withstand the impacts of extreme storms. We will also need to adapt the way we protect our cities and communities. We need to place a greater emphasis on natural capital and natural flood management as well as nature-based solutions, so that as we adapt to climate change, we support mitigation.
We are also too familiar with the consequences of when climate adaptation has not been possible. When this is the case, we help respond to disasters across the world through a long standing partnership with UN-Habitat. Recently, our colleague Anurat Kaeocha, a water and civil engineer in Thailand, helped address the threat of further landslides caused by climate change in the border region with Laos. You can read Anurat's story here.
Sustainability isn't just about fixing things
Sustainability isn't just about fixing things, it's about improving quality of life. And these advances in climate science from the IPCC provide invaluable input in our decision-making, ensuring that we are not only making the decisions that make business sense, but ones that will contribute to a better world for us all. The solutions that provide clean energy, zero emission transport, zero emission housing, circular resource use, resilient societies and nature-based solutions will not only solve our climate crisis, but they will improve our quality of life.
Mounting levels of inequality globally represents one of the most pressing challenges facing our world today. And we know that climate change disproportionally affects those most vulnerable in our societies. We recognise that tackling inequality and creating shared prosperity for all must be at the heart of our agenda for sustainable growth. That's why we are working with the World Business Council for Sustainable Development to catalyse business action in support of a more inclusive and equitable society through the 'Business Commission to Tackle Inequality'. This Commission brings together business leaders to shape and promote a compelling and common narrative and agenda for business action on inequality. We aim to change mindsets, cultivate a shared vision and direction, and support collective action to generate shared prosperity for all.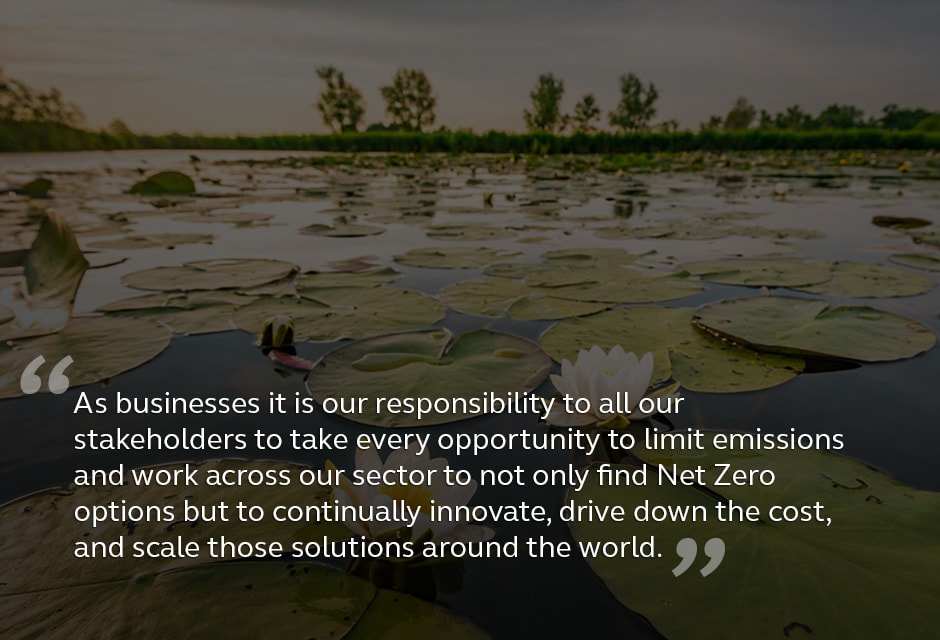 Our collective race to Net Zero
We're part of one of the most important sectors to lead this transition. We have an opportunity to be at the front of this change. We need to build on the hard-won steps which have brought us to this point. The sixth assessment report has provided a clear statement on what needs to be done. Our willingness to work towards a joint goal, sharing best practice and building on collective innovation will determine the course of the next decade – our crucial decade. With COP26 taking place in November in Glasgow, the eyes of the world will be on this topic. If we don't scale up and start to realise our ambitions, we face a climate breakdown. This is a real chance to embed sustainable, long-lasting change and, from the broadest aspirations to the most practical applications, the actions we take now will decide the shape of our future.