You have not accepted cookies yet
This content is blocked. Please accept marketing cookies. You can do this here.
Als we in 2050 een CO2-neutraal wagenpark willen bereiken, moet 61% van de wereldwijd verkochte auto's in 2030 emissievrij zijn. In 2035 moet dit percentage 93% bedragen en in 2038 mag er in geen enkel segment nog een voertuig met een verbrandingsmotor worden verkocht.
Wij helpen bestuurders in de publieke en particuliere sector bij het opzetten en implementeren van EV-programma's. Door onze ervaring in het oplossen van de uitdagingen in de verschillende fases van strategievorming tot uitvoering, weten wij wat een succesvolle transitie naar elektrische voertuigen aanjaagt.
De groei van elektrische voertuigen wereldwijd
De Arcadis Global EV Index kijkt naar landen over de hele wereld en in het bijzonder naar regio's waar Arcadis betrokken was bij mobiliteitsprojecten. In de Global EV index 2022 zijn drie extra landen opgenomen, we maten de vooruitgang aan de hand van drie belangrijke drie stimulansen voor de overstap naar elektrische voertuigen. Deze tonen aan wat landen goed doen en op welke vlakken ze verbeteringen kunnen aanbrengen. Ook bevat het een nieuw programma met acht stappen voor factoren die een rol spelen bij een succesvolle transitie naar je EV-infrastructuur of wagenpark.
Download hier het rapport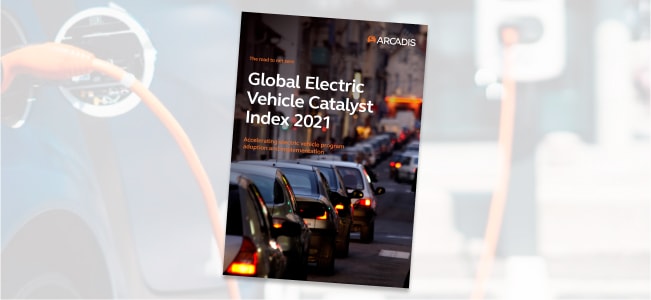 Global EV Catalyst Index (2e editie)
Inclusief bijgewerkte gegevens en 3 nieuwe landen
Laten we een connectie maken
Heb je vragen of wil je het gesprek aangaan met één van onze Arcadis-experts? Vul dan het formulier in. We doen ons best om binnen 1-2 werkdagen bij je terug te komen.