You have not accepted cookies yet
This content is blocked. Please accept marketing cookies. You can do this here.
Highlands Ranch, CO - July 20, 2023 - Arcadis, a global leader in design and consultancy for natural and built assets, announced today its participation in the Count Us In pledge, an initiative launched by The Human Rights Campaign (HRC), the largest LGBTQ+ advocacy group in the United States, for companies to pledge their commitment to full LGBTQ+ equality in the workplace and beyond. This collaboration underscores Arcadis' ongoing commitment to championing human rights and incorporating diversity, equity, inclusion and belonging (DEIB) as a business imperative.
Lisa Stone, Arcadis Global DEIB Strategic Director, said: "At a time when a record number of anti-LGBTQ+ legislation has been introduced across the U.S., Arcadis is proudly joining forces with HRC to pledge its unwavering support and allyship with the LGBTQ+ community and the values of DEIB. Arcadis recognizes that businesses have a crucial role to play in addressing societal challenges, including the rights of the LGBTQ+ community. As a company deeply committed to DEIB, Arcadis aims to leverage its expertise and resources to support the Count Us In campaign's objectives."
The HRC Count Us In pledge represents an important and additional step forward in Arcadis' efforts to foster a workplace where everyone belongs and can show up as their true, authentic selves.
By participating in this pledge, Arcadis pledges to:
Stand proudly and publicly as LGBTQ+ allies, calling on lawmakers to abandon any efforts to discriminate and reject anti-LGBTQ+ threats to company values of DEIB;
Raise up honest and authentic experiences of LGBTQ+ Americans, including those of our valued employees and customers in the transgender and non-binary community; and
Ensure our transgender and non-binary employees and their families have access to the health and medical care they need, where possible under the law.
The Count Us In pledge serves as a catalyst for organizations to demonstrate their visible allyship, affirmation and commitment to full LGBTQ+ equality by institutional allies like employers and businesses. Arcadis is proud to align itself with HRC's campaign and looks forward to actively contributing to its mission.
To learn more about HRC's Count Us In pledge, read the official HRC press release. For more information on Arcadis and its commitment to human rights, please visit our Human rights and labor policy | Arcadis.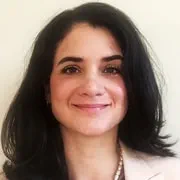 Connect with
Marisol Espinosa

for more information & questions.
Marisol Espinosa,

Director of Corporate Communications, North America Contact Marisol