You have not accepted cookies yet
This content is blocked. Please accept marketing cookies. You can do this here.
Team to provide technical assistance and capacity building support to underserved communities
WASHINGTON D.C. – May 8, 2023 – Arcadis, a leading global design and consultancy organization for natural and built assets, in partnership with non-profit organization The Ray, InfraStrategies, and Beverly Scott Associates, is pleased to announce its selection by the U.S. Department of Transportation (USDOT) to provide technical assistance and advisory services as a Capacity Builder Team for the department's Thriving Communities Program. The total award for the team is $5.1 million.
As a Capacity Builder and one of the first-ever technical advisory teams for USDOT, Arcadis and its partners will support 15 disadvantaged Networked Communities across the U.S. in developing projects around sustainable infrastructure, improved mobility and more at no cost to them. The Networked Communities are located near airports, ports, rail and freight facilities and are one of four communities of practice receiving technical advisory services within the Thriving Communities Program.
The team will work with the USDOT and pre-selected communities to determine project scopes and apply for funding afforded by the Bipartisan Infrastructure Law. A total of 64 Thriving Communities Program recipients were announced in April. A two-year program period will begin in summer 2023.
Tamae Partain, Global Program Manager, Mobility, said: "Arcadis is thrilled to be part of the team delivering this once-in-a-lifetime investment. Collaborating with the USDOT and our partners to provide sustainable infrastructure, clean energy, jobs, and economic development through technical advisory services will help our underserved communities grow and succeed."
Laura Rogers, Deputy Director, The Ray, said: "The Ray, from its inception, has leveraged philanthropy through the P4 model via technical assistance, powerful software and tools, and a stubborn commitment to project execution to accelerate our mission to achieve net-zero transportation. The Thriving Communities Program is evocative of The Ray's core model that we've fine-tuned over the last eight years, and now we have the privilege to work in partnership with USDOT to scale our impact even more broadly."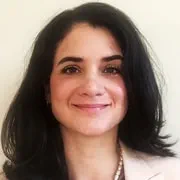 Connect with
Marisol Espinosa

for more information & questions.
Marisol Espinosa,

Director of Corporate Communications, North America Contact Marisol