You have not accepted cookies yet
This content is blocked. Please accept marketing cookies. You can do this here.
Multiple project awards to be funded by Bipartisan Infrastructure Law
Arcadis to land estimated $25 million in net revenues over the next five years as part of 60:40 JV team
Louisville, KY - July 13, 2023 — Arcadis, a leading global design and consultancy organization for natural and built assets, as managing partner in a joint venture (JV) with Bergmann Associates, is pleased to announce its selection to perform architecture and engineering civil works services on projects that bolster resiliency in the US Army Corps of Engineer's (USACE) Great Lakes and Ohio River Division, an area that encompasses 17 states across the US.
The Arcadis-Bergmann Lakes and Rivers JV will provide engineering and architectural planning, design, and construction support as part of a $200 million shared capacity framework for resilience work funded by the Bipartisan Infrastructure Law. The work will be worth an estimated $25 million in net revenues for Arcadis over the next five years.
The scope of work is expected to include the provision of nature-based solutions such as ecological restoration alongside the design of dams, levees, pump stations, bridges, roadways, and canals. The overall framework contract is expected to tackle projects throughout the 17-state area encompassing USACE's Lakes and Rivers Division, improving quality of life for the more than 58 million people who reside in the area.
Arcadis will deliver its digitally enhanced water management services on the projects, including the use of BIM 3D modeling, in addition to its flood damage reduction and dam safety engineering experience. The Arcadis-Bergmann Lakes and Rivers JV has committed to contracting 15% of its work to small business subcontractors, which includes disadvantaged business enterprises and other small businesses in various socio-economic categories.
Rudy Guichard, Arcadis Director of Water Management, North America, said: "Our work is part of a historic investment in projects that will help to improve resilience in communities around the Great Lakes and Ohio River. We have a longstanding relationship with Bergmann and are delighted to partner with them and our client to deliver this transformative change."
Frank Goossensen, Arcadis Global Director for Client Development for Resilience, said: "Digitally enhanced, nature-based solutions are the hallmark of Arcadis' water management services, allowing us to climate proof and create sustainable communities around the world."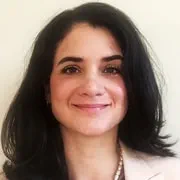 Connect with
Marisol Espinosa

for more information & questions.
Marisol Espinosa,

Director of Corporate Communications, North America Contact Marisol