You have not accepted cookies yet
This content is blocked. Please accept marketing cookies. You can do this here.
Climate-related risks to industry are escalating in scale and reach. Across North America, impacts are becoming costlier and more widespread, and while many facilities are aware of their vulnerabilities, their long-term resilience strategies and investment decisions are not aligned with the potential impacts of climate-related events.
We've surveyed some of our top clients to understand their vulnerabilities and shared struggles around protecting their facilities from climate-related impacts. 85% of respondents are very concerned about potential risks, and most have a more-than-adequate understanding of their asset vulnerabilities, but their biggest challenge in being able to protect their facilities is aligning their organizations' investments with their level of risk.
In our whitepaper we share this analysis and provide a series of action items to help your facility build a resilience and investment strategy that earns stakeholder buy-in and protects your facility against climate-related impacts.
Find out more about this perspective
For projects, RFPs and RFQs, please get in touch and we will connect you with the best point of contact.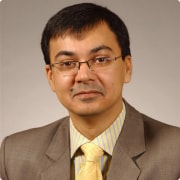 Connect with
Ketan Maroo

for more information & questions.
Ketan Maroo,

Vice President, Industrial Infrastructure Contact Ketan