You have not accepted cookies yet
This content is blocked. Please accept marketing cookies. You can do this here.
In June, a portion of the I-95 overpass collapsed in north Philadelphia following a tanker truck crash and fire. While the city has since opened a temporary six-lane roadway to serve motorists until the overpass is rebuilt, the collapse has certainly had an impact on local commuters and commercial truck drivers who rely on the I-95, which is one of the area's primary transportation conduits. This kind of major event, and the resulting impacts on traffic and the supply chain, shine a light on the ongoing need for more resilient transportation infrastructure in the U.S.
While major traffic incidents, such as the I-95 collapse in Philadelphia earlier this summer, attract national media attention, the fact is that across the United States, incidents happen on a smaller scale nearly every day. From car accidents to water main breaks, sporting events or construction, we experience traffic delays due to planned and unplanned disruptions all the time. In many cases, the frequency of such events means that cities have become able to address and resolve such issues quickly, and motorists come to accept minor delays as business as usual—however, while cities are prepared to handle what we might consider everyday disruptions, many are not prepared to apply these solutions to larger impacts.
But everyday impacts present opportunities to practice for large-scale events so that when major incidents occur, we can be better prepared for both planned and unplanned events—making our transportation networks more resilient.
Unplanned Events
Take the I-85 bridge collapse for example; when Atlanta, like Philadelphia, experienced a catastrophic bridge collapse in 2017, the fire that caused the collapse began during the middle of evening rush hour. The area was completely shut down and traffic on the interstate and surface streets quickly formed a gridlock. Within minutes, engineers pushed down new traffic signal timing plans to major roadways to minimize impacts. Large-scale detour plans and restriping plans were developed overnight, and within days, all traffic signals within a two-mile radius of the collapse that had not yet been upgraded with new software or communication hardware were brought into the system and being operated by a combination of consultant engineers, regardless of jurisdiction. Despite the potential for major traffic disruptions across the metropolitan area, delays were contained within a localized area.
The Georgia Department of Transportation (GDOT), along with Arcadis, successfully managed this event because, for over two decades, they had progressively built partnerships focused on surface street traffic operations. The partnerships started with efforts to standardize traffic signal controllers and cabinets with the aim of easing maintenance, and grew to standardization around remote communication methods, traffic signal software, and even naming conventions and detector configurations. Ultimately, these wins built the backbone of the nationally recognized Regional Traffic Operations Program (RTOP), an active traffic management program with over 1,900 signals operated daily. Since the I-85 bridge collapse, RTOP has further evolved into a statewide program, SigOps, encompassing over 9,000 traffic signals.
When the I-85 bridge collapsed it created a crisis—but GDOT and Arcadis quickly and successfully activated the plan they had unknowingly been preparing for years. They leveraged the technology they used daily to push the system harder, ramp up existing contracts with built-in flexibility, and organize over two dozen established partner agencies to deliver a single goal for the region, which proved to be invaluable following the collapse.
Planned Events
Unplanned events, such as bridge failures or natural disasters, are often the primary focus of investment in network redundancy and discussions on network resiliency, but the additional benefit of the investment in system redundancy and technology is to streamline the response to another type of special events—those that are planned. Planned special events aren't ones that transportation professionals react to once they occur, but rather they have time to assess the impacts and prepare a plan for response. These can range from lane closures for a weekend 5K to major sporting events attracting tens of thousands of fans. For smaller events, planners and engineers might have just a few weeks to develop mitigations while larger events may allow years; irrespective of the magnitude however, these events are almost never planned far enough in advance to build new roadways.
For example, in late 2013 Cobb County and the Atlanta Braves announced a plan to relocate the team to southeastern Cobb County. The timeline allowed for just under three years between the official announcement and the first event at the to-be-built stadium. In the world of road construction, three years is barely enough time to build new turn lanes at an intersection, much less build new roadways. It was quickly determined that beyond a few turn lane extensions, Cobb County engineers would be working with the existing transportation network.
Fortunately, Cobb County had spent more than a decade investing in signal technology, including the installation of an adaptive signal system that covered signals in the area around the stadium. This investment in resilient technology allowed Cobb County engineers, public safety officials, and Arcadis to spend the three years of planning focusing on how to optimize the existing system to provide a superior experience for fans. Ironically, Opening Day for the Braves would be during the I-85 Bridge Collapse response. Even with that wrinkle, the Atlanta Journal-Constitution reported, "a traffic study conducted by the [neighboring city of Sandy Springs] shows in some cases, traffic was worse in March, before the season started, than it was on game day."
While this great example of a transportation network is on display for 81 regular season games each year, the biggest test came in fall 2021 when Cobb County hosted a parade to welcome the World Champion Atlanta Braves back home to Truist Park. The event was planned in less than three days due to the timing of the championship and attracted an estimated 750,000 people. Cobb County leaned heavily on its investment in technology to monitor and address vehicle and pedestrian traffic within the area before, during and after the parade which included a multi-hour closure of a six-lane roadway which carries nearly 30,000 vehicles on a typical day. Using a series of alternative routes and technology, Cobb County, GDOT and Arcadis staff routed traffic around the area, responded to signal equipment needs, and coordinated lane closures. After completion of the parade, the team used cameras and remote signal timing capabilities to assist in clearing fans from the area and safely reopen the roadways. The use of this technology reduced delay, improved safety for attendees and limited the need for field staff, which reduced resource needs and improved safety for staff.
As our transportation systems become more complex, so do the needs and expectations of the systems' users, making redundancy and the use of technology even more essential to provide the resiliency that users expect. Redundancy provides users with multiple options when events, planned or unplanned, occur, while technology allows engineers and planners to be more efficient in their response to such events, increasing safety and reducing emissions. To make these improvements a reality, it's important that organizations are doing advanced planning for future events. This includes investing in technology and developing partnerships that will help them respond to these types of events.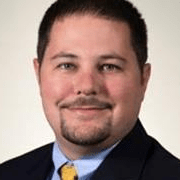 Jody Peace
Certified Project Manager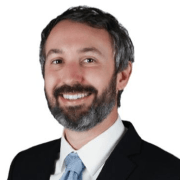 Matthew Glasser
National TSMO Account Lead