You have not accepted cookies yet
This content is blocked. Please accept marketing cookies. You can do this here.
Jim Cooper describes how clients are using one of The Four Drops of Intelligent Water, Intelligent Ops, to reduce operational expenditures across the water cycle.
Intelligent Water is all about value. Every piece of our research series – including the latest release, Digital Twins – explores how technology drives optimization and enables our workforce.
There was also value in what we learned sharing our research insights with clients. Those conversations helped us evolve how we support organizations, and Bluefield Research recently recognized our ability to create value through digital product delivery. According to their report, our "subject matter experts in water leverage advanced digital technologies (e.g., AI/machine learning, digital twins) for client engagements."
COVID-19 taught us a valuable lesson, too
I can't say there's much value to be found in COVID-19, except that it might be the catalyst the water sector needed to start realizing Intelligent Water's benefits. We came into 2020 already facing an affordability crisis. The pandemic triggered a slight recession, and spiking infection rates could make economic waves again. If they do, utilities must consider how recessions have affected operations and maintenance (O&M) spend in the past.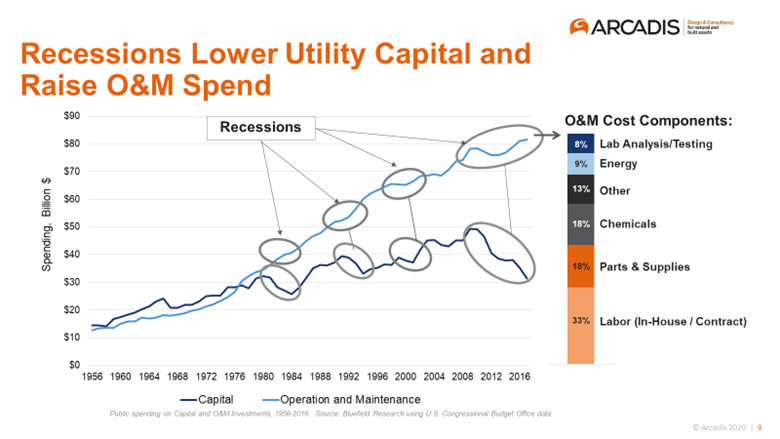 Many utilities are responding by equipping staff with digital solutions to maximize limited resources. We like to call these new abilities The Four Drops of Intelligent Water: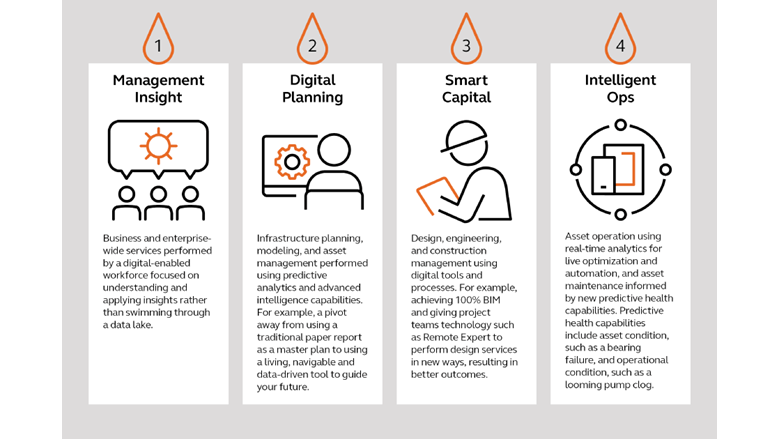 OPEX savings in water and wastewater treatment
Pathways to savings:
Process optimization: Reducing chemical use and improving water quality through new sensors and analytics.
Reporting automation: Automating manual labor workflows through collective intelligence (CI).
Energy optimization: Reducing energy consumption and peak demand charges.
Predictive maintenance: Performing maintenance as needed according to real-time asset health and operational health.
For one client, implementing a Power & Market Monitoring Tool (PAMM) changed their relationship with energy. Operators could predict market conditions and test hypothetical scenarios to understand how operational changes affect power tariffs. The PAMM insights quickly created $80,000 in savings during a single peak demand period, and the savings have grown to hundreds of thousands since.
OPEX savings in conveyance networks
Pathways to savings:
Pressure management: Leveraging data to maintain optimal pressure as demands change.
Water loss control: Implementing virtual district meter areas to reduce non-revenue water.
Pumping analyzer: Monitoring energy-head-flow relationships to reduce pumping cost and advance maintenance processes.
Operations optimizer: Installing a system-wide OPEX manager to monitor and predict energy, chemical and compliance costs.
It could only take minor operational changes to distribution system operational strategy to realize multiple OPEX savings around background leakage, main breaks and pumping schedules. Water loss control measures, for example, helped the largest water system in one state reduce non-revenue water by 456 million gallons per month after just 6 months of use.
OPEX savings at point of use
Pathways to savings:
Advanced metering infrastructure (AMI): Reallocating labor, receiving early notifications for customer leakage and performing remote shutoffs using sensor data.
Expert support automation: Automating customer support and request prioritization tasks.
Real-time usage analytics: Following user and community trends for leak detection and water reduction requirements.
More of my clients are using AMI to optimize their workforce's time and spend less on manual tasks like meter reading and bill analyzing. Instead, staff monitor data trends to detect leaks early and perform remote shutoffs, reducing customer service calls and non-revenue water.
People drive the most value
It's vital to note that these advancements aren't about replacing people. Intelligent Water empowers the workforce with tools like artificial intelligence and machine learning to make better decisions than a human or computer could on their own. We call this evolution CI, and digital twins enable CI.
CI will take your organization beyond gaining operational efficiencies to asking more important questions, like: How can we align OPEX savings initiatives with our core mission? What improvements will benefit us and our customers most? Which savings method will represent the strongest business case to stakeholders?
The answers will determine how your organization navigates threats to affordable, sustainable and resilient operations. Whether they are COVID-19-related or something beyond the horizon, CI will give your most talented people more room to create value. For more on how, check out Digital Twins, the latest in our Intelligent Water Research Series.
About the author
James P. Cooper, PE, ENV SP, CWO, represents Arcadis as the Intelligent Water Practice Lead with more than 15 years of experience as a certified utility operator and a professional engineer. Balancing technical expertise with practical operations experience, he leads teams to deliver innovative solutions for long-term viability and sustainability of utilities. He is on the Board of Trustees for the American Water Works Association Engineering Division, is current president of his local Water Environment Federation section, and serves as an advisor for multiple organizations on intelligent water and hydraulic modeling.
Mr. Cooper is lead author of the recently released AWWA M32, Computer Modeling of Water Distribution Systems and has authored numerous publications on utility management, system optimization, and intelligent systems.
Not done reading?

This also might be interesting for you