You have not accepted cookies yet
This content is blocked. Please accept marketing cookies. You can do this here.
Arcadis is proud to have played a role in providing event management services in support of the Queen's Lying-in-State queue in London. Arcadis provided crowd management and logistics to support the smooth operation of this historic moment of national significance, attended by around 250,000 people from around the world.
In addition, Arcadis and supply chain partners supported the event management team responsible for the Ceremonial routes by delivering some of the overlay infrastructure in London and Windsor. This included supporting global media operations with stands and platforms as well as providing flag flying and PA systems.
Arcadis was contracted to the Department for Digital, Culture, Media & Sport for operations in London and Windsor.
Mark Langdale, Market Sector Leader for Government & Public Agencies at Arcadis, said:
"Our Arcadis team together with our supply chain partners were able to put into action a carefully planned series of events, that were executed at no notice, and put their all into ensuring the safe and effective management of the Lying-in-State queues. We also put in place some of the infrastructure, requiring quick delivery and careful execution. We are beyond proud to have been able to play a role in supporting the events of the past few days. It was an immense privilege and one that all those involved will never forget."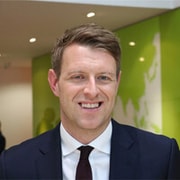 Connect with
Chris Wiggan

for more information & questions.
Chris Wiggan,

Global Corporate Communications Director Contact Chris