Arcadis has been appointed by Leicester City Council to deliver what is believed to be the UK's first carbon neutral bus station.
The new design, which will replace St Margaret's Bus Station, includes LED lighting, mechanical ventilation with heat recovery, air source heat pumps and 750 square metres of solar panels, which will generate enough energy to power the station and feed extra energy back into the grid.
The project is a fast-track complex inner city regeneration scheme and is due to complete in May 2022. Planning approval was granted in early January 2021, and demolition of the existing station is currently underway.
Anesh Chauhan, Project Manager for Arcadis, said:
"We're very excited to be involved in delivering such an exciting project, which is a great example of how we're driving the sustainability agenda. Despite the challenges of Covid-19, we're working closely with our client to significantly improve the customer experience, public realm and quality of life for citizens through the incorporation of sustainable solutions.
"The new bus station will provide Leicester with a striking, new and carbon-neutral building, signalling the beginning of a revival of this part of the city. It will provide a huge boost for sustainable transport, help regenerate a run-down but important gateway into Leicester and attract further private investment into the city."
Deputy city mayor for environment and transportation Cllr Adam Clarke said:
"These exciting plans to replace St Margaret's Bus Station with a striking, new and carbon neutral building will signal the beginning of a revival of this part of the city.
"It also represents an ambitious and important step forwards in our efforts to become a carbon neutral and climate adapted city by 2030."
Leicester City Council is also planning to revamp the streets around the bus station as part the wider St Margaret's Gateway regeneration project.
This is supported by a £10.5m allocation from the Getting Building Fund, a pot of government funding awarded to the Leicester and Leicestershire Enterprise Partnership Limited (LLEP) for shovel-ready infrastructure projects to create jobs and support economic recovery across the country.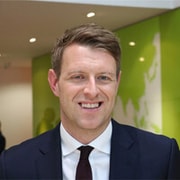 Connect with
Chris Wiggan

for more information & questions.
Chris Wiggan,

Head of Corporate Communications Contact Chris