Arcadis has offered support to the NHS and Department for Health to bring its considerable skill and experience in managing rapid modular and Modern Methods of Construction (MMC) projects to help in the fight to tackle Covid-19.
Responding to the Government's call to action for the private sector to help with the provision of ventilators and other essential medical equipment, associated underlying infrastructure and capability to support NHS Estates, Arcadis has been considering how it is best placed to assist. There is undoubtedly an urgent need for ventilators, but being able to deliver adaptable clinical space that meets the requirements to help treat the virus, or support spaces to replace areas re-appropriated to high dependency environments, is essential.
Prefabricated modular solutions - which are built in a factory and then assembled on site - are ideally suited to meet the urgent priorities the healthcare system currently faces. They provide ready-made 'plug-and-play' units to isolate Covid-19 patients, thereby reducing the risk to healthcare workers and other patients. Through Arcadis managed supply chains, these can be delivered in weeks – in time to meet the expected surge in need.
In contrast, retrofitting existing public buildings into temporary field hospitals requires the provision of durable and wipe-clean surfaces, as well as the right ventilation and air pressure to reduce the spread of the infection. Whilst this is an important part of the solution to help extend capacity, and where Arcadis is also uniquely placed to support fast re-configuration of existing facilities such as hotels and conference centres into clinical environments, modular projects offer a more rapid and effective solution to deliver tailored and adaptable space for clinical requirements.
Arcadis has a strong track record of managing complex modular and MMC projects to tight timescales across the healthcare, education and residential sectors, and has developed a modular pop-up facility to support delivery. It can be assembled on suitable outdoor sites, such as vacant development sites, as well as indoors in large enough buildings such as empty warehousing or conference centres. The modular facility can also include fully transportable pods and units of various sizes and purposes including testing centres, isolation facilities, staff recreation and downtime areas and emergency receptions.
Arcadis has been in discussions with relevant teams within the Department for Health and NHS to offer their support and, should suitable sites be found, they stand ready to do whatever they can to assist the health service at this critical time.
Paul Styler, Senior Account Leader in Health at Arcadis, said:
"Tackling the ongoing outbreak of Covid-19 in the UK is the greatest challenge the country has faced in a generation and will require an unprecedented collaborative effort across the private and public sector to ensure the skills and expertise we have in this country can best be directed into the areas where they are needed most.
"Arcadis is uniquely placed to respond to this need and can provide rapid delivery of solutions. We are global market leaders in facilitating, designing, managing delivery and construction of ready-to-use and bespoke modern methods of construction and modular projects and solutions.
"We believe though bringing together our experience in modular delivery, along with our strong relationships with suppliers and manufacturers, these versatile facilities are realistically deliverable at pace and could offer both short and medium-term legacy solutions for the NHS.
"As we rapidly approach the peak of the epidemic, time is of the essence. We have been in detailed discussions with suppliers and manufacturers to develop a workable plan and our conversations have identified widespread willingness to divert manufacturing resource to focus upon delivering these facilities. We are eager to do whatever we can and hope to be able to be on the ground delivering these facilities as quickly as possible."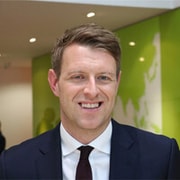 Connect with
Chris Wiggan

for more information & questions.
Chris Wiggan,

Head of Corporate Communications Contact Chris