You have not accepted cookies yet
This content is blocked. Please accept marketing cookies. You can do this here.
A challenging outlook for the construction sector in 2020, made worse by Brexit gridlock in 2019, has led Arcadis to downgrade its 2020 London tender price forecast to 1%. Forecasts for national markets and infrastructure have also been downgraded. However, this reduction in the rate of price inflation is likely to be short-lived, with Arcadis increasing its projections for buildings to 5% growth a year from 2022, as investment from a range of public and private sources is channelled back into the UK.
Last December's election of a Conservative majority government paved the way for increased political certainty and a clear direction on policy. This combined with a £100bn long-term infrastructure investment programme, signals that the clouds hanging over the construction industry could finally be showing signs of clearing. However, the speed at which this translates into tender price growth will depend on how quickly the public sector can turn stalled programmes from 2019 into shovel-ready projects.
This will have a critical role in determining short term price levels. The construction sector depends on a healthy, visible pipeline to maintain activity, but the orders pipeline has shrunk during the year as Brexit gridlock took its toll. Data from Q2 and Q3 2019 points to the lowest level of demand since 2012, with public and commercial sectors seeing the biggest falls.
Despite this, Arcadis maintains that the current slowdown is steady and has a floor. The potential for upside across many sectors in the medium-term is significant – particularly in utilities and infrastructure, where many long-term investment programmes such as the water sector's AMP7 are about to start, and where HS2 and Northern Powerhouse Rail could have a huge impact on local workload, providing the sector recognises and is ready to respond to the challenge.
Simon Rawlinson, Head of Strategic Research at Arcadis, said:
"The new year brings potential for some much-needed transformation in the industry. We have long been calling for certainty and clarity on a long-term investment plan, yet alongside the prospect of increased infrastructure spending we also need to be aware that the Government will want to get a lot more bang for its buck now. This means delivering in a way that is consistent with Government strategies like the presumption for offsite construction, working in integrated teams and shifting industry thinking to make full use of innovative building technologies to increase performance, productivity and value."
The full Winter 2020 Market View is available to download here.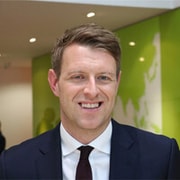 Connect with
Chris Wiggan

for more information & questions.
Chris Wiggan,

Head of Corporate Communications Contact Chris