You have not accepted cookies yet
This content is blocked. Please accept marketing cookies. You can do this here.
Arcadis has been chosen by Walsall Council to help bring forward it's vision for a newly regenerated town centre.
As lead consultant, Arcadis will be working with the Council to engage with partners and local stakeholders to develop an ambitious masterplan for Walsall town centre, bringing together expertise including development management, architecture, geotechnical engineering, planning, public realm, transport and environmental services.
The masterplan will provide a bold, inspirational and deliverable vision for a sustainable and resilient town over the next 15-20 years. It will build upon the evidence base which supports the soon to be adopted Walsall Town Centre Area Action Plan, which will set the planning framework for the town centre.
Nationally, town centres are facing a period of flux with numerous challenges and demands arising from structural changes in the retail industry. This, combined with changing consumer behaviour driven by technology and prevailing economic conditions, has significantly altered the shape of the high street.
Despite these issues, over the last 10 years the Council and its partners have successfully secured significant amounts of development and investment in Walsall totalling more than £425 million; delivering new retail, leisure, office, transport improvements, health, and education and securing over 2,500 new jobs.
Building on this work, the masterplan will provide an important opportunity to continue to respond to changing demands around the nature of town centres, developing a holistic plan which is transformational in its vision and proposals.
Simon Nielson, Executive Director for Economy & Environment at Walsall Council, said:
"Walsall has a strong identity, rich history and many positive assets. The regeneration plans will build on these strengths and take advantage of opportunities to encourage further investment in the town and ensure Walsall continues to provide a great offer to residents and visitors. Emerging proposals will need to be robust and well considered and, as such, we'll be working across the Council and with stakeholders over the coming months to make sure all views and contributions are considered as the plan is developed."
Simon Marks, Arcadis City Executive for the West Midlands Region, added:
"Walsall is an area of huge potential in the heart of the West Midlands, and this is an exciting time to be contributing to its upward trajectory. In developing the regeneration masterplan, we'll be focusing on improvements to the shopping area, leisure, culture, public realm, transport links and housing, whilst still ensuring we protect and enhance the historic character of the town and its greenspace. The new masterplan will help to rejuvenate not only the town centre, but also deliver ongoing investment into the region.
By bringing together expertise from across our business, our integrated approach to developing an investible masterplan means that we are able to combine viability assessments with high quality design and solutions to technical challenges. The result is a seamless output that can quickly move into delivery and builds on our long-standing track record in the region."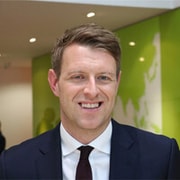 Connect with
Chris Wiggan

for more information & questions.
Chris Wiggan,

Head of Corporate Communications Contact Chris