You have not accepted cookies yet
This content is blocked. Please accept marketing cookies. You can do this here.
With the global disruption caused by COVID-19, there was a real risk that momentum towards action on climate change would be lost. However recent government announcements, commitments, policy accelerations and 10 point plans have done the opposite – they have put addressing sustainability and carbon reduction front and centre of our recovery plans. For those of us working in the built environment, this means embedding a commitment to net zero carbon in every aspect of new development, right from project inception and at the very start of the masterplanning stage.
A new approach to masterplanning
To deliver net zero carbon places and communities a new approach to masterplanning is needed. Every aspect of placemaking has a carbon impact. From the obvious ones such as heating solutions for the home, through to less obvious considerations such as the amount of soil that is physically disturbed during the construction and delivery phase. Added to this is the complexity that arises as a result of the interdependencies between various aspects. For example, if a centralized plant underpins the energy strategy, this impacts the developable land, which in turn can impact everything from density and viability, to the amount of green space that is available.
This means that masterplanners need to address and balance every aspect of the design and delivery process. They need to collaborate with every single stakeholder and define a clear vision and objectives, thinking in detail about every aspect of the development right from the very beginning. It can no longer be a case of simply allocating land for certain uses and thinking about the detail later. The need to integrate carbon budgeting and cost benefit and social value analysis as part of the masterplanning process is now crucial.
While this sounds scary and complex, comfort should be taken from the fact that these principles have informed many of the new communities that are currently being planned and developed around the UK. The skill will be to blend the knowledge, skills, experience and expertise together and apply it to new developments in future.
So, what can we learn from these examples?
Healthy and sustainable
One new community that's providing a healthy and sustainable answer to the UK's housing shortage is Northstowe; Cambridgeshire's newest town. With great connectivity, this flagship development will house a future community in one of 10 new places that are part of NHS England's Healthy New Towns initiative. Since 2015, our multi-disciplinary team have been working with Homes England to enable and catalyse home building, along with creating two new schools and green spaces for leisure and relaxation.
Northstowe will be a vibrant 21st century settlement, designed to support sustainable lifestyle choices and patterns of living. Green spaces are integral to the masterplan, and will be multifunctional and interconnected to encourage biodiversity and provide a platform for community activities and social interaction.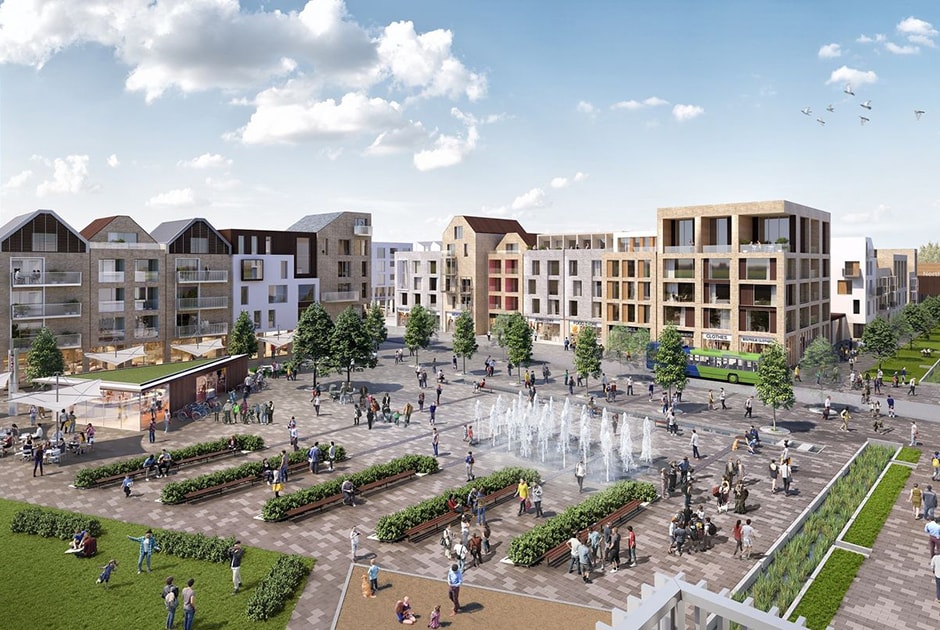 Green transport
Another key element of a sustainable net zero masterplan is incorporating green transport. Langarth Garden Village in Cornwall represents the future of green housing and infrastructure, providing homes that rely on sustainable modes of transport that will have a positive impact on quality of life.
Delivering a scheme which is built around walking and cycling routes is key to this vision, along with creating fast and reliable bus networks between Langarth and Truro city. Electric vehicles, including E- Bikes, and the design of the infrastructure required to support them, are all part of the Langarth DNA.
The UK's first eco-town
The UK's first eco-town, NW Bicester is yet another example of a highly sustainable, zero-carbon community. Comprising more than 6,000 much-needed homes, plus a business centre, school, community facilities and green space, the project is being developed on greenfield land. Arcadis designed the natural infrastructure – landscaping, hedgerows, ponds and water systems - around which the masterplan was developed.
Our approach centred on retaining existing landscape features and adding more multi-functional natural infrastructure alongside. This not only helped to reduce development costs, but will also minimise future maintenance requirements. For residents, it means a reduction in overall water and energy consumption, helping to create homes and a lifestyle that is future-proofed against climate change.
Greener infrastructure and spaces in Birmingham
You may now be wondering how planners are able to decide which actions or interventions will have the greatest impact during the early planning stages? This was the challenge facing Birmingham City Council when it was looking to bring forward its new Smithfield project.
Smithfield is one of the major growth locations in the heart of Birmingham and part of the council's Big City Plan to grow the city centre by more than 25%. Yet Birmingham also has an ambitious target to be carbon neutral by 2030. The council needed to ensure that these two ambitions worked together, and Smithfield was identified as an ideal testing ground for creating a "sustainable, green and inclusive place that has people at the heart of a zero carbon development".
Working in partnership with The World Business Council for Sustainable Development (WBCSD) and their Zero Emissions Cities programme, the city council collaborated on a study looking at how to Smithfield could be delivered and become a truly sustainable community.
This is where Arcadis's Sustainability Target Assessment Rating (STAR) framework came in. STAR provides a framework that assesses projects against 10 categories to develop and embed sustainability principles that are bespoke to that project. This provides a way to define, assess and measure sustainability throughout the project lifecycle, and is especially potent in informing design decisions. The framework has provided a clear overview of actions that will help to ensure Smithfield meets its sustainability ambitions.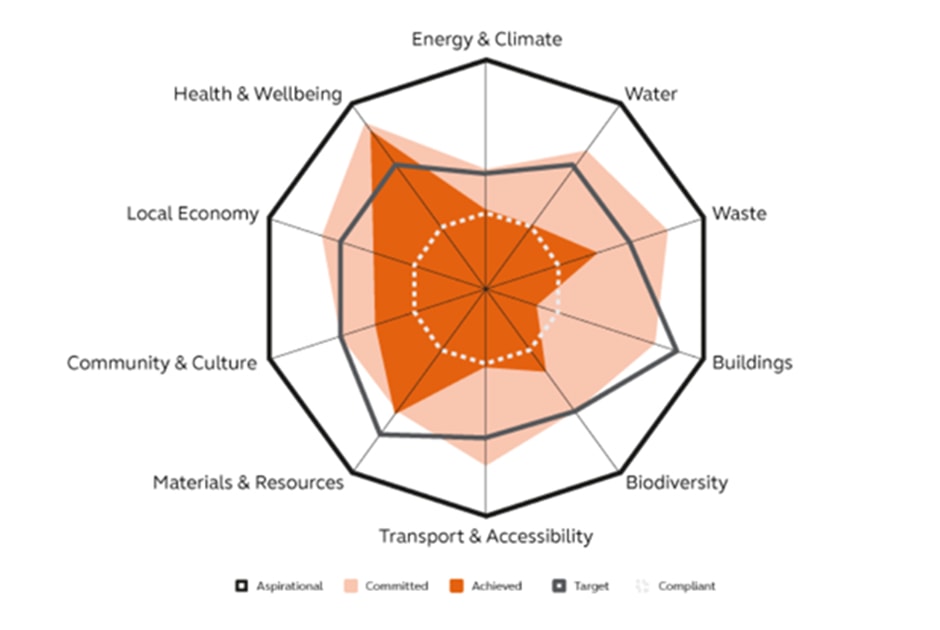 Long-term impact
From water, waste, and energy to community, culture, health and wellbeing, sustainability principles and net zero carbon goals are steering every aspect of new development in the UK. Most importantly, decision makers and stakeholders are mutually agreeing on sustainable goals for new city projects that are aligned to reducing our emissions and collectively working towards the UK's goal of being net zero carbon by 2050.
We are already making huge strides in the UK, and the examples I've shared help to demonstrate just how far we've come. However, if we are to achieve full net zero we need a new approach to masterplanning that brings all of these ideas together. We need to ensure that a commitment to creating a zero-carbon future sits front-and-centre of any development plan; and that calls for a new and innovative approach. It is no longer just financial return, but rather the wider, longer-term impact for society and communities, which in the end reaps returns for us all.
For more insights on sustainable solutions for stronger communities, read our UK Shared Recovery report.