You have not accepted cookies yet
This content is blocked. Please accept marketing cookies. You can do this here.
Arcadis' City Shapers is essentially an employee development and wellbeing programme. However, it is also a fantastic example of how an internal development scheme can grow into something with real life impacts beyond anything initially envisioned.
The programme began in 2014 in New York as an after-work social and a way for Arcadians with an interest in cities and urbanism to catch up and discuss ideas and solutions to the challenges cities face. Since then, it has grown into a global programme that allows Arcadians developing in their career not only to discuss solutions but also to put them into practice.
Last year, I took part in the UK and Ireland City Shapers programme, alongside an incredibly passionate team determined to solve some of the most complex issues our cities are facing. Supported by Arcadis' City Executives, we discussed and agreed a problem to tackle for our clients.
Since the pandemic, the importance of well-designed open spaces has been growing for placemakers looking to create healthy places that support both mental and physical wellbeing. However, with funds limited for open space improvement schemes, it's more important than ever that projects are well targeted and the benefits and impacts clearly set out and understood.
We started working on a proposal. By analysis of open-source data and industry best practice, we were able to develop a range of data-driven solutions, as part of a Regeneration Impact Assessment. These were put into a library of 100+ different 'Solution Cards' aligned across the three pillars of the Arcadis Sustainable Cities Index (SCI) – Planet, People and Profit. Solutions ranged from the People-focused, such as interventions to tackle crime and anti-social behaviour, to the Planet-focused, such as improving air quality, and the Profit-focussed, like attracting more visitors.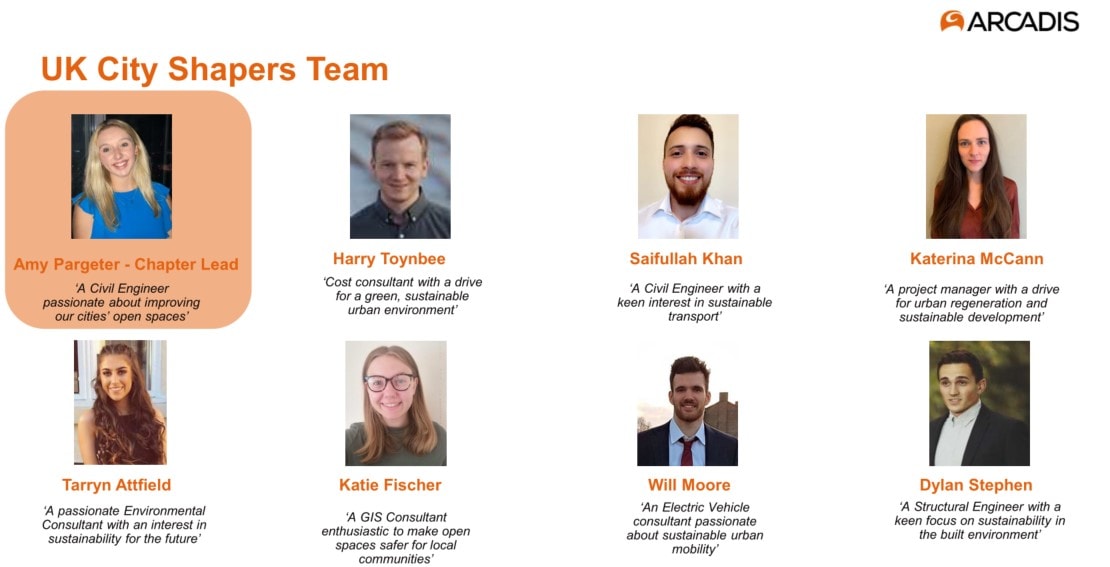 The solutions were organised to take into consideration factors such as desirability, cost, timeline and ease of implementation. When assessed alongside a client's budget, priorities and local-specific data, the solution would allow us to develop a bespoke set of solutions for a client looking to improve open spaces that would be most relevant, impactful and achievable to them.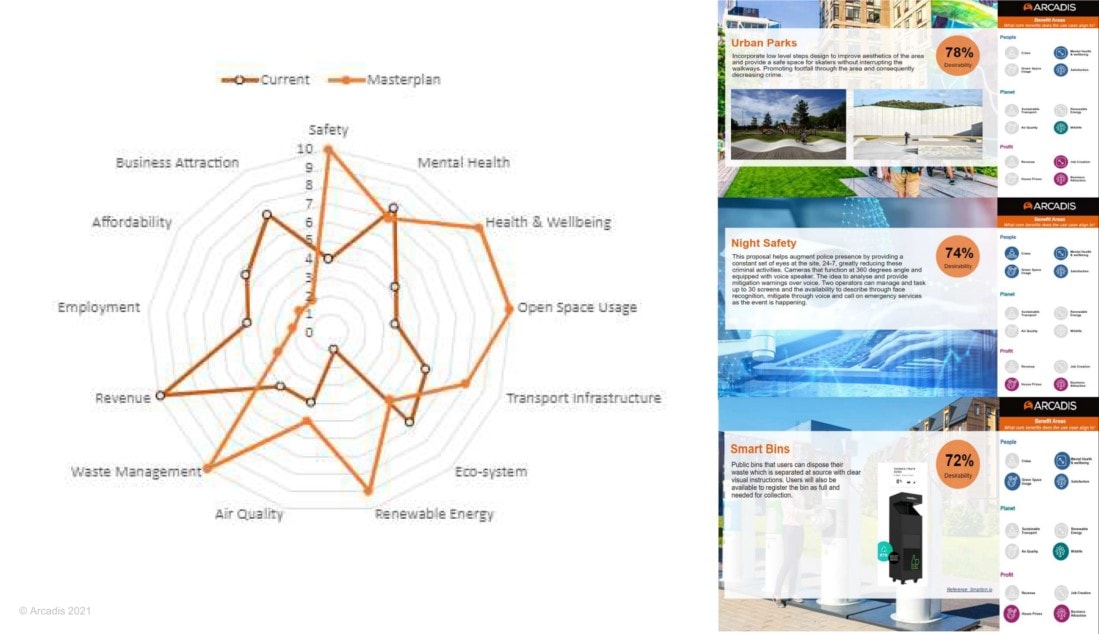 To deliver the solution, we split implementation into three simple phases. An initial objective mapping stage to understand the client's priorities, a framework data collection phase, to align their priorities to local socio-economic factors, before finally delivering a set of tailored recommendations. Now all we needed was a client to pilot the solution with.
We approached Aldgate Connect, the Business Improvement District (BID) local to Arcadis' London office at 80 Fenchurch Street and responsible for improving local public realm. After initial research and a pitch meeting, we scheduled a workshop with Aldgate Connects' board in which we were able to plot a masterplan to highlight focus areas for improvement.
We are continuing our work with Aldgate Connect to focus on next steps and delivering the proposed interventions themselves. In addition, we're also exploring how we can roll out the solution more widely and at a larger scale.
Zoe Barwick, from Aldgate Connect, explained how the solution has benefitted the organisation: "Arcadis' new data-tool has been able to provide area-specific, tailored solutions to support regeneration work at Aldgate Connect to maximise these spaces.
"The tool empowers urban planners and policymakers to address pressing issues, facilitating effective urban regeneration that promotes social, environmental, and economic sustainability, ultimately achieving their mission statement to improve quality of life.
The tool will support Aldgate Connect in our mission to make the area more appealing, protected, stronger and welcoming for our communities and businesses."
We believe the solution has the potential to be used by cities and local administrations at all levels around the world and by linking the solutions to the Sustainable Cities Index pillars; we can also offer clients a one-stop shop of ideas for how to improve their sustainability related performance.
We're excited to see how the tool develops and we are proud that this UK&I solution was recognised as the leading solution across the global programme. It's proof that given the right support and investment, ideas generated at all levels can grow into real-life solutions that can have significant impacts on improving cities and quality of life – something that's at the heart of what it means to be an Arcadian.
Not done reading?

This also might be interesting for you