You have not accepted cookies yet
This content is blocked. Please accept marketing cookies. You can do this here.
The five-year agreement includes a software subscription for Enterprise Decision Analytics (EDA) software and mobile data collection.
EDA is a core part of Arcadis' new Intelligence Global Business Area, which provides digital services and products to asset-intensive organizations, helping clients unlock efficiencies and make qualitative data-driven decisions.
Toronto, 14 September 2023 – Arcadis (EURONEXT: ARCAD), the leading global design and consultancy organization for natural and built assets, is pleased to announce that it has been awarded a five-year Enterprise Decision Analytics (EDA) contract with Infrastructure Ontario, Canada. Infrastructure Ontario (IO) is a Crown agency that supports the province of Ontario's initiatives to modernize and maximize the value of public infrastructure and real estate. The award follows a competitive bidding process and builds on Arcadis' industry-leading expertise in asset management and data optimization.
The project is due to commence in September of this year, with an accompanying five-year contract subscription for data collection and analytics software. Arcadis, and its partner Conectado Solutions Inc., will support IO in the re-investment management of its extensive portfolio of facilities and property assets.
IO's already large and diverse asset portfolio has potential for future expansion. In preparation, Infrastructure Ontario actively sought to refresh its technologies to manage this growth and the associated complexities in decision-making. Arcadis has been selected to provide and maintain its EDA software and mobile access platform, enabling IO to maximize the value of its data by collecting condition assessment data from across its entire portfolio. This will enable IO to improve asset performance and optimize its capital asset management decision-making processes.
Alan Brookes, Chief Executive Officer, Arcadis, said:
"Increasingly our clients are looking to build efficiencies and improve the performance of their asset portfolios in locations all around the world. Data is crucial, and by working with our clients to embed digitally enabled tools and products like EDA, we can enable more informed decision-making to help maximize value across the entire asset lifecycle. EDA is already successfully being used by clients in the USA, Canada, UK, the Netherlands and Australia, and I'm pleased that we can now bring this innovative solution to Infrastructure Ontario to support their asset management goals."
Rob Corazzola, Global Sales Director, Enterprise Decision Analytics at Arcadis, added:
"Arcadis' EDA solution is an asset investment planning platform that empowers asset-intensive organizations like IO to enhance the understanding of their portfolios, enabling optimal, data-driven decision-making. The aim is to balance and prioritize complex factors for the best possible investment plans. The system we're deploying for IO will help them achieve their expanding strategic capital asset management objectives in a timely and effective manner, while supporting the development of key reporting and management plans."
Where previously applied, EDA has improved system efficiency by 30%, reduced planning and reporting times by 80%, and increased project execution accuracy by 20%. The platform's scalability and flexibility positions EDA to appropriately suit any size of organization, industry or asset class, including roads, rail, aviation, water/wastewater, buildings, power or fleet and equipment.
The contract adds to Arcadis' growing portfolio of intelligent systems work related to its Intelligence Global Business Area, which was announced late last year.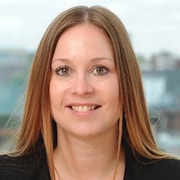 Connect with
Kerri Moore

for more information & questions.
Kerri Moore,

Corporate Communications Contact Kerri