Sydney, 8 April 2022 – Global engineering design and consulting firm Arcadis today announced senior executive appointments to its Brisbane and Melbourne offices and flagged its intention to step up involvement in large-scale urban infrastructure consulting engagements.
Arcadis' Brisbane-based Client Development Leader Paul Allan will assume the role of Cities Director – Brisbane, spearheading Arcadis' participation in major urban projects to be commissioned in south-east Queensland ahead of Brisbane's hosting of the 2032 Olympic Games.
Melissa Bellis joins Arcadis as Business Area Sales Director - Places, responsible for leading Arcadis' pursuit of built environment and urban infrastructure design and consulting projects nationally.
The appointments follow the introduction in January this year of a realignment of the global Amsterdam-based Arcadis business that sees the business oriented around three business areas (GBAs): Places (buildings and urban development), Mobility (transport) and Resilience (energy, water and environmental consulting).
Mr Allan's appointment also aligns with Brisbane's recent addition to Arcadis' Global Cities Network, a network of Arcadis consultants in 15 cities around the world dedicated to sharing best practice and capabilities in urban infrastructure design and delivery. Co-ordinated from New York, the Global Cities Network includes upcoming Olympic host cities Paris (2024) and Los Angeles (2028).
Mr Allan said: "It is timely for Arcadis to be sharpening its focus on Brisbane as a global city. It's clear Queensland Government sees the 2032 Olympics as an opportunity to reimagine the local urban landscape, not only of Brisbane but wider south-east Queensland. We expect a significant pipeline of city-making projects to emerge in the coming decade and given our global capability and experience, Arcadis is ideally placed to participate. I'm excited by the potential to bring Arcadis' expertise to the urban design conversation in Brisbane."
Ms Bellis joins Arcadis from US-based engineering group Jacobs where she held senior APAC building and infrastructure sales and business development roles over 12 years (including four years with Sinclair Knight Merz before it was acquired by Jacobs). She previously worked with Transfield Services in Australia.
Ms Bellis said: "It is an exciting time in Australia as we shape how we use and develop both our cities and regions in a post-pandemic world. In taking on this role, I was attracted by the opportunity to draw on Arcadis' diverse local and global experience to create places and built environments that really improve the way we live, work, play and connect. From creating a sustainable urban experience for our city populations, to supporting social and economic growth in our regions, Arcadis' advisory and design capabilities are squarely in demand. I'm looking forward to focusing our service offering and consulting teams to best capture the extensive opportunities in front of us."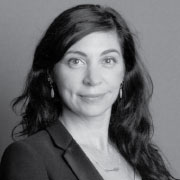 Connect with
Rebecca Hanlan

for more information & questions.
Rebecca Hanlan,

Head of Marketing and Communications Contact Rebecca