Sydney, Nov. 30, 2022 – Focused on revitalising cities, social mobility, and reducing vehicle traffic, Arcadis, a world leader in sustainable design, will deliver the detailed design component for the Sydney Metro West – Eastern Tunnelling Package. The project includes the construction of 3.5-kilometre tunnels under the Sydney Harbour between The Bays and the Sydney CBD, as along with the excavation of Pyrmont and Hunter Street Stations.
Arcadis is in a design joint venture with BG&E working with tunnelling contractor John Holland CPB Contractors Ghella Joint Venture (JCG).
Projects of this scale are many years in the making. Arcadis has been using advanced technology to support design decisions on the broader Sydney Metro project since 2008. Construction started on Sydney Metro West in 2020, with the project on track to be completed by 2030.
"The success of this project is built on the foundations of strong collaboration and trust with JCG and Sydney Metro, a partnership which will now extend over 7 years. Arcadis, along with our design joint venture partner BG&E, are delighted that our innovative and sustainable solutions will contribute to this important city shaping project," says Mark Newbrook, Major Projects Director from Arcadis.
Sydney Metro West is a new 24-kilometre metro line with stations confirmed at Westmead, Parramatta, Sydney Olympic Park, North Strathfield, Burwood North, Five Dock, The Bays, Pyrmont and Hunter Street in the Sydney CBD. The project will double the current rail capacity and significantly reduce travel time between Parramatta and the CBD whilst providing much needed public transport access to the growing health, education, and sporting precincts.
The Eastern Tunnelling Package includes two harbour crossings, one beneath Blackwattle Bay below the Anzac Bridge, and the second beneath Darling Harbour. Works in these sites are technically challenging and include soft alluvial deposits under the harbours, old seawalls, and bridge piers, including the heritage-listed Pyrmont Bridge. Arcadis commits to alleviating these tunnel alignment design challenges through alternate and innovative approaches that comply with environmental laws and operational requirements.
True to its commitment to improve quality of life, Arcadis continues to evaluate excavating techniques and quality checks. With JCG and Sydney Metro having a strong focus on sustainability, considerable effort has been made to optimise the rail alignment, shorten the construction program, and utilise alternate methods for spoil removal.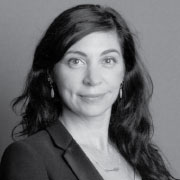 Connect with
Rebecca Hanlan

for more information & questions.
Rebecca Hanlan,

Head of Marketing and Communications Contact Rebecca