You have not accepted cookies yet
This content is blocked. Please accept marketing cookies. You can do this here.
Arcadis' latest International Construction Costs (ICC) report, analysing the cost of construction across 100 global cities, has identified a number of headwinds and tailwinds that will contribute to a rocky few years for the Australian construction sector.
On the plus side, construction is recovering in a post lockdown environment. Supply chain pressures are easing and government investment in infrastructure is anticipated to land over the next few years. However, new challenges and global shifts are already putting pressure on the construction sector's ability to take advantage of this forward momentum.
Based on our analysis, Sydney remains Australia's most expensive city to build in, dropping down 11 spots to number 40. Interestingly, all Australian cities have fallen in the global rankings. On face value, this may suggest that it's now cheaper to build but that is far from the case.
Everywhere in the world is now more expensive to build. Much of the relative movement in the rankings of Australian cities comes down to currency fluctuations. Global volatility and the Australian dollar's performance against the US dollar has pushed our capital cities down while other cities pegged against the US dollar, including Singapore, have found themselves moving up in the rankings.
Uncertainty around energy and commodity prices
A significant issue for construction costs in the near term is fluctuating energy and commodity prices, which flows through directly to key materials like steel and concrete. A lot of Australia's key materials are imported from overseas. Therefore, rising commodity and energy costs, which can also be significantly impacted by currency fluctuations, are not something over which Australia contractors have much control.
No one could have predicted the pandemic, or the war in Ukraine for that matter, and the impact both have had on global commodities and energy costs, and the resultant price of construction. It's difficult to even predict what the next two years will look like – based on current analysis we're likely looking at an increase ranging between an average of 3 to 5 per cent for 2023 and 2024.
Contractors bearing the brunt
While at the beginning of the pandemic we saw clients and contractors working collaboratively to address labour or materials shortages and delays, we've seen clients move back to a 'business as usual' mentality. However, the current environment should not be viewed as business as usual.
As part of a competitive tender process, contractors would historically hold their prices for up to 90 days. Over the last six to twelve months, we've seen contractors right across the market cut back significantly on how long they can guarantee their prices in response to fluctuating commodity and material prices. In some cases, contractors will only hold prices for a week before needing to readjust.
The impact of commodity price volatility on financial viability for contractors must not be underestimated. The canary in the coal mine is the two major contractors that went into voluntary administration within weeks of each other – Probuild, based in Victoria and Condev, based in Brisbane. This is an indication of a much larger trend in the sector, and we can expect to hear more about contractors under financial strain.
It's not just the big contractors where this will be prevalent, but also those at the subcontract and trade contract level.. It's a domino effect we need to avoid. The more trade contractors that get into financial difficulty, the less contractors there will be to deliver the work that's coming.
Skills and labour shortages will be the defining challenge of the decade
In addition, we have been talking about skills shortages in the sector for years with job vacancies up 80 per cent since late 2019. While our interstate and international borders are reopening, it will take years for international migration to recover to pre-lockdown levels. That's exacerbating existing labour and skills shortages and will be the defining challenge of the decade for the sector but is likely to bite the hardest in 2023 and 2024 when major projects are expected to land.
The concept of 'business as usual' needs to change
The world has shifted significantly in a relatively short period of time. However, we are still effectively building the same way as we have done for the last thirty to forty years. We need to change.
One way of addressing future uncertainty is to look at how we can increase productivity. If we can improve productivity by 1 or 2 per cent – for instance, by investing in technological solutions, automation, and local manufacturing - then we greatly increase what we can deliver while reducing our exposure to global shifts. There is the added advantage of advancing the construction sector's transition to net zero.
However, even here there is an upfront cost because there is little groundwork to build from.
The construction sector has traditionally been slow to innovate because the margins available for innovation are relatively slim, or there's been a time pressure to deliver on a deadline or to a political promise. However, as new ways of constructing are adopted, and the more it becomes embedded in the culture of the industry, that upfront investment will be eased quite quickly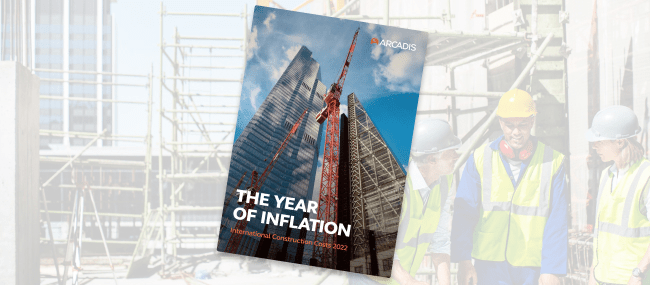 International Construction Costs 2022
Learn how to balance the impact of inflation with the imperative towards sustainability.