Average dispute length decreased, while time to resolution increased sharply
Highlands Ranch, Colo., June 7, 2022 Arcadis today released its 2022 Global Construction Disputes Report: Successfully navigating through turbulent times. From 2020 to 2021, the average value of disputes declined by 3% globally, but remains at historically high levels. The average time to resolve disputes increased significantly, by almost 15%.
The impact of COVID-19 and supply chain impacts were particularly acute in 2021. Over 75% of respondents acknowledged that they encountered project impacts due to COVID-19, while more than 70% encountered project impacts due to supply chain issues. In North America, supply chain challenges and tension in the industry regarding how to handle the impacts were a leading cause of disputes. Owners observed that contract documents may need to address risk allocation more directly to accommodate the large fluctuations in material price increases.
"While the industry is eager to move beyond the pandemic, the recovery period has proven to be equally turbulent. Construction spending increased, however economic and supply chain challenges have increased the number of disputes overall," said Roy Cooper, contract solutions leader for Arcadis in North America. "As the market prepares to ramp up, in the midst of historic labor shortages, proper administration of contracts will continue to be critical for the successful and early resolution of disputes."
Around the world, the report found that the buildings sector, including education, healthcare, retail/commercial and government, saw the most disputes. This sector led in disputes in 2019 and 2020 as well. Overall, the highest value dispute reported was $2 billion USD.
The research presented in the report was informed by disputes handled by the Arcadis Contract Solutions team in 2021, as well as contributions from industry experts. Additional information about the findings and methodology can be found here.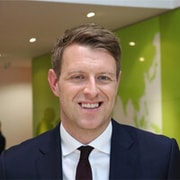 Connect with
Chris Wiggan

for more information & questions.
Chris Wiggan,

Head of Corporate Communications Contact Chris