You have not accepted cookies yet
This content is blocked. Please accept marketing cookies. You can do this here.
Highlands Ranch, Colo., Oct. 22, 2021 – Arcadis (EURONEXT: ARCAD) today announced it has developed a biodegradable cleaning agent designed to remove PFAS layers from fire suppression systems previously containing the hard-to-eliminate contaminants. Based on a proprietary reagent first developed by Arcadis in 2017, Fluoro Fighter supports the company's larger mission to help clients and communities enhance their environmental sustainability efforts.
As industry switches to largely fluorine-free firefighting foams to prevent further PFAS contamination, transitions are not as easy as foam out-foam in. Because PFAS self-assembles to form a resilient coating in fire suppression systems, it can rebound into replacement foams. Fluoro Fighter simplifies the transition process by removing PFAS on foam-wetted surfaces, keeping it from contaminating new foams, preventing time-consuming re-work and avoiding widespread asset replacement needs.
"Fluoro Fighter makes the transition to PFAS remediation and PFAS-free firefighting much simpler," said Arcadis PFAS expert Jeff Burdick. "At a time when preventing further PFAS contamination is more critical than ever, streamlining the treatment process will help industry reduce costs, save time and transition to more sustainable operations."
Designed as an effective intermediary in the transition to fluorine-free firefighting foams, Fluoro Fighter has applications wherever PFAS firefighting foams were once used, particularly in aviation, defense operations, chemical and pharmaceutical manufacturing, oil and gas storage, refining and emergency response. In line with Arcadis' commitment to safety, the non-flammable Fluoro Fighter is safe for handling, user exposure and transportation. The biodegradable product can also help improve sustainability efforts by significantly reducing water used for flushing systems and can be regenerated for reuse, minimizing disposal costs.
This new cleaning agent expands Arcadis' capabilities and technical prowess in combatting PFAS. Earlier this year, the company released a mobile PFAS removal treatment technology, and it continues to provide consulting, waste characterization and fire suppression system planning and permitting services.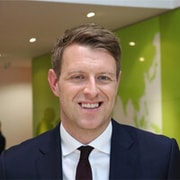 Connect with
Chris Wiggan

for more information & questions.
Chris Wiggan,

Head of Corporate Communications Contact Chris