At Arcadis, we take pride in our people improving quality of life around the world, so we are bringing these experts closer to you. Today we introduce you to Carole Sanders, who was recently named one of 50 Black Women in STEM (science, technology, engineering and mathematics) by the Los Angeles Council of Black Professional Engineers (LACBPE).
Dr. Michael Batie, president of LACBPE, and Carole Sanders at the award ceremony
As a project and construction manager (PM/CM), Carole has been responsible for leading and managing large complex horizontal infrastructure projects in Riverside and San Bernardino Counties for more than 30 years. The San Bernardino Sun once dubbed her "Queen of the SR 210 Freeway" after a section of the project for which she was senior project manager and resident engineer was completed and opened to traffic.
"What I like about being a construction manager is seeing and knowing all the actual elements of construction, from groundbreaking to ribbon cutting," she said. "Although the construction processes tend to be long, the final product is timeless and permanent, and there is joy in knowing generations after me will see the results of my hard work."
In her free time, Carole mentors young women at the University of California, Riverside (UC Riverside), who belong to the student chapter of the National Society of Black Engineers (NSBE). She has volunteered as a STEM inspirational speaker for a variety of educational organizations and is a math tutor at her church. To her, improving quality of life means "God first, then family."
As for being a woman in infrastructure, "I could write a book on how to survive in a male-dominated workforce. It has built my character." Some of her advice: Confidence can sometimes mean being the strongest person in the room.
In addition to her lifetime membership at LACBPE, Carole is currently Women's Transportation Seminar – Inland Empire (WTS-IE) Vice President. She has been a member of the Council of Advisors to the Dean at the college of engineering at UC Riverside for the last 12 years. She was an Eno Fellow granted by the Federal Highway Administration (FHWA). In 2016, she received national recognition by the American Public Works Association (APWA) for the construction of the Greenspot Road Bridge in Highland, California.
The City of Highland Greenspot Bridge was selected as APWA 2016 National Project of the Year.
Carole earned her master's degree in transportation management and is a licensed professional civil engineer in California, one of her proudest professional accomplishments.
Carole says being recognized with 49 other women in STEM by LACBPE is an honor. "I rarely see women at all in the construction industry. I'm so very proud that the LACBPE included me in this acknowledgement. Women usually don't toot their own horns. Now the trumpets are sounding!"
Congratulations, Carole, and thank you for your insight.
Learn more about how Arcadis provides transportation solutions for state and local governments and citizen-centric solutions for cities.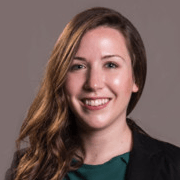 Connect with
Katie Lawler

for more information & questions.
Marketing Communications Strategist
Contact Katie