You have not accepted cookies yet
This content is blocked. Please accept marketing cookies. You can do this here.
Per- and polyfluoroalkyl substances (PFAS) are a group of emerging contaminants with unique chemical features. For decades, their oil, water and heat resistant properties made them invaluable to technical and consumer products. But recent concerns around human health impacts of certain PFAS are raising scrutiny around the entire class of chemicals.
Leaders in every sector are looking to innovate their PFAS strategy – but building the optimal plan can be difficult. The regulatory and treatment spaces are still evolving. As the future of PFAS takes shape, it's imperative to understand the risks and opportunities. By examining our experiences working with PFAS from seven different perspectives, this report is designed to increase your organization's ability to manage PFAS impacts proactively.
1. Industry
Managing current and potential PFAS impacts is a challenge that requires a proactive, pragmatic stance. Learn how you can strengthen your organization's approach with guidance from Arcadis specialists who have led more than 15 years' worth of PFAS-driven environmental projects for industry.
2. Litigation
Forensic tools and the ability to interpret the results are crucial to building a case grounded in science and law. Arcadis litigation experts have supported clients involved in PFAS litigation; take a look at what they learned in those cases.
3. Treatment Technology
There won't be one silver bullet of technology that solves every PFAS problem. Learn how stakeholders are collaborating on research and development to accelerate progress on PFAS treatment.
4. Federal Response: U.S.
The U.S. Department of Defense is doing much more than just research and analysis. Find out how it is working to develop a systematic approach for managing PFAS across all of its sites.
5. Federal Response: Canada
Most federal attention and funding in Canada are focused on firefighting related sites and systems. Read the report to learn about Canada's risk-based approach.
6. Airports
Airports worldwide are beginning to replace PFAS-based firefighting foams. Examine the crucial elements of transition plans and the 12-step service model Arcadis experts developed working with large airports.
7. Water Utilities
Some water utilities are finding PFAS in their source water supplies, but many do not have installed treatment that will remove these compounds. Learn how partnerships and emerging innovations will help pave the way for utilities to respond to PFAS.
Learn about Arcadis' global PFAS approach and services.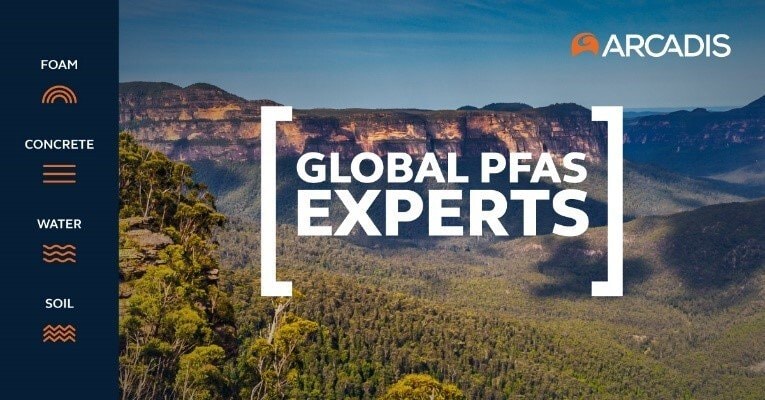 Contact us
Industry and Litigation
Jeff Burdick
Global Leader Site Evaluation and Restoration
jeff.burdick@arcadis.com
Johnsie Lang, PhD
Staff Environmental EIT
johnsie.lang@arcadis.com
Stephanie Fiorenza, PhD
Principal Scientist
Stephanie.fiorenza@arcadis.com
Allan Horneman, PhD
Principal Scientist
Assoc. Vice President
allan.horneman@arcadis.com
Forensics and Risk Assessment
Theresa Guillette, PhD
Technical Expert
Theresa.guillette@arcadis.com
Federal
Joseph Quinnan, P.G.
Senior Vice President
joseph.quinnan@arcadis.com
Water
Rebecca Slabaugh
Drinking Water Practice Lead
Rebecca.slabaugh@arcadis.com
Remediation, R&D, Technology Development
John Anderson, PE
Senior Wastewater Engineer
John.anderson@arcadis.com
Corey Theriault, P.E.
Principal Water Engineer
corey.theriault@arcadis.com
Sediments
Shannon Dunn, PG
Technical Expert
shannon.dunn@arcadis.com
North America Emerging Contaminants Co-Lead
Katie Barry, PhD
Project Environmental Specialist
Kathryn.barry@arcadis.com