As the water sector strives to be fit-for-future, developing an agile and resilient workforce will be pivotal.
The water sector is entering a new era. Digitally enabled innovation, such as artificial intelligence and predictive analytics, can help water utilities build resilience by optimizing operations and improving service reliability. But creating a workforce that embraces new ways of working will require some exploration and discovery.
Arcadis' Zakiya Seymour and Joanna Brunner recently analyzed workforce obstacles and opportunities at the Water Environment Federation's (WEF) Transformative Issues Symposium on Workforce. They sat down with us to discuss their biggest takeaways and share tips utilities can apply to their long-term workforce strategies.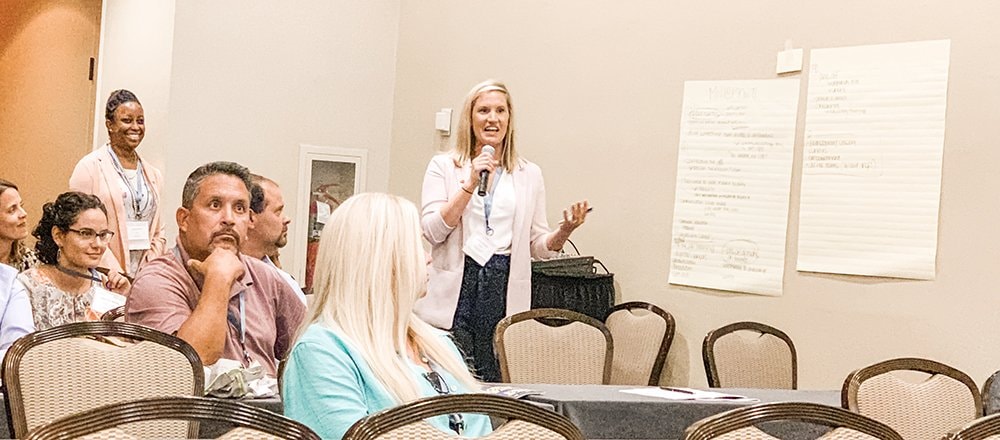 Why are workforce concerns such a hot topic in the water sector right now?
JB: Workers are moving toward retirement and, at the same time, skills needed are evolving. It's time to explore new opportunities to meet the growing demand for digital skills that weren't needed in the past.
ZS: Utilities are realizing they'll need to cast a wider net than they're used to. New candidate types like high school graduates, veterans, and formerly incarcerated people might be an asset. External organizations or digital recruitment platforms might help utilities cast a wider net. Or, internal apprenticeship programs might allow staff to combine new skills with their utility backgrounds.
Based on projects you've worked on, industry research, and conversations with other experts, what does a fit-for-future workforce look like to you?
JB: This is a tough question, but the first thing that comes to mind is an adaptive workforce. An adaptive workforce creates a culture of innovation that is more open to new ideas, especially emerging digital solutions that can enhance productivity and resiliency.
ZS: I agree. The word that came to mind was agile. Also, a fit-for-future workforce will be more familiar with how other utilities operate and not be so insulated, so they can borrow best practices or lessons learned from other organizations.
You took a deep dive into these ideas at the WEF Symposium. What did your session focus on?
JB: We shared utility case studies and what we've learned through Water Research Foundation project #4907, Leading Water and Wastewater Utility Innovation. We focused on the stakeholder tactics and tools to engage internal staff in innovative projects and thinking. We also divided participants at the session by the different generational groups to examine the tactics and tools that best fit. We found you may need to tailor your tactics for the various tribes in your organization, but in the end, they want the option to be innovative.
What organizations are addressing workforce concerns effectively, that other utilities can learn from?
ZS: Our work with Gwinnett County, Georgia, provided a lot of insights that utilities can use. Their Water Innovation Center, which they call The Water Tower, relies on collected data to form the basis of an overall digital strategy. Part of that was conducting a statewide workforce survey to look at what lies ahead for the water sector.
JB: It was a great source for identifying future needs, gaps, challenges and opportunities regarding the workforce.
ZS: Among the utilities surveyed, attraction and retention were identified as the leading future workforce challenge at 69%, with an aging workforce close behind at 67%. Only 7% said the job was becoming too technical for them, underscoring that staff are embracing advanced technology as a way to enhance their day-to-day work.
JB: Related to that point, we found that only 21% of surveyed utilities offer digital and data analytics training to staff. Some utilities might be missing out on opportunities to train and nurture innovators within their organization. Leaders could be so concerned with filling vacancies that they're overlooking the chance to develop talent in-house and retain their current workforce.
If you could sum up the major takeaways of your presentation for our readers, what would they be?
ZS: Here's what I hope resonated with the audience: Digitalization cannot be achieved without competent and engaged employees driving the process. By connecting workforce development with digital transformation, utilities can drive that engagement and want for change.
JB: And there are numerous tools out there to engage their staff. Utilities such as DC Water and WSSC are deploying them, ranging from ad hoc teams to an Innovation Day.
Organizations can follow their lead, but also have the ability to tailor the tactics to their own needs and their culture.
ZS: Our survey results proved the desire is there, but also a lack of time or opportunity to obtain it. That 21% stat that Joanna mentioned is very telling. The more utilities encourage and provide opportunities to innovate and develop digital skills, it lessens the need for outside hires. That could be huge, as the future pool of candidates might be fielding offers from private companies with more hiring power.
So, digitalization, with regards to workforce, comes with some challenges. But can it be an asset, too?
JB: Advanced technology can absolutely support effective knowledge transfer and succession planning. Better data sharing and analytics programs can ensure nothing is lost when an expert retires.
ZS: I really hope technology can be leveraged to archive information in a way that helps incoming staff make data-driven decisions quickly.
JB: It will also be interesting to see if technology can be used to attract and retain the right people. There's an app called Knack that evaluates how candidates play games to predict whether they'd be a good fit for an organization. Could utilities use technology like that to predict the right hire? It remains to be seen, but I find ideas like that exciting.
It seems like digital transformation and the workforce development component will be a long journey for utilities. What's something an organization can do now to aid in their long-term plans?
JB: Utilities should define their future workforce. Envision what your workers look like, what skills they possess, and how they use technology both in day-to-day operations and as a development tool. We see a lot of strategies around being an employer of choice, it's time to also become employers of the future.
ZS: Assessing the entire current workforce is crucial. Look beyond the ones that you think are about to retire. And build plans with an understanding that some generations' career paths involve switching employers every 3-6 years.
For more on fit-for-future workforce concerns and improving long-term resilience, read Resilience reimagined: Building a fit-for-future utility.